The recipe for S'mores Chocolate Chip Cookies is from an old post here on Cookie Madness, but I cleaned it up and took a new picture. What made this recipe unique back when I created it was that I put the marshmallows and chocolate on near the end so the marshmallows wouldn't get too chewy and the milk chocolate wouldn't dry out. Prior to that, most versions just had milk chocolate and marshmallows mixed in, and of course those things dried out during baking. Now everyone is sticking them on at the end!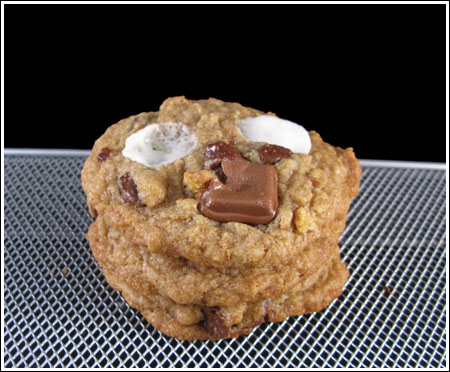 S'mores Chocolate Chip Cookies (original  version of the recipe)
6 oz (170 grams) unsalted butter, cool room temperature
1/2 cup (96 grams) granulated sugar
1/2 cup (100 grams) packed brown sugar
1 large egg
1 teaspoon (5 ml) vanilla extract
1/2 teaspoon (2 ml) salt
1/2 teaspoon (2 ml) baking soda
1 1/4 cups (160 grams) all-purpose flour
1 cup (around 90 grams) graham cracker crumbs
1 1/2 cups (265 grams) semi-sweet chocolate
1 cup miniature marshmallows (approximately)
2 Hershey Bars, broken into pieces (or other favorite milk chocolate)
Preheat oven to 350 degrees F (176 C). Line 2 cookie sheets with parchment paper.
Cream butter and both sugars with an electric mixer; beat in egg and vanilla. Beat in salt and baking soda making sure they are well distributed and free of lumps; stir in the flour, followed by graham cracker crumbs. Stir in chocolate chips.
Drop dough by heaping tablespoonfuls onto cookie sheets, spacing about 3 inches apart. Bake for 9 minutes. Remove and quickly press marshmallows and chocolate into cookies. Return to oven and cook until done (about 3 or 4 more minutes)
Makes about 3 dozen