I couldn't make the Frosted Flakes Chocolate Chip Cookies mentioned earlier, but thanks to this recipe for Corn Flakes Macaroons, I've finished off a giant box of regular Corn Flakes. Now I can get on with my life.
These were good – sweet, but good if you like macaroons.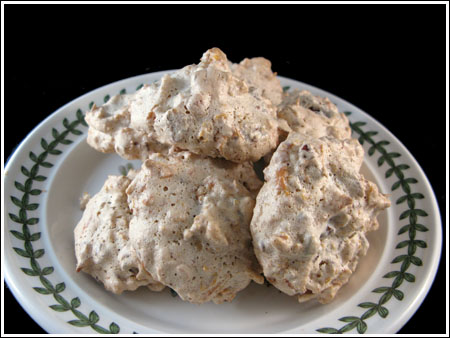 Corn Flakes Macaroons
4 large egg whites
¼ teaspoon (1 ml) cream of tartar
1 teaspoon (5 ml) vanilla
1 ⅓ cups (260 grams) granulated sugar
1 cup (120 grams) chopped pecans (I toasted mine)
1 cup (90 grams) shredded coconut
3 cups (130 grams) corn flakes, crushed after measuring
Preheat oven to 325 degrees F. Line a couple of cookie sheets with parchment.
Beat the egg whites until they are white and foamy, then add cream of tartar and beat until stiff peaks form. Beat in vanilla. Gradually beat in sugar until mixture is stiff and glossy.
Fold in pecans, coconut and corn flakes.
Drop by rounded tablespoons, about 3 inches apart, onto the parchment paper lined cookie sheets. Bake 15 minutes or until lightly browned