I was looking for a brownie to add to the "Top 5 Bake Sale Best Sellers" category and remembered this one. It's perfect for bake sales because 1. Big, plain, chocolate brownies go fast and 2. These bake sale brownies are sturdy and easy to wrap, but when you bite into one you get the perfect combination of both cakey and fudgy.
The full batch recipe is here and below is the half batch version from this morning using half cake flour and half all-purpose. Lately, I've been combining flours and liking the results.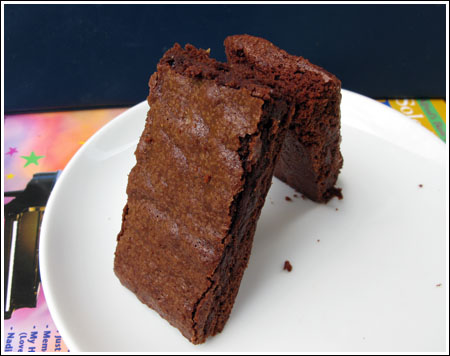 Half Batch Magic Brownies (Zingermann's Clone)
6 ½ tablespoons (95 grams) unsalted butter
3.75 oz (105 grams) unsweetened chocolate
¼ cup plus 2 tablespoons sifted all purpose flour
¼ cup plus 2 tablespoons sifted cake flour
⅜ teaspoon baking powder
¼ teaspoon Kosher salt
2 large eggs
1 cup granulated sugar (190 grams)
¾ teaspoons vanilla
¾ cup coarse chopped walnuts, toasted (optional) -- I left them out today
Preheat oven to 325 degrees F. Line an 8 inch metal pan with foil. Grease the bottom only.
Melt the butter in a microwave-safe measuring cup or in a saucepan set over medium heat. When melted, reduce heat to low and add chocolate; stir until melted and smooth. If using microwave, add chocolate to hot butter, stir then microwave again for 20 seconds and stir.
Sift flour, baking powder and salt onto a sheet of paper or into a bowl.
Beat eggs and sugar with an electric mixer on high speed for 3 minutes or until light yellow and fluffy, scraping side of the bowl occasionally. Beat warm chocolate mixture and vanilla into egg mixture. Add flour mixture and stir by hand until combined, scraping sides of bowl. Stir in nuts (if using).
Spread batter in pan. Bake 25 minutes or until brownies appear set and top springs back slightly. Cool in pan on wire rack; cut into bars. Makes 8-16