According to my brief and not very thorough research on coconut oil, its health benefits are numerous and we should be eating it every single day. Still, I've had a hard time getting myself to spend $7.00 on a jar of fat, and if it weren't for my curiosity as to whether I could make coconut oil peanut butter cookies, I might not be the proud owner of a jar of Spectrum Organic Coconut Oil.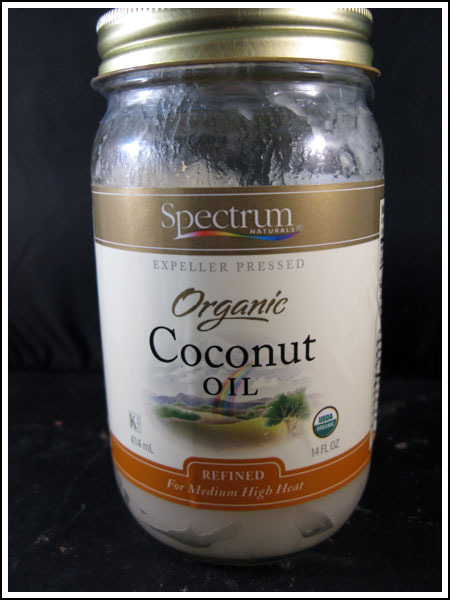 It seems to have been a good investment because the coconut oil peanut butter cookies taste good and have a light and crispy (slightly addictive) texture. I rolled them in honey roasted peanuts and coconut, but you can also roll them in salted peanuts & coconut or just plain peanuts. The peanuts are pretty important to the overall great texture of the cookie so I wouldn't leave them out. As for the coconut, if you skip the step of rolling the cookies in shredded coconut you will barely, if at all, taste the coconut oil in the cookies.
Thumbs up to coconut oil in cookies. Now where else can I use it? In the kitchen, I mean...although it does say you can use it on skin.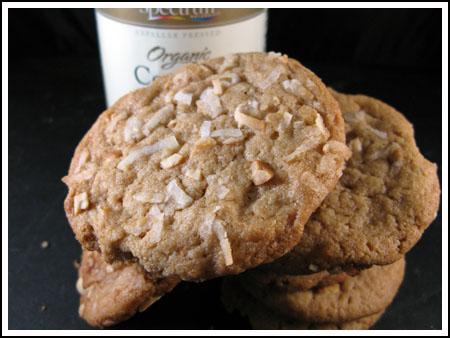 Honey Roasted Peanut & Coconut Oil Peanut Butter Cookies
½ cup 4 oz (114 grams) coconut oil
½ cup (140 grams) peanut butter -- (note: peanut butter weighs more per ½ cup)
½ cup (110 grams) brown sugar
½ cup (96 grams) granulated sugar
1 large egg
¾ teaspoon (3 ml) vanilla extract
½ teaspoon (2 ml) baking soda
¼ teaspoon (1 ml) salt
½ cup (57 grams) cake flour
½ cup (67 grams) all purpose flour
¾ cup lightly salted peanuts, chopped (use more or less to taste)
⅓ cup shredded sweetened coconut
Cream coconut oil, peanut butter, and both sugars together in a mixing bowl. Add eggs and vanilla and beat until combined. Beat in the vanilla, followed by the soda and salt – make sure there are no lumps of stray soda. Stir in the cake flour, then stir in the all purpose flour. Chill the dough for about an hour.
Preheat oven to 350 degrees F. Line a couple of cookie sheets with parchment if you want.
Mix together the chopped peanuts and coconut and lay on a flat surface.
Shape dough into 1 inch balls and roll the balls in peanut mixture. Arrange 2 inches apart on parchment lined cookie sheets and press down slightly so that tops of flat. Bake for 13 - 15 minutes or until lightly browned around the edges. The centers may seem a bit underdone at this point, but they will firm up. Let cookies cool on the pan 5 minutes before transferring to a wire rack to cool completely.
Makes 24 large cookies.