This morning I posted a photo and short review of the cake I made yesterday, a Tres Leches Cake from Chowhound.com. The cake was very good, but it didn't have a very tight crumb and seemed to have more eggs than usual. Todd loved it, but there's going to be some tres leches madness around here because I'm going to test a bunch of new ones!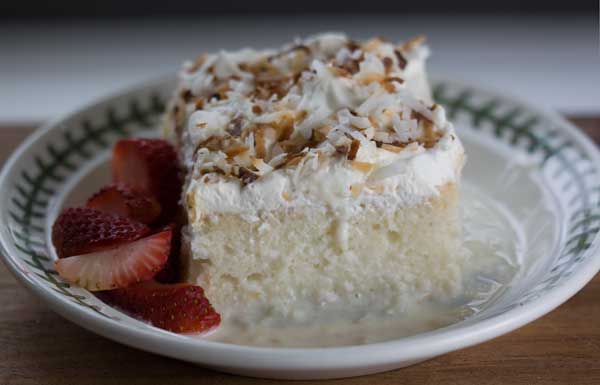 Most tres leches cakes have a very basic sponge cake base made with whipped egg whites, yolks, sugar and flour. Some have the addition of milk, vanilla extract or oil and some are even enhanced with cake mix. Some are made with ground almonds. The "leches" can be played around with as well. Usually tres leches cakes have 12 oz evaporated milk, 14 oz condensed milk and about a cup of cream, but the cake I made yesterday called for coconut instead of cream and a cake I made a few years ago used sour cream. I haven't made it in a while, but the sour cream version was very good.
Here are a few promising cakes.
Tres Leches Cake with cake flour and oil – the oil in the base must make this one a little softer.
Here's a 5-star Tres Leches Cake from Emeril. It has milk in the batter and meringue on top
SF Gate Cake – This one seems to have a lot of eggs, but still proportionately fewer eggs than the coconut tres leches I made yesterday. I like the berry sauce idea.
The base cake for this Food and Wine Tres Leches is similar to the Chowhound cake, but the technique is different. You cut the cake up and set it in the pan with the soaking mixture.
Betty's Tres Leches – 199 people don't mind the cake mix enhancement
Cuisinart Stand Mixer Contest Winning Coconut Tres Leches is also made with a little cake mix.
A pretty basic but highly praised cake from Allrecipes
Very old Houston Chronicle Tres Leches Cake made with sour cream and meringue. I made a variation on this one years ago and I remember it as being excellent. Need to make again.
The first tres leches recipe I ever made. Loved it! Didn't mind the cake mix one bit.