Earlier this week I shared a recipe from Masala, but I'm actually cooking out of two Indian cookbooks right now, with the second being Indian-ish. I could go on about how much I love this book, but instead I'll just tell you about something from the Dessert chapter — Eggless Pineapple Cake. It's light, refreshing and perfect for warmer days. Plus it's a fun way to use tofu, which is the egg replacer in this recipe.
Jump to Recipe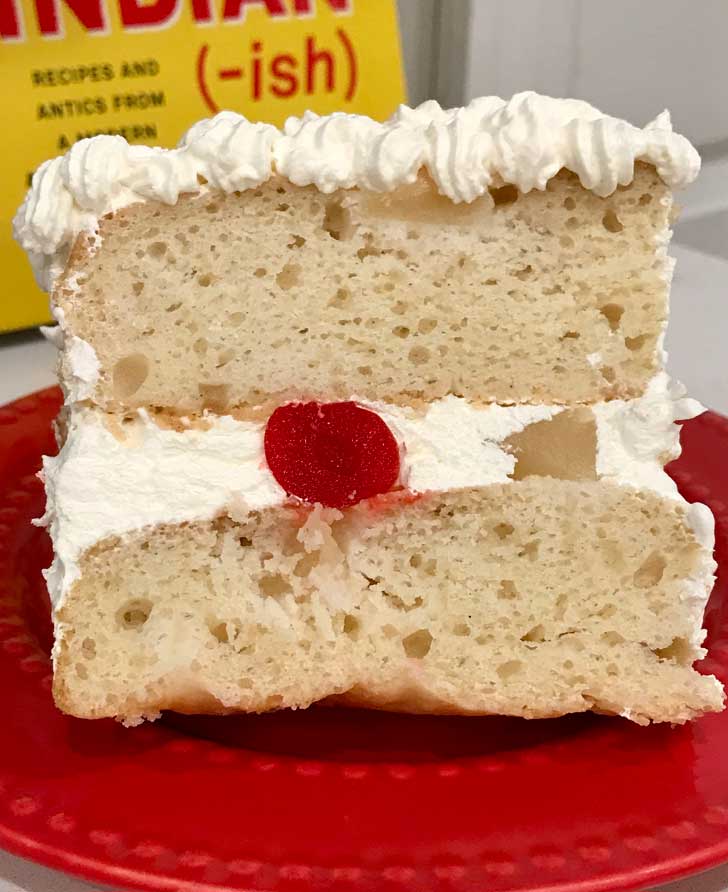 Inspired by Hot Breads
There are a lot of different versions of Eggless Pineapple Cake. The one from Indian-ish was adapted from Madhuram at Eggless Cooking. Like Priya, she was inspired by Hot Breads in Irving, TX. At some point I'll try some different recipes, but this one was just so perfect for a weeknight dessert and easy to scale down for empty nesters.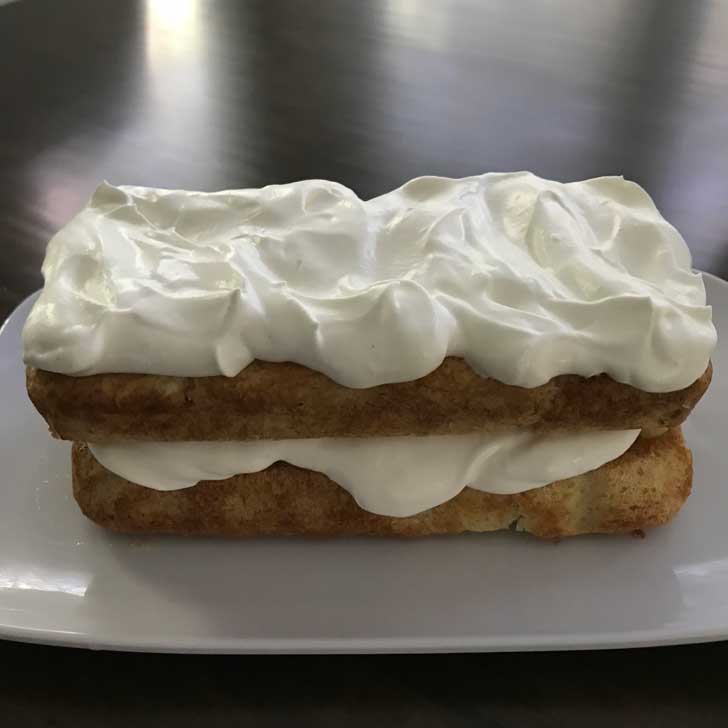 Small Eggless Pineapple Cake
I made a cake big enough to serve 6 to 8, but 6 is more realistic. The cake is baked in an 8 inch square pan, cut in half and frosted with whipped cream. I didn't attempt to decorate the first one because I was more interested in seeing how the tofu would work. It looked like this.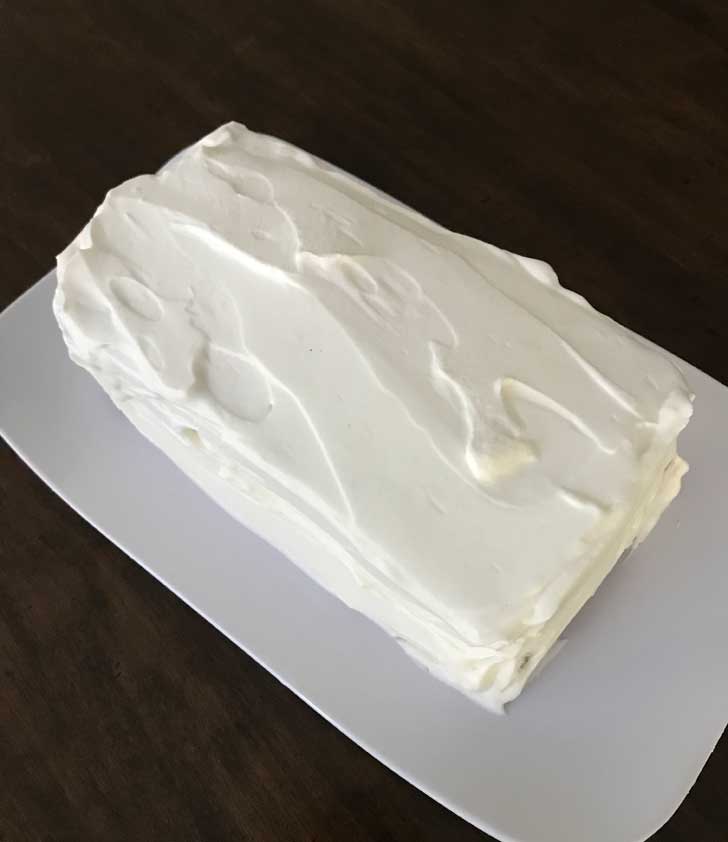 Once I was confident the cake tasted good and that it would freeze well (which it does), I attempted to decorate the second one. Maybe I shouldn't have.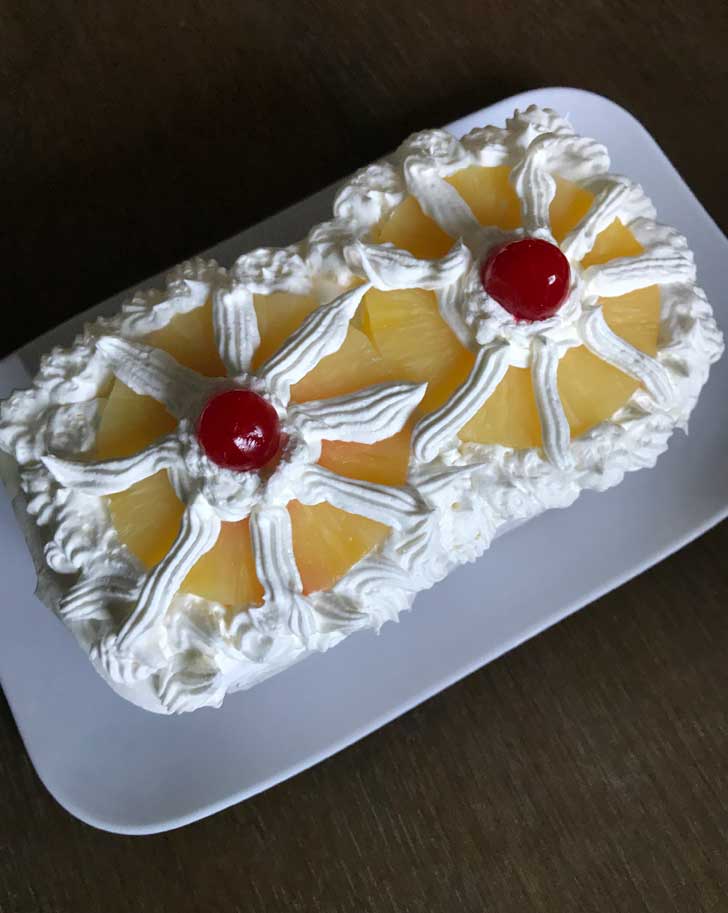 Friends, this wasn't quite what it looked like in my head, but I was decorating and watching a puppy at the same time. Okay, that's not a good excuse because it probably would have looked the same if I was completely focused, but it was a fun little project. Kids could really go to town decorating this one.
Anyhow, this is a fantastic little cake which you can make in less than an hour. If you need a larger cake, just double and bake in a 9×13 inch pan.
Eggless Pineapple Cake Tips
It's always best to use cake flour in recipes that call for it, but If you need to use all-purpose flour, use only 1 cup or weigh out between 140 and 150 grams.
Drain and dry the pineapple thoroughly. For the first cake I carefully drained and dried, and not much extra juice got into the batter. For the second cake I was lazy and the juice that slipped off the slopped-in pineapple affected the texture of the cake somewhat — not in a bad way, it just made it a little heavier.
Use a good brand of pineapple and consider getting rings instead of chunks. I used rings and found that they were easy to cut into little pieces, whereas the chunks are already cut in large pieces and have to be cut again. Del Monte sells a fancier canned pinepple, so live a little and use that one because the pineapple stands out.
You can leave out the vanilla if needed. The original version didn't have any. Some versions of this cake call for pineapple extract, so that might be an interesting addition as well. I didn't feel like it needed any with the natural flavor of the pineapple.
I used salted butter and increased the salt slightly (to what you see in the recipe card) from the original recipe. I don't think the cake tastes salty, but feel free to use unsalted butter and only a pinch of salt.
Have a backup plan for all the darn pineapple juice you'll have left. The only juice in the recipe is what goes into the whipped cream frosting.
Also have a back-up plan for the pureed tofu. I love having pureed tofu around because there are so many ways you can use it, but I always forget about them.
More Pineapple Cake Suggestions
If this one's not for you, I have a few other suggestions. There's an easy no-bake recipe for Icebox Pineapple Cake we like. There's good old Banana Split Cake if you're a banana fan. And then there's this old one that I need to reformat called Larry's Mojito Cake which starts with angel food cake mix and pineapple. It sounds strange, but it's pretty good. For even more ideas, just type the word "pineapple" into the search box.
Recipe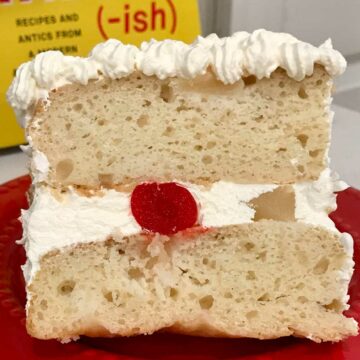 Eggless Pineapple Cake
A small pineapple cake made with Greek yogurt and tofu in place of eggs.
Ingredients 
1/4

cup

silken tofu, pureed

(56 grams)

1/4

cup

Greek yogurt. plain or coconut flavored whole milk

(56 grams)

2

T.

whole milk

(28 grams)

1/4

teaspoon

vanilla extract

4

tablespoons

unsalted butter, salted or unsalted, softened

(56 grams)

1/2

cup

plus 2 tablespoons sugar

(125 grams or 108 grams if using sweet yogurt)

1 1/4

cups

cake flour

(140 grams)

1

teaspoon

baking powder

1/2

teaspoon

baking soda

1/4

teaspoon

kosher salt (Morton)

1

14 oz

can pineapple rings, drained and juice reserved

A few Maraschino cherries (optional)
Frosting
2

cups

heavy whipping cream

1/4

cup

sugar

(50 grams)

1

teaspoon

reserved pineapple juice (optional)

1

teaspoon

vanilla (optional) — My addition
Instructions 
First, drain the silken tofu and puree the whole package in a blender or food processor. You'll only use 1/4 cup for this recipe, but there are things you can do with the leftovers. Alternatively, you can weigh out 2 oz of tofu and puree it in a mini processor with the other liquid ingredients.

Mix together the 1/4 cup pureed tofu, yogurt, milk and vanilla.

In a mixing bowl, using an eletric mixer, beat the butter and sugar until light and creamy, then gradually add the tofu mixture.

Sift together the cake flour, baking powder, baking soda and salt, then add to the batter in three parts, beating on low or by hand with a heavy duty scraper until smooth.

Cut the drained and dried pineapple rings into chunks (if you haven't already) and stir half of the chunks into batter. Reserve the rest for filling.

Spread evenly in the pan and bake for about 20 to 23 minutes or until golden and set. Let cool while you make the whipped cream frosting.

To make the frosting, put the whipping cream, sugar and pineapple juice (and vanilla, if using) in a stand mixer bowl fitted with the whisk attachment. Beat until light and spreadable.

When cake is cool, cut it in half straight down the middle. Set one half crumb side up on a tray. Lay reserved pineapple (and a few cherries, if using) over the cake, then spread whipped pineapple cream over the pineapple. Cap with second layer. Spread whipped cream all over the whole thing and decorate.