Years ago, my next door neighbor Lacey bought feather boas, white gloves and plastic jewelry so she could play tea party with her nieces who visit every summer. This past week her sweet niece, Lauren came to town and she and Fuzz have become fast friends. Lacey's threw the girls a tea party. As a contribution, I made a batch of White Chip Cherry Oatmeal Cookies. They're rich, but won't soil the white gloves.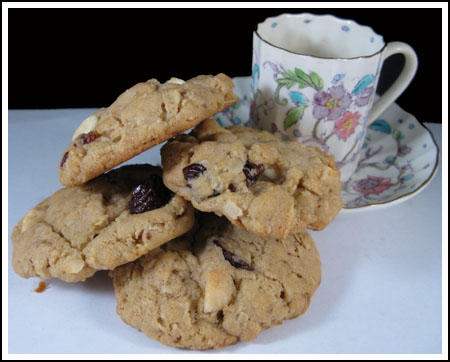 White Chip Cherry Oatmeal Cookies
1 stick (4 oz/114 grams) cool butter, cut up (I used cold butter)
½ cup (110 grams) golden brown sugar
½ cup (96 grams) granulated sugar
1 large egg
1 teaspoon (5 ml) vanilla extract
1 ½ cups (200 grams) unbleached all-purpose flour
½ teaspoon (2 ml) baking powder
½ teaspoon (2 ml) baking soda
½ teaspoon (2 ml) salt
¾ cups old fashioned oats
1 cup white chocolate chips (or more!)
½ cup macadamia nuts – lightly salted
⅔ cup dried cherries, chopped
Preheat oven to 350 degrees F.
Using high speed of a stand mixer paddle or a hand-held electric mixer, beat the butter until it is creamy and smooth. Beat in the brown sugar and granulated sugar and beat for a full 2 minutes. Add the egg and beat for about 30 seconds. Beat in the vanilla.
Mix together the flour, baking powder, baking soda and salt. Stir into the creamed mixture, followed by the oats, white chips, nuts and cherries. Shape dough into 1 inch balls and place on ungreased or parchment lined cookie sheets. Bake for 12-14 minutes or until cookies appear set – these don't get very brown. Remove from sheet and cool on a rack.
Makes about 2 dozen cookies