Today's cookies Mocha Mint Cookies were inspired by a bag of dark chocolate mints I found at Trader Joe's – "Mint UFOs" to be precise. They must have been placed in the store by aliens because I never liked mints until I tried these and the only explanation is that I was abducted and implanted with a mint-appeal chip. If the aliens are observing (which they are) then they know the mint-appeal chip worked which means the other implants worked too. "Cookie Madness Phone Home! Cookie Madness Phone Home!"
Sorry. I'm feeling a little off today.  But these cookies are really good! If you live near a Trader Joe's watch out for unidentified flying objects and the UFO mints. This is what the packaged look like before I was overcome by a sudden urge to break into it.
If you can't find UFO mints, use any other mint flavored dark chocolate. I did an Internet search and saw Endangered Species makes a mint dark chocolate and so does Green and Black's. Mint chips would probably work too.
This recipe is adapted from one by Nancy Baggett, but she used white chocolate and a lot more espresso powder. If you absolutely hate mint and want to try the white chocolate version, just use that and up the espresso to a heaping tablespoon.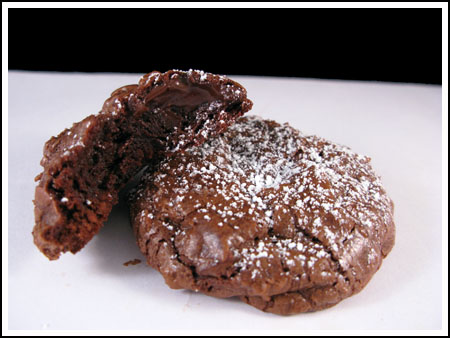 Recipe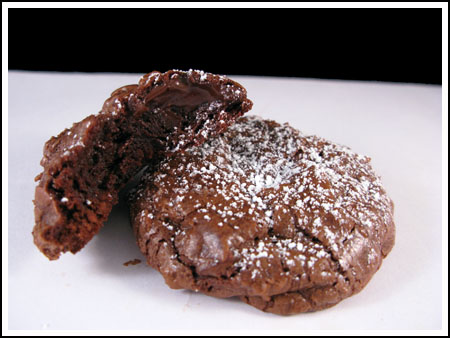 Fat & Fudgy Mocha Mint Cookies
Fat, fudgy chocolate mint cookies made with Trader Joe's UFO chocolates (or whatever type chocolate mint you want)
Ingredients 
1

stick

4 oz unsalted butter (115 grams)

5

oz

about 1 cup Ghirardelli Bittersweet Chocolate Chips

2

large eggs

⅛

teaspoon

salt

1

teaspoon

vanilla extract

¾

cup

granulated sugar

1

heaping teaspoon espresso powder dissolved in a tablespoon of hot water

¼

cup

plus 1 tablespoon all purpose flour

2

tablespoons

natural cocoa

I think Dutch might make the cookies flat

6

oz

mint flavored dark chocolate

chopped**
Instructions 
Melt the butter over medium heat in a small saucepan. Add chocolate chips, remove from heat and stir until chocolate is melted with residual heat.

Let cool for about 15 minutes. Meanwhile, beat the eggs, salt, vanilla and sugar together in a large bowl using an electric mixer for about 3 minutes or until light and slightly thickened. Beat in the espresso/water, followed by the melted chocolate chip butter mixture.

Mix together the flour and the cocoa, then add to batter and stir until absorbed. Stir in the chopped mint chocolate. Chill for 1 ½ hours or until dough is thick enough to shape into balls

Heat the oven to 350 degrees F. Line a couple of cookie sheets with parchment paper. Scoop dough up by well-rounded tablespoons and shape into 1 ½ inch balls. Bake for 9-12 minutes. Let cool. Dust with powdered sugar IF YOU FEEL LIKE IT. No need. I only did it for the photo.

Not sure of the yield yet because I haven't baked them all, but I think it will be around 16 18 cookies.