Wow, it's 89 degrees today! Time to put a log on the fire and break out the sweaters…or do some baking. I made some Chocolate Frosted Marshmallow Cookies.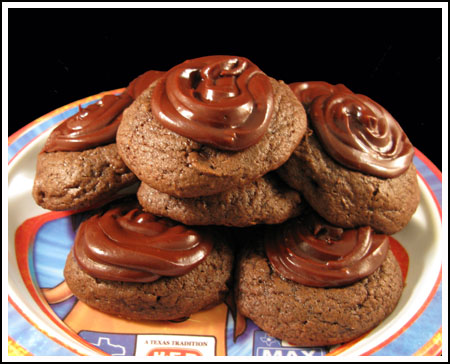 This recipes is based on something I got from a Yahoo group, but I believe the original is from Taste of Home. It's a cousin to the old Aunt Ann Chocolate Sundae cookies, but different – no cherry, flatter, made with cocoa instead of chocolate, butter instead of shortening and if you ask me, the icing is richer. Oh, and just so you, the icing firms up so you can stack these. This is good news if you're giving them away or taking them to work. I could stack these even before I chilled them, at which point the icing got very firm.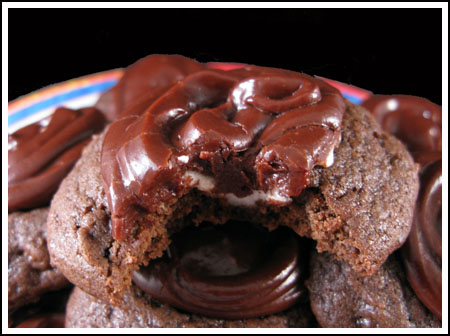 Chocolate Frosted Marshmallow Cookies
1-¾ cups all-purpose flour (225 grams) spoon and sweep
½ cup unsweetened cocoa powder (45 grams)
½ teaspoon baking soda (2 ml)
¾ teaspoon salt (3 ml)
4 oz (1 stick) unsalted butter (114 grams)
1 cup granulated sugar (192 grams)
1 large egg
1 teaspoon vanilla extract – 5 ml
½ cup milk – 114 ml
½ cup chopped pecans or walnuts, lightly toasted
12-14 giant marshmallows, halved
Frosting:
4 tablespoons unsalted butter
2 squares (1 ounce each) unsweetened chocolate
1 ounce semi-sweet chocolate or 3 tablespoons chocolate chips
2 cups confectioners' sugar
3 to 6 tablespoons brewed coffee
Preheat oven to 375 degrees F. and line 2 cookie sheets with parchment paper.
Mix the flour, cocoa powder, baking soda and salt together in a bowl and set aside.
Beat butter and sugar together in a large mixing bowl using high speed of an electric mixer. Beat in the egg and vanilla. Scrape sides of bowl and by hand, add milk and flour mixture to batter alternately, beginning and ending with flour. Stir in pecans.
Drop by slightly rounded tablespoonfuls (12 to a sheet) a few inches apart onto the cookie sheets. Bake for 6 minutes. Press a
marshmallow half, cut side down, onto each cookie. Bake 2 minutes
longer or until marshmallow is softened. Remove to wire racks to cool.
In a microwave-safe bowl, melt butter and chocolate squares; stir
until smooth. Beat in confectioners' sugar and about half of the coffee. Beat with hand held electric mixer or by hand until smooth, adding more coffee as needed to make it soft. Transfer frosting to a pastry or
plastic bag (I used a freezer bag; cut a small hole in one corner of bag. Pipe over the cookie to cover the marshmallow.
Makes about 28-30 cookies
If you make the Frosted Marshmallow Cookies, let me know how they turn out!