Dark Chocolate Toblerone Cookies were created one day when I got sidetracked from another chore which happened to be getting rid of some books. I'm still not sure why we had so many books on firearms and locksmithing, but they're someone else's now.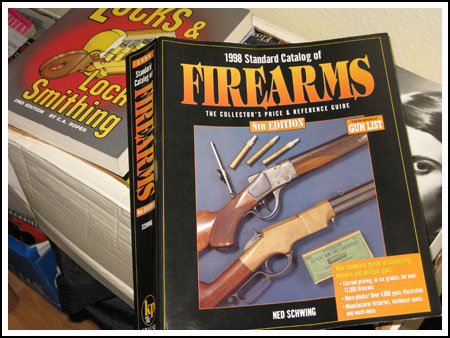 Luckily, I did keep the cookie recipe. You can make it with Dark Chocolate Toblerone or any other type chocolate bar.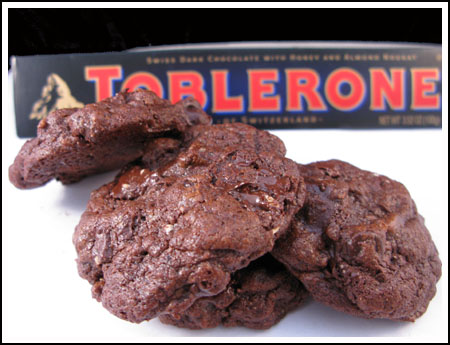 Dark Chocolate Toblerone Cookies
4 ounces bittersweet chocolate (114 grams)
½ cup all purpose flour (68 grams)
1 tablespoon Dutch process cocoa (5 grams)
½ teaspoon baking powder (2 ml)
⅛ teaspoon salt (pinch)
4 tablespoons unsalted butter, room temperature (58 grams)
6 tablespoons granulated sugar (72 grams)
¼ cup packed dark brown sugar (55 grams)
1 large egg
1 tablespoon hot brewed coffee (or water)
¾ teaspoon vanilla
3 ounces of chopped bittersweet chocolate
3.5 oz dark chocolate Toberlone, chopped into bits
Melt the chocolate in bowl set over barely simmering water or in microwave. Set aside and let it cool slightly. It should still be slightly warm when you use it.
Sift together the flour, cocoa and baking powder, stir in the salt; set aside.
Beat the butter with a mixer until creamy. Add the sugar and beat for 2- 3 minutes. Add the egg, mixing until blended and scraping bowl, then beat in coffee and warm melted chocolate. Add the flour mixture and stir until it's mixed; gently stir in chocolate and Toblerone bits. Note: check the temperature of the dough before you stir in the chocolate chunks. If it's warm, chill it before adding so that the chocolate won't melt into the warm dough.
Chill dough for at least an hour. I think the cookies are best when made with dough that's been chilled for a full day.
Preheat oven to 350 degrees F. Scoop dough up and shape into 1 ½ inch mounds. Set 3 inches apart on cookie sheets and bake on center rack for 10-12 minutes. Let cookies cool on the sheet for 2 minutes then transfer to a rack.
Makes about 22 cookies