This recipe was the first thing that came up in a search for "beer bread", but based on the results with the Fat Tire, I think the type beer you use really matters so I am calling it Fat Tire Beer Bread.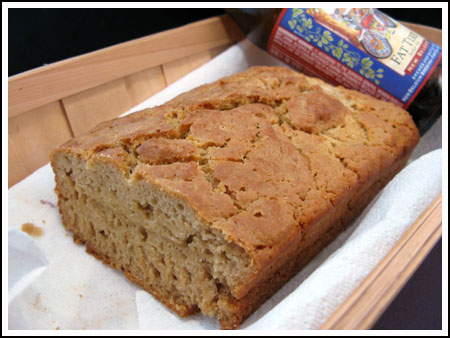 You can use whatever beer you like, but with Fat Tire, I got a buttery, dark ale tasting loaf with a texture that was not quite as airy as a yeast bread, but not as dense as a quick bread. And I think the texture would have been even better had I not completely screwed up and used a teaspoon of baking soda in place of powder. Oops. Despite not being high and light, my bread tastes pretty darn good.
Hopefully Todd will like this. He doesn't care for quick bread, corn bread, or even Irish Soda Bread but he loves just about any chewy yeasty bread so this should be an interesting experiment.
Original recipe is here and my re-tooled version with less butter and some weights is below.
I don't usually do prep shots but I felt this deserved a visual, mainly because the butter gets poured over the top which is sort of an interesting technique.
Here's the bread.  Now I wonder how high it would have been with baking powder.
Fat Tire Beer Bread
3 cups sifted all purpose flour (I used 12.15 oz)
1 tablespoon baking powder — or 1 teaspoon of baking soda if you're an idiot like I am
1 teaspoon salt
1/4 cup granulated sugar
1 (12 ounce) bottle beer – I used Fat Tire dark ale
5 tablespoons melted unsalted butter plus more for greasing dish
Preheat oven to 375 degrees. Rub a 9×5 inch metal loaf pan with about a tablespoon of butter**.
Mix together the flour, baking powder, salt and sugar. Add the beer, stir until mixed (about 30 strokes), then dump mixture into the loaf pan. Pour melted butter over the top. Bake 1 hour, remove from pan and cool for at least 15 minutes.
**The original recipe used a full half cup of butter. I used 5 tablespoons plus extra for greasing the pan.