Fat Tire Beer Bread is one of my older recipes. It's special in that it is a beer bread recipe without yeast. It's also kind of fun to put together because the technique's a little unusual. Instead of adding melted butter to the batter, you pour it directly into the loaf pan over the unbaked loaf. Here's an old picture. I really need to try this one with my new cast iron loaf pan.
The beer plus baking powder provide the leavening action, although in this case it seems I messed up and accidentally used baking soda in place of baking powder. Whoops. Despite the mishap, the bread had a pleasant texture and buttery, dark ale flavor.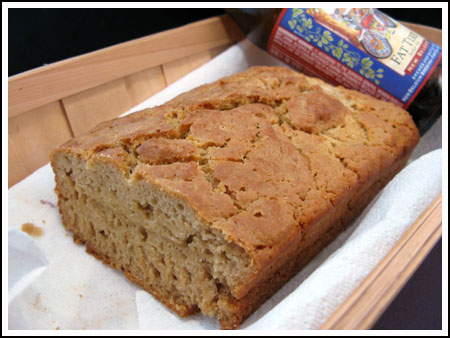 This is obviously a recipe I need to update, but the truth is since posting this I've been loyal to some other beer bread recipes -- mainly ones with yeast.
My favorite is Shiner Bock Bread, though I've since changed the name to Lagunitas Bread. You can name it after whatever beer you like.
But back to the Fat Tire Bread, this one's good if you want something quicker that doesn't involve yeast. Original recipe is here and my re-tooled version with less butter and some weights is below.
Fat Tire Beer Bread
3 cups sifted all purpose flour (I used 12.15 oz)
1 tablespoon baking powder -- or 1 teaspoon of baking soda if you're an idiot like I am
1 teaspoon salt
¼ cup granulated sugar
1 (12 ounce) bottle beer – I used Fat Tire dark ale
5 tablespoons melted unsalted butter plus more for greasing dish
Preheat oven to 375 degrees. Rub a 9x5 inch metal loaf pan with about a tablespoon of butter**.
Mix together the flour, baking powder, salt and sugar. Add the beer, stir until mixed (about 30 strokes), then dump mixture into the loaf pan. Pour melted butter over the top. Bake 1 hour, remove from pan and cool for at least 15 minutes.
**The original recipe used a full half cup of butter. I used 5 tablespoons plus extra for greasing the pan.