Today's recipe was recommended by Claudia, who emailed yesterday saying it was a hit with her family. Because of the name, "Oatmeal Bars" I imagined the recipe as oatmeal cookies in bar form, but when I clicked over to Martha Stewart (Claudia's source), I saw that the oatmeal chocolate chip bars were similar to Carmelitas – rich, buttery, oatmeal bars filled with caramel and chocolate chips.
Carmelitas call for caramel ice cream syrup as part of the filling, but this recipe calls for melted caramel candies. I had to go to two stores to find caramel, couldn't find Kraft brand, and ended up using Target's house brand of caramels. I'd need to taste the two side by side to be fair, but the Target brand caramels seemed to have a lot of flavor and I was pleasantly surprised. Or maybe I was just hungry.
The Martha Stewart recipe is for a 13x9 inch pan and if you're making these for a big group, I recommend printing the original recipe. I halved it, used the food processor for cutting the butter, and added some pecans.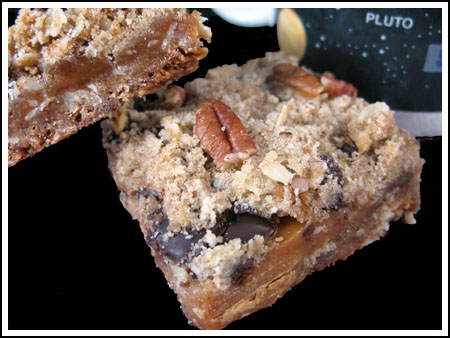 Caramel Filled Oatmeal Chocolate Chip Bars
24 unwrapped caramels
¼ cup heavy cream (30 grams)
1 cup old-fashioned rolled oats (84 grams)
1 cup all-purpose flour (135 grams)
½ cup packed light brown sugar (105 grams)
⅜ teaspoon baking soda
½ teaspoon salt
10 tablespoons unsalted butter, cut into small pieces (140 grams)
½ cup semisweet chocolate chips (80 grams)
⅓ cup pecans, chopped (40 grams)
Preheat oven to 350 degrees. Line an 8 inch square metal pan with foil and spray foil with cooking spray or use non-stick foil.
Combine caramels and cream in a small saucepan; cook over medium heat, stirring occasionally, until caramels are melted, about 5 minutes. Let cool.
Stir the oats, flour, brown sugar, baking soda, and salt together in a large bowl or bowl of food processor. Blend in butter with a fork or your fingertips until mixture resembles coarse meal. I used the food processor for this step, and so as not to chop the oats too much, added them *after* I'd incorporated the butter.
Press half of crumbly mixture onto bottom of lined pan. Bake on center rack for about 20 minutes. Let cool in pan on a wire rack 5 minutes.
Sprinkle crust with chocolate chips; drizzle with caramel mixture. Top with remaining crumb mixture and toasted pecans. Bake until pale golden, 20 to 25 minutes. Let cool completely in pan before cutting into squares. (12)