I'm heading to San Francisco this Friday for a big food blogger conference. Months ago, I was excited. Now I'm sort of nervous, but still looking forward to it. At least when you get a bunch of food bloggers together, there's something to talk about.
So this week I'm baking things that are easy to give away, like these brownies. I'd intended to make the Nick Malgieri/New York Times famous Supernatural Brownies, but didn't have the right kind of chocolate and did some improvising. I'm sure these are just as good as the original, and maybe not quite as sweet. I love the slight molasses flavor from the brown sugar.
These aren't quite as light as Artpark brownies, but they don't involve 10 minutes of whipping with a stand mixer and that is a good thing.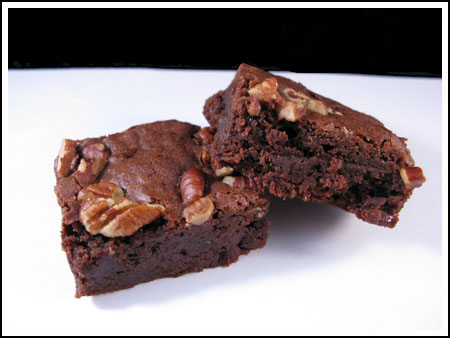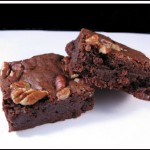 Print Recipe
Super Simple Brownies
An easy brownie recipe made with semisweet and unsweetened chocolate as well as brown sugar.
Ingredients
4

oz

unsalted butter

114 grams

2

ounces

58% semi-sweet chocolate

56 grams

2

ounces

100% unsweetened chocolate

56 grams

2

large eggs

1/4

teaspoon

salt plus a pinch

1/2

cup

very well packed dark brown sugar

110 grams

1/2

cup

granulated sugar

96 grams

1

teaspoon

vanilla extract

5 ml

1/2

cup

all purpose flour

65 grams

3

tablespoons

chopped pecans

optional
Instructions
Preheat oven to 350 degrees F. Line an 8 inch metal baking pan with non-stick foil.

Melt butter in a small saucepan set over medium heat. Add the chocolate, reduce heat to low or turn off the heat and stir until chocolate melts over residual heat. Cool slightly.

Whisk eggs in a mixing bowl, then whisk in salt, sugars and vanilla. Do this gently, so as not to whisk in to much air. Whisk in the chocolate. Fold in flour just until combined.

Pour batter into prepared pan. Sprinkle top with chopped nuts if desired.

Bake for 33-35 minutes or until shiny and beginning to crack on top.

Cool in pan on rack. Cut into brownie size of your choice.