Artpark Brownies are from Tender at the Bone, which is my favorite of all Ruth Reichl's books. I'm not sure why I didn't make the brownies back when I read the book, but it might have been because I did not own a stand mixer and didn't want to beat the eggs and sugar for 10 minutes with my handheld. Now I do have a stand mixer and make these brownies often.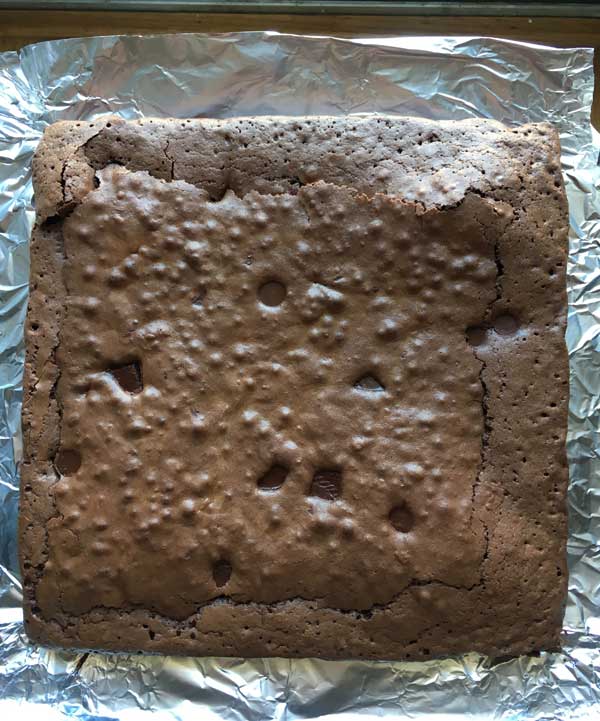 Lots of Beating!
The extended beating time gives the brownies a light, yet still fudgy texture and a flaky crust top crust.  How shiny the brownies are seems to depend on what brand of chocolate I use.  For instance, the brownies in the picture above were made with a mixture of unsweetened Lindt and Ghirardelli while the brownies in the older picture were made with unsweetened Ghirardelli.   Thanks to the crust and the texture, they're perfect for bake sales because you can wrap them in cellophane and they won't smear all over the place even though the inside is moist and delicious.
Another good thing about Artpark Brownies is they really showcase premium chocolate. I'm kicking myself for not picking up a bar of Valrhona at Central Market yesterday, but these were still awfully good with my standby, Ghirardelli.
Artpark Brownies Update
Update: It's been years since I first made these, but I was reading through Maida Heatter's Book of Great Chocolate Desserts and noticed this recipe is a modified version of one of Maida's. Maida, who made these brownies as a little girl and sold them individually wrapped, baked hers in a 15x10 inch pan, therefore the brownies were much thinner. The Artpark Brownie batter is not scaled down. Instead, the same amount of batter as in Maida's original recipe is poured into a 9 inch square pan resulting in a much thicker brownie. Another interesting thing is that Maida starts her oven at 450, then reduces it to 400 and bakes her thin brownies at 400 for 21 minutes. Artpark Brownies start at 400 and are then baked at 350 for about 40 minutes.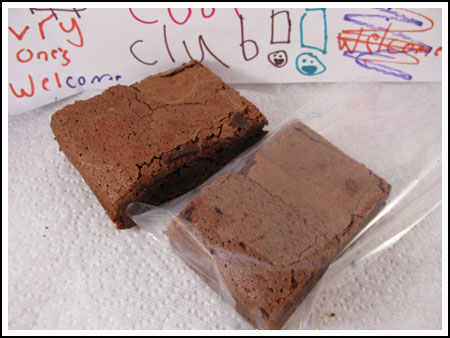 Recipe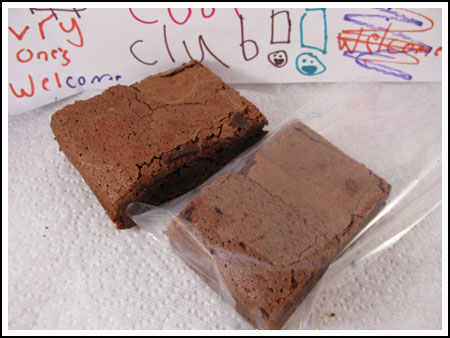 Artpark Brownies
These brownies are light and fudgy, yet rich at the same time. The key is to whip the eggs and sugar for 10 minutes.
Ingredients 
10 ½

tablespoons

unsalted butter

150 grams

5

ounces

unsweetened chocolate

chopped (140 grams)

4

large eggs

½

teaspoon

salt

2 ml

2

cups

granulated sugar

14 oz

2

teaspoons

vanilla

10 ml

1

cup

sifted flour

4 oz/114 grams
Instructions 
Preheat oven to 400 degrees F. Line a 9 inch square metal baking pan with nonstick foil or parchment paper.

Melt butter in a saucepan. Reduce heat to low and add chocolate. Stir until melted; set aside. Alternately, you may melt them together in a double boiler or using the microwave.

Beat eggs and salt in a stand mixer with the whisk attachment. With mixer going, gradually add sugar and continue to beat, increasing speed slightly, until mixture is pale and thick (about 10 minutes). Beat in the vanilla.

Remove mixer from the stand and with a heavy duty scraper, stir in the melted chocolate. When chocolate is incorporated, stir in the flour.

Scrape the batter into the pan and put in the oven.

Immediately reduce heat to 350 degrees F.

Bake for about 40 minutes or until tops appear set. A toothpick inserted in the center will not come out clean at this point, so the regular toothpick test won't work.

Let brownies cool completely. When cool, lift from pan and cut into large squares. For a cleaner cut, chill the brownies after they cool, then cut.