Julia Childs' Double Chocolate Cookies are from Baking with Julia. As you would assume going by the fact they are from Julia Child, they are very good cookies.  They're made with a mixture of eggs and sugar that gets whipped for 10 minutes, so the cookies are light textured but still rich.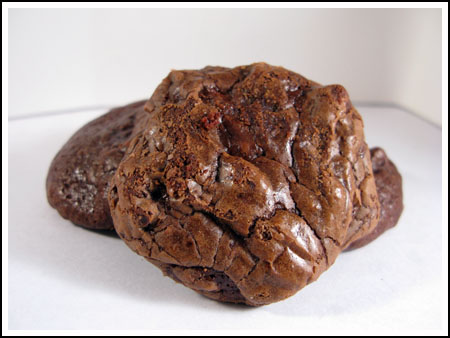 Types of Chocolate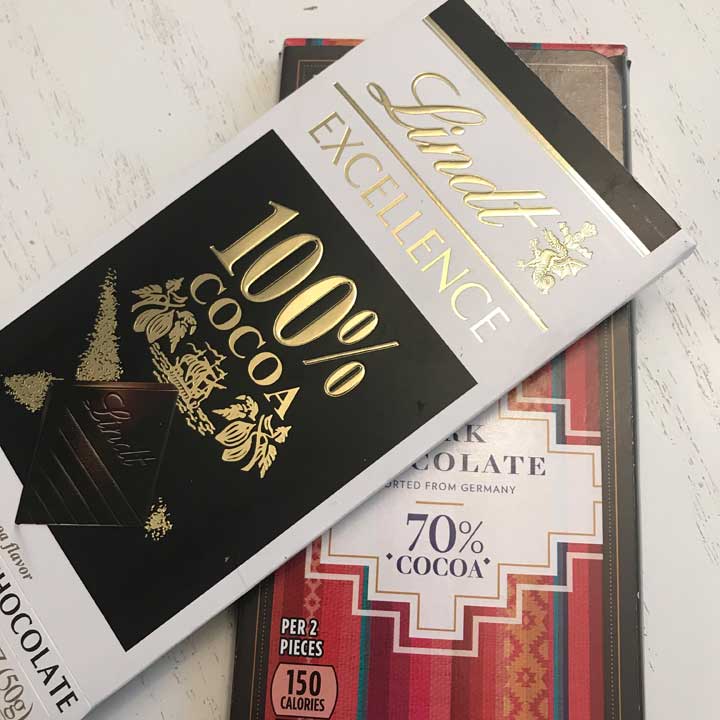 The only inconvenient thing about Julia Childs' Double Chocolate Cookies is you have to have both 70% chocolate and 100% chocolate (unsweetened). I rarely have either and have to specifically remember to buy 70% and 100% if I'm planning on making these. I have successfully substituted Ghirardelli Bittersweet Chips for the 70%, but the cookies are best made with melted chocolate — at least with the 6 oz of it that is melted. The 6 oz that gets chopped up can be chocolate chips or any kind of chocolate.
Chilling the Dough
The cookies come out much thicker when made with chilled dough, but if you want to bake the cookies right away you can, so long as you make sure all your warm ingredients (melted chocolate, melted butter) have cooled down before mixing. You may have to at least let the batter stand for a few minutes, but it should be thick enough so that you can spoon it into rounds. If you do bake without chilling the dough, the bake time will be shorter — check the cookies at 8 minutes.
Updates to Julia Childs' Double Chocolate Cookies
The original version of the recipe calls for 12 oz of 70% chocolate. Half of it is melted and used in the cookie dough, while half is chopped and used as add-ins. I prefer using 6 oz of 70% chocolate and then using 6 oz of whatever dark chocolate or chocolate chips I feel like for the add-ins.
The microwave works just fine for melting chocolate, but if you want to do it Julia's way you can use a double boiler.
This is a full batch version of the recipe, but I almost always halve it. Recipe halves well.
Recipe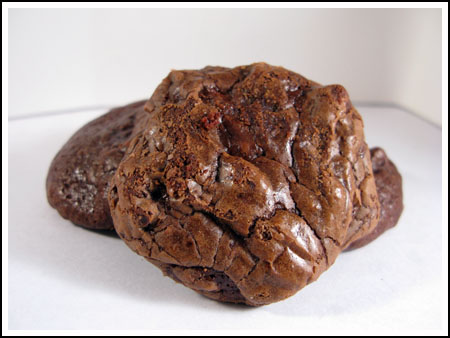 Julia's Double Chocolate Cookies
A double fudge chocolate cookie from Julia Child.
Ingredients 
6

ounces

70 % bittersweet chocolate, cut into chunks

4

ounces

unsweetened chocolate

coarsely chopped (114 grams)

1/2

cup

all-purpose flour

65 grams

1/2

teaspoon

baking powder

1/2

teaspoon

salt

4

large eggs

at room temperature

1 1/2

cups

granulated sugar

1

teaspoon

instant espresso powder or 1 tablespoon instant coffee crystals

I leave it out sometimes

2

teaspoons

pure vanilla extract

1

stick

4 ounces unsalted butter (114 grams), melted and cooled

6

oz

good quality chocolate chips or chopped dark chocolate
Instructions 
Combine 6 oz of 70% chocolate, 4 oz of dark chocolate and the 1 stick of butter in a microwave-safe bowl. Heat on high for 30 seconds. Mash mixture around and continue heating on high and stirring every 30 seconds until melted and smooth. Set aside to cool.

Mix the flour, baking powder, and salt in a bowl and set aside until needed.

Put the eggs, sugar, coffee and vanilla in the bowl of a mixer fitted with the whisk attachment and beat at high speed for about 10 minutes or until the mixture is very thick and yellow.

Very gradually add the (just slightly warm) chocolate. Scrape down the sides of the bowl and work rubber spatula around the bottom of the bowl, then continue to mix just until the chocolate is incorporated. Add the dry ingredients and mix gently but thoroughly. Make sure the mixture is not so warm that it will melt any additional chocolate, then stir in the remaining chocolate chunks.

Cover the bowl with plastic and chill for several hours, or overnight. The dough can be made ahead and kept refrigerated for up to 4 days.

Baking the cookies: When you are ready to bake, position the racks to divide the oven into thirds and preheat the oven to 350˚F.

Line two large baking sheets with parchment paper.

Using a heaping tablespoon of dough for each cookie, drop the dough onto the lined sheets, leaving at least 2 inches of space between each mound of dough.

Bake the cookies for 10 to 12 minutes, rotating the pans front to back and top to bottom halfway through the baking period. The cookies will puff, then sink and crinkle and wrinkle around the edges. Note: If you are baking with dough that is room temperature rather than super cold, check the cookies at 8 minutes. These are much better when NOT over-baked.
Notes
Cook time includes estimated chill time. Will vary
These cookies are better underdone than overbaked, so if you have any doubts, pull them out of the oven earlier rather than later. These shouldn't appear dry and they won't be crisp.