I never met a flavor of fudge I didn't like, but here's one that really grabbed my attention — s'mores flavor fudge. This piece is from the candy store on Main Street in Disney's Magic Kingdom.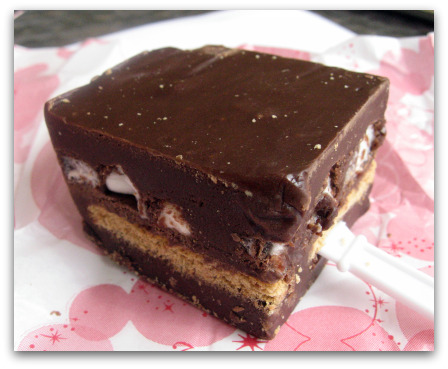 The idea seems so obvious, but I don't have any tried and true recipes for s'mores fudge, which in this case is a layer of dark chocolate, a layer of graham crackers, and then another thicker layer of lighter chocolate with mini marshmallows. Disney's tastes pretty good, but this is one that might be even better out of a home kitchen. If you have a S'mores Fudge recipe, I'd love to hear about it.
Here are a couple of recipes I found on-line.
The first one that came up on a Google search was About.com's s'more's fudge. In this recipe, the graham crackers are crushed and mixed right in.
Recipe Goldmine had a very simple condensed milk based s'mores fudge, which might be a good start.
Another springboard might be a recipe for double layer or rocky road fudge. You just have to figure out a good way to add the graham crackers. I kind of like how the Disney fudge has a flat layer of crackers that divides the other two layers.
I'm looking forward to experimenting with S'mores Fudge recipes in the upcoming weeks.