Today I made three different recipes for fudge and tasted them back-to-back.  The contenders were Cook's Illustrated 15 Minute Fudge (which I like to call Baking Soda Fudge), the Alton Brown fudge recipe, and a classic Hershey's fudge recipe.
Cook's Illustrated calls their easy fudge 15 Minute Fudge since they use a neat trick of adding baking soda to the old condensed milk "Foolproof Fudge" making it stiffer and closer in texture to true fudge.   It tasted good and the baking soda definitely made the texture a little drier and firmer, but I wasn't in love with it. It still required refrigeration and it didn't have the melt-in-your-mouth quality that makes fudge great.
Next up was the Alton Brown Fudge recipe. There were some discrepancies between the fudge he made on the show and the recipe that was posted on the Food TV website, so I just used the website version since a few others said it was fine. It's a good recipe, but I had to make it twice because the first time it got too hot in my stainless steel saucepan. The second time, using a heavy duty nonstick saucepan, it was perfect. I did add about ¼ teaspoon of salt to Alton's recipe. If you want to try a good homemade fudge recipe with no condensed milk or marshmallow crème, this is a good one to play with.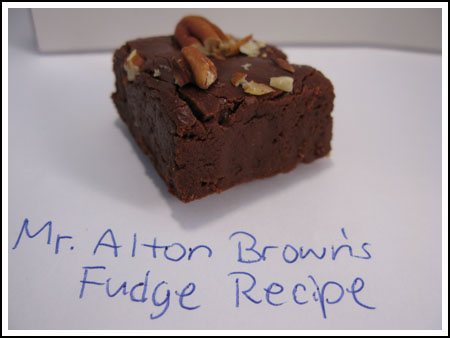 For the third fudge of the day, I made a really old fashioned recipe using cocoa powder -- Hershey's fudge recipe . Cocoa powder is less rich than actual chocolate and without any cream or half and half, my expectations for this fudge weren't that high. Luckily, it exceeded them. This fudge was the real deal. I didn't like it quite as much as the Alton Brown fudge recipe, but it had a light texture and rich chocolate flavor. Considering how much cheaper it is to make this fudge compared to the cheat fudge, it's a recipe worth mastering.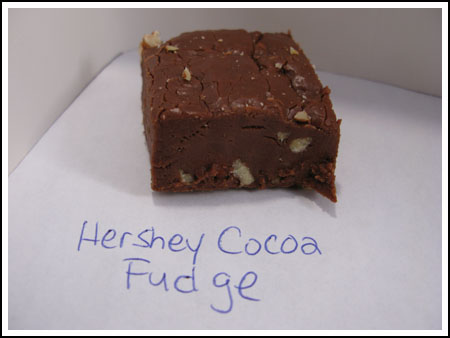 So those were my three fudge trials for today. Several people swear by the marshmallow crème jar recipe "Fantasy Fudge" and I plan on trying that one next.