I've always liked the flavor of anise, but in small doses and at specific times -- like Christmas or while in Italy. My husband on the other hand, loves the flavor and can't get enough of it. So while these are generally Christmas cookies, I probably should be making Iced Anise Cookies more often.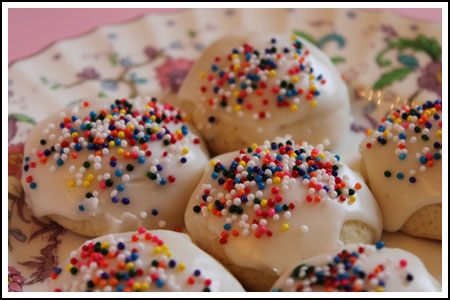 What is Anise
Anise is an ancient spice used throughout the world as a medicine, flavoring, aphrodisiac and even in magic. Drinking anise infused tea was said to increase psychic ability and keeping seeds in your pocket would ward off the evil eye. But mostly, anise  attracts. Hunters use it to lure deer, 16th century mice ate it, and fisherman sometimes rub anise oil on bait to attract fish.
Anise Uses
Anise is used in seed form or made into oils or extract. The difference in the two is the way they are made. To make oil, anise plants are boiled in water and the vapors are gathered and condensed. To make extract, oils of the plant are dissolved in alcohol and mixed in water, glycerol and other ingredients. So anise oil is actually stronger and if you have oil rather than extract, you'll only need to use about a quarter of the amount extract called for in the recipe.
Anise Extract
This recipe calls for anise extract. I didn't think I'd care for it much because unlike deer, mice and fish, I'm not really into anise's flavor, but the cookies were so pretty I wanted to bake them and take a picture. Surprise! They were delicious. Or maybe I'd just never had a really fresh frosted anise cookie? I'm not sure, but I'm looking forward to sharing them with my family of licorice lovers. If I liked the cookies, they'll love them.
Iced Anise Cookies
¾ cup granulated sugar
½ cup (1 stick) unsalted butter, melted
2 eggs
¼ cup milk
1 teaspoon anise extract
2 ¾ cups flour (12.5 oz)
2 ½ teaspoons baking powder
½ scant teaspoon salt
Icing:
About 1 ½ cup powdered sugar
4 ½ teaspoons (1 ½ T.) melted butter
1 ½ tablespoons milk plus extra if needed
1 ¼ teaspoon anise extract
Multi-Colored Sprinkles
Preheat oven to 325 degrees. Line baking sheets with parchment paper or non-stick foil.
Beat the sugar, melted butter, eggs, milk and anise extract together using low speed of a hand-held mixer.
Thoroughly stir together the flour, baking powder and salt; add to the batter and stir just until blended.
Drop dough by rounded teaspoons, shaping a little to form nice roundes, 2 inches apart onto cookie sheets and bake on center rack for 10 to 14 minutes or until bottoms of cookies are light golden. Cool on wire racks.
Make icing. Mix the sugar and melted butter together until the sugar is moist. Add the milk and beat well until smooth. Beat in the anise extract. It should be thick but pourable. Place a piece of paper towel under your cooling rack so that the glaze can drip through, then spoon it gently over the cookies.
Sprinkle with candy sprinkles.
Makes 4-5 dozen cookies.