Sprinkle Some Joy Cookies Sprinkles Sugar Cookies are colorful, happy, sweet sugar cookies from #BakeItForward, a new cookbook by Tracy Wilk with stories and recipes from bakers who spread kindness during the Covid 19 pandemic.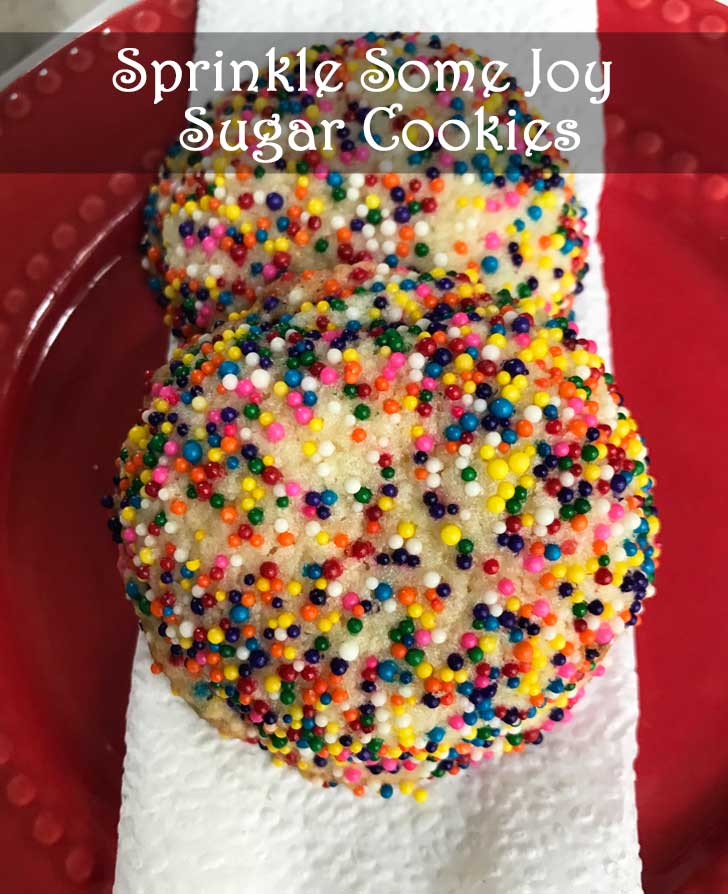 About #BakeItForward
Tracy Wilk is a culinary instructor and chef in New York. Furloughed from her job and feeling the need to help even though she had no medical training, Tracy connected with healthcare workers via social media, asking if she could bake them cookies. You can guess the answer! Her apartment turned into a mini bakeshop, where she packed hundreds of cookies for local hospitals. But things didn't stay local for long. Other bakers heard about Tracy's baking and started doing the same. The #BakeItForward movement was born, and the cookbook came later.
The #BakeItForward Cookbook
Recipes in #BakeItForward are user-friendly and feature a difficulty rating scale of 1 to 3.  Broken into four sections – Cookies, Morning Treats, Bars and Bites and Little Celebrations, – recipes include Sprinkle Some Joy Cookies, Homestyle Cinnamon Rolls, My Dad's Favorite Brownies, Amped-Up Rice Krispie Treats, Classic Yeast Doughnuts and NYC-Style Challah.  The book also includes a tutorial on baking ingredients, tools, simple baking skills and Chefs Notes with tips.
You can buy the book on Amazon or through Tracy's shop. Orders include shipping plus customized note from the author. Plus portion of all sales will be donated to City Harvest!
I don't have a copy of the book yet, but was given the sample recipe, Sprinkle Some Love Cookies. These are sprinkle coated sugar cookies similar to the free ones Publix used to give kids. While I didn't grow up with Publix, some of the other grocery stores like Randalls, Albertson's, H.E.B. and Kroger also gave out cookies. It's probably why I love grocery shopping to this day.
But back to the Sprinkle Some Loves. To be completely honest, I figured the cookies would be pretty with the sprinkles, but maybe a little boring in the way sugar cookies can be if you get my drift. But these, though plain in appearance, are excellent! They are sweet, cakey (but not too light), and super flavorful from the almond extract. If you're not a fan of almond extract you can certainly leave it out, but in my opinion it really makes the cookies special.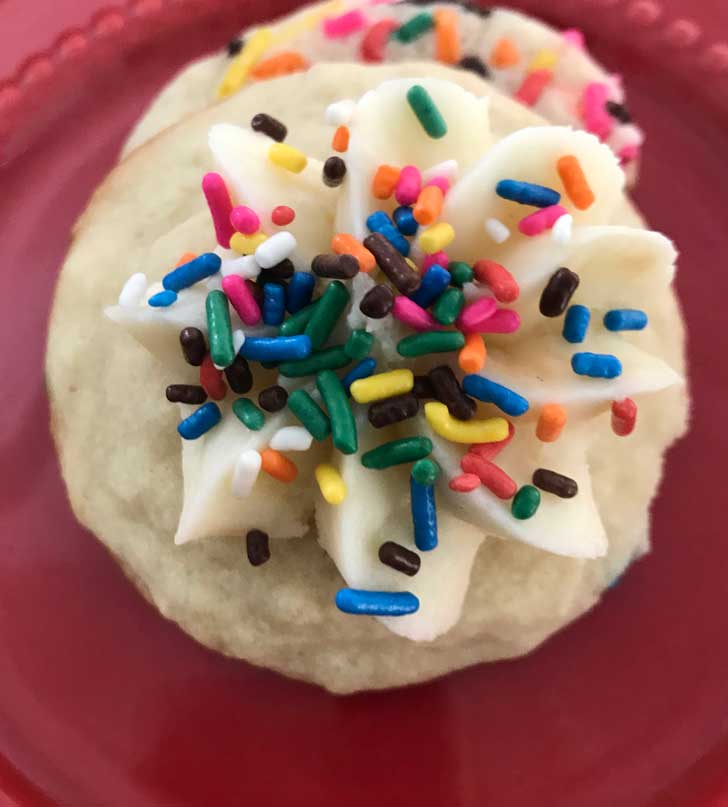 Here's one with cream cheese frosting. They don't need it, but I had some leftover from making Best Carrot Cupcakes and figured you can't go wrong with frosting.
Recipe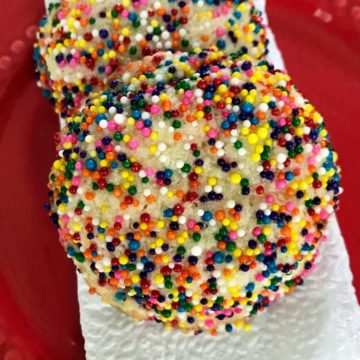 Sprinkle Some Joy Cookies
From the Bake if Forward cookbook
Ingredients 
2 1/2

cups

all-purpose flour

(300 grams)

1

teaspoon

baking powder

1/2

teaspoon

kosher salt

1

cup

unsalted butter, room temperature

(230 grams)

1 1/4

cups

granulated sugar

(250 grams)

2

large

eggs

(100 grams)

2

teaspoon

vanilla extract

1/2

teaspoon

almond extract

1

cup

nonpareil sprinkles
Instructions 
Preheat oven to 350°F. Line two baking sheets with parchment and set aside.

In a bowl, whisk together flour, baking powder, salt, Set aside.

Using a stand mixer fitted with a paddle (or a handheld electric mixer), beat the butter and sugar for about 3 minutes or until light and creamy.

Once the ingredients are creamed, beat in your eggs, one at a time, mixing until well combined. Add vanilla extract and almond extract and mix until combined and scraping side of the bowl.

Add the flour mixture and stir until blended.

Using either a medium cookie scoop, scoop out rounds of dough and roll in sprinkles. Place on baking sheets, leaving room for the cookies to spread.

Bake for 9-12 minutes, until the centers are cooked through. Allow cookies to cool for at least 5 minutes before removing from sheet tray.