Crinkle cookies are pretty, but don't always live up to my taste expectations. They're either too sweet, not flavorful enough or lack chocolate. I'd pretty much given up on them until this weekend when Louise turned me on to an old recipe from Gourmet – a crinkle cookie with a kick of Sambuca.
I've tasted Sambuca only once in my life, but Ouzo is another story. In fact, I had a whole bottle of it in the cabinet. Thinking I could swap it out for the Sambuca, I made the cookies with Ouzo and extra bittersweet (72%) chocolate. They were chocolaty alright, but not sweet enough and neither spread nor crinkle.
After debating whether or not to run out and buy Sambuca, I decided to stick with Ouzo and add a little sugar. That did the trick. I also experimented with different kinds of chocolate (53% cacao vs. 72% cacao) and found the 53% worked much better. The cookies spread and crinkled, whereas with the 72%, they just held their shape.
Another test I did was with/without walnuts. I love walnuts, but these cookies were much better without them.
So the final version of the recipe was something like this. The only change I might make or experiment with is the addition of miniature chocolate chips.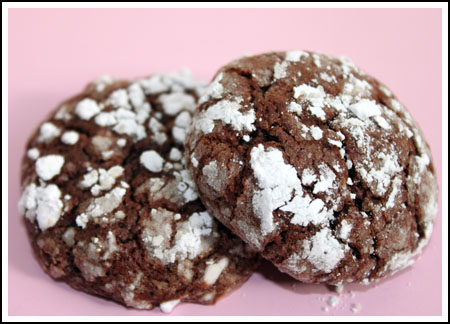 Chocolate Sambuca Crinkle Cookies
1 1/4 cups all-purpose flour (5.6 oz/160 grams)
1 tablespoon baking powder
1/2 teaspoon salt
12 ounces semi-sweet (53%) chocolate (not unsweetened), chopped
4 tablespoons unsalted butter
2 large eggs
1/2 cup Sambuca or anise-flavored liqueur or Ouzo mixed with 4 teaspoons sugar
2 tablespoons granulated sugar
1 cup (more or less) confectioners sugar
Mix together the flour, baking powder, and salt and set aside.
Melt chocolate with butter in a metal bowl set over a saucepan of simmering water, stirring until smooth. Alternatively, you could do this in the microwave.
Whisk together eggs, Sambuca (or Ouzo), and granulated sugar in another bowl. Stir in flour mixture and chocolate. At this point the dough will be too thin to shape. Chill, covered, until firm, about 2 hours.
Preheat oven to 350°F.
Sift confectioners sugar onto a plate. Roll heaping tablespoons of dough into balls and roll balls in sugar to **generously** coat. Arrange balls 2 inches apart on greased or parchment lined baking sheets and bake one sheet at a time OR in upper and lower thirds of oven, switching position of sheets halfway through baking, until puffed and cracked but centers are still a bit soft, 10 to 12 minutes total. Transfer to racks to cool.
Makes 2 1/2 dozen