Rugelach is not a cookie I grew up with, so I've been making up for lost time trying different recipes. Here are some rugelach recipe reviews. All of these are good, but different in some ways.  And I apologize in advance for the photos, but these are all my early attempts.  I'll update the photos soon.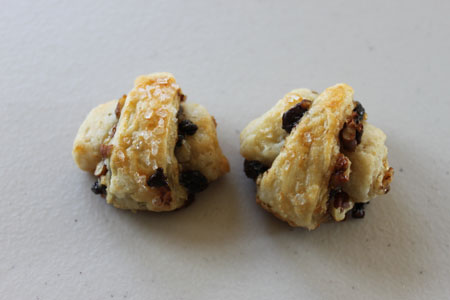 Ina Garten's rugelach recipe is very good.   Mine didn't turn out as flaky as some, and I think they were a little moister and sweeter, but they tasted great and the process of making them was less frustrating than I'd anticipated. Luckily cream cheese dough is pretty easy to work with. I also liked sweetened dough. Some recipes call for sugar only in the filling and the dough is just flour, sugar and cheese. This is one of the first rugelach I rolled.  I got better at it after a while and increased the bake time too.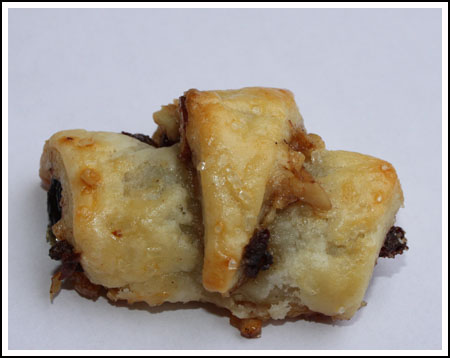 Dorie Greenspan's rugelach recipe is also good, if not great. It was definitely flakier thanks to the cold butter, and it wasn't as sweet as Ina's since it didn't have sugar in the dough. At first the lack of sweetness surprised me (having just tried Ina's), but I found I kind of liked that contrast of sour and sweet quite a bit.  I baked this one for almost 25 minutes because I like the well-browned look.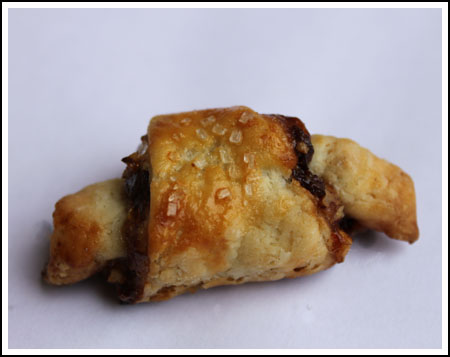 Another good rugelach is King Arthur's Rugelach which is similar to Dorie's but uses sour cream in the dough. It was flakier than Ina's, not quite as flaky as Dorie's, but easier to work with and with a good flavor from sour cream.In the past I've always used a combination of apricot preserves, pecans, currants and chopped up or "mini" chocolate chips, and that's what I used for yesterday's batch,