Italian wine cookies weren't the only great cookie at the Austin food blogger cookie swap. The Cosmic Cowgirl made some amazing rugelach – the best I've ever tasted. It was flaky, the perfect sweetness, and had chocolate chips and hazelnuts in the filling. Her rugelach was so good it sparked a new (let's hope brief) obsession with the pastry which if made right and served fresh, is a wonderful thing.
I didn't want to hound the Cosmic Cowgirl for her recipe, so instead I turned to Ina Garten and Dorie Greenspan who had highly rated versions. Both cooks used the same proportions of butter, cream cheese and flour in the dough but Ina's used softened cream cheese and butter and Dorie's dough was made with the cold butter food processor method. I made both recipes over a period of two days.
First, Ina's recipe. These were so good.   They weren't as flaky as Cosmic Cowgirl's, and I think they were a little moister and sweeter, but they tasted great and the process of making them was less frustrating than I'd anticipated. Luckily cream cheese dough is pretty easy to work with. I also liked the granulated sugar and vanilla in Ina's dough, which is something you will not find in recipes by Maida Heatter and Joan Nathan who keep the sugar in the filling, only.
This is one of the first rugelach I rolled.  I got better at it after a while and increased the bake time too.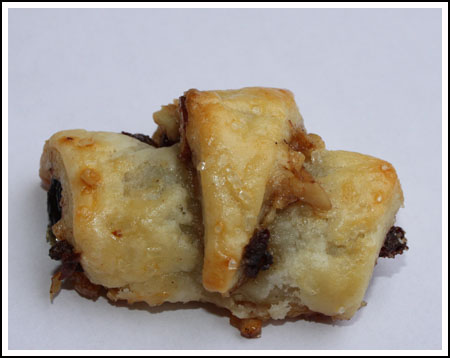 Dorie's rugelach was good, if not great. It was definitely flakier thanks to the cold butter, and it wasn't as sweet as Ina's since it didn't have sugar in the dough. At first the lack of sweetness surprised me (having just tried Ina's), but I found I kind of liked that contrast of sour and sweet quite a bit.  I baked this one for almost 25 minutes because I like the well-browned look.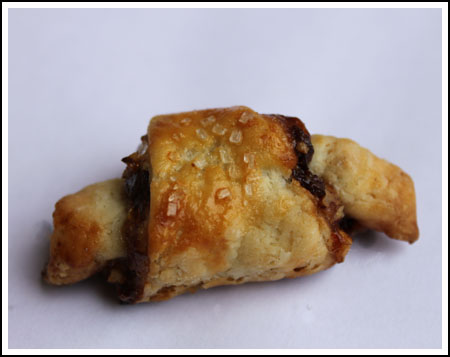 So I've only tried two rugelach recipes and you can bet I'll be trying more pretty soon. Since the recipes are all so similar, I think a lot of what it boils down to is the skill of the baker. Obviously, I'm in the beginning stages of developing this skill.