This recipe was adapted from one of my favorite cookbooks, Food Writers' Favorite Cookies. It's called "Espresso Fudge Cups" and it's by Marlene Sorosky, who in the introduction says she must have made these little chocolate cups 20 times before she got them just right. She also noted that they were easy to over-bake.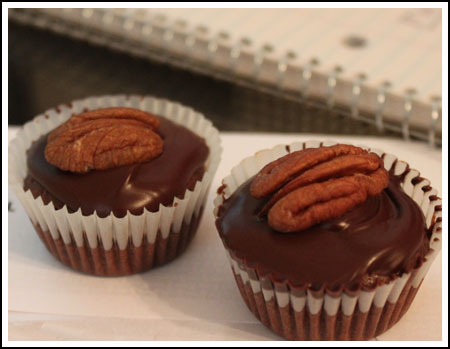 I didn't make these twenty times, but I did make them twice because the first batch seemed a little dry. It's possible I over-baked them because I used a black pan and didn't reduce the heat. In any case, for the second attempt I made a substitution which added some moisture -- 2 tablespoons of corn syrup in place of 2 tablespoons granulated sugar. I thought they were moister with the corn syrup, but you can make Espresso Fudge Cups either way. Just be sure to make the glaze because it really finishes off the recipe.
All in all, these are definitely worth trying. They're super cute and easy to make. I didn't mind the dryness because I thought the glaze offset it and the second version, with the corn syrup, was definitely not dry.
Espresso Fudge Cups with Kahlua Glaze
4 oz (1 stick) unsalted butter
3 oz (½ cup) dark or extra dark chocolate chips
1 teaspoon instant espresso powder
1 tiny pinch salt
2 eggs
½ cup plus 2 tablespoons granulated sugar**
2 scant tablespoons corn syrup**
½ cup cake flour**
Glaze:
1 oz (2 tablespoons) unsalted butter
⅓ cup (2 oz) dark or extra dark chocolate chips
Pinch of instant espresso powder
1 teaspoon corn syrup
1 teaspoon Kahlua or brewed coffee
24 toasted Pecan Halves for garnishing
Preheat oven to 350 degrees F. Line twenty-four 1-½ inch miniature muffin cups with paper liners. If your cupcake pan is black, you might want to reduce the heat by 25 degrees F. I did not.
Melt butter in a medium size microwave-safe mixing bowl (should take about 1 ½ minutes). Add chocolate chips, espresso powder and salt to hot melted butter and stir well. Microwave for another 30 seconds if needed and stir until smooth. Cool for about 5 minutes. Whisk in eggs, sugar and corn syrup; stir in flour. Divide evenly among muffins cups and bake on center rack for 16-18 minutes or until the little cakes appear set. Do not over-bake because they dry out pretty easily.
Make the glaze. Melt the butter in a microwave-safe bowl or Pyrex liquid measuring cup. Stir the chocolate chips into the hot butter. Microwave another 20-30 seconds and stir until smooth. Stir in the espresso powder, corn syrup and Kahlua. If you don't have Kahlua you can thin with a little coffee or use nothing at all. Spoon the mixture on top of each fudge cup. Garnish with a pecan half
Makes 24
**Or use ¾ cup granulated sugar and omit the corn syrup
**Original recipe used all-purpose, but I loved how the cake flour worked and don't think all-purpose would help with the dryness issue.