This Boudin Brownie recipe is an old favorite based on a recipe from the Boudin Bakery in San Francisco.  The bakery is famous for their sourdough bread, but they also make great brownies.  At one point someone requested the recipe and it was published in The LA Times.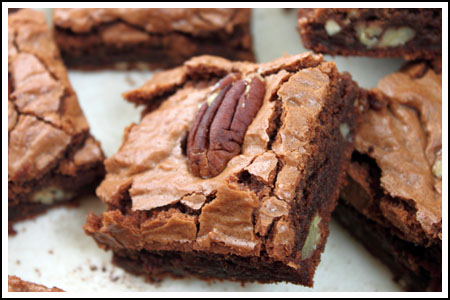 The LA Times Boudin Brownie recipe is designed for a 13×9 inch glass baking dish, but my version is a half batch which I bake in an 8 inch pan. I usually use a metal pan instead of glass, so to adjust for that I originally baked the brownies at 375 instead of 350. I've since gone back to 350 and have found that it doesn't really matter if you adjust the heat for metal and you have less of a chance of overbaking if you stick with 350F. Glass will give you a better crust, though.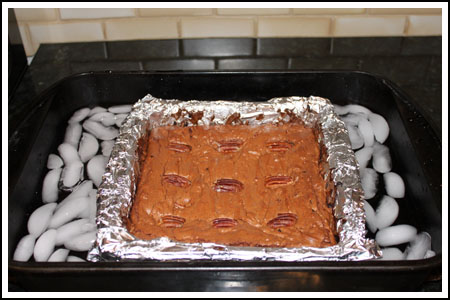 If you do happen to overbake your brownies, you can save them by quickly putting the pan in an ice water bath. If you use 350, you probably won't need to do this.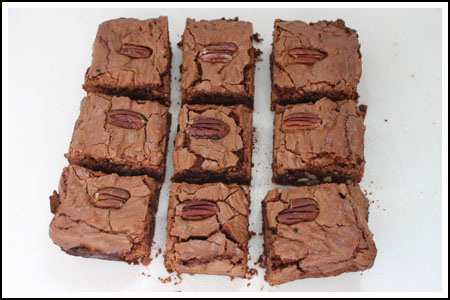 For the walnuts, I rarely use the full cup but rather scatter a bunch of coarsely chopped or just lazily broken walnuts over the top.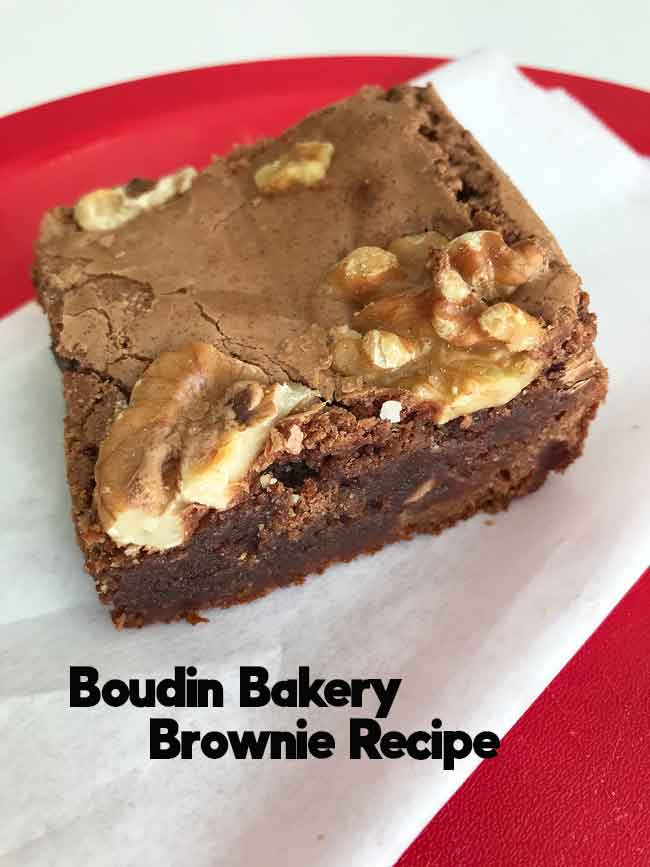 Recipe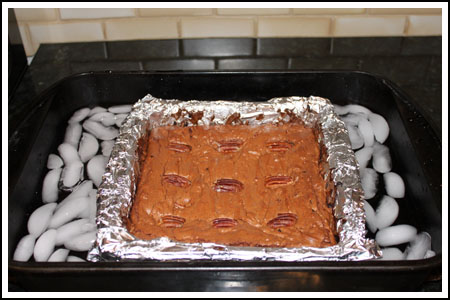 Small Batch Boudin Brownie Recipe Copy Cat
Brownies that are neither cakey nor too fudge-like
Ingredients 
1

stick

unsalted butter

114 grams

4

ounces

bittersweet chocolate

2 1/2

large eggs, 125 grams

to halve an egg, crack 1 and use 2 tablespoons

1 1/2

cups

granulated sugar

285 grams

1/2

tablespoon

vanilla

1/2

teaspoon

salt

3/4

cup

all-purpose flour

90 grams

1

cup

walnuts

coarsely chopped, optional
Instructions 
Preheat oven to 350 degrees. Line an 8 inch square metal pan with foil and butter the foil.

Melt the butter in a heavy saucepan over medium heat. Add chocolate, turn off heat, and stir until melted from the residual heat. Let it cool for about 5 minutes.

Beat the eggs and sugar until light and fluffy, 5 to 7 minutes. You can do this in a stand mixer or with a hand-held, but I used a stand mixer since the beating time is so long. Beat in the melted chocolate (which should be slightly warm, but not piping hot at this point), vanilla and the salt. By hand stir in the flour until it is almost combined, then add the nuts and continue stirring gently until all flour disappears. I do this with a heavy scraper.

Pour the batter into the prepared pan, smooth to the edges, and bake in the center of the oven until puffed and almost set, about 42 to 45 minutes.

Cut the brownies into 9 big squares or however many you feel like.
Notes
If you accidentally overcook your brownies or just want to quick-cool them, put the hot brownie pan in about an inch of ice water.