Boudin Bakery is California based, but years ago they had a store in Chicago's 900 North Michigan, a mall not too far from my apartment. If it was cold outside (and it usually was), I'd spend a few hours wandering around the mall window shopping. Occasionally I'd buy something at Bloomingdale's, but for the most part the mall was too expensive and the only thing I could afford was a brownie from The Boudin Bakery.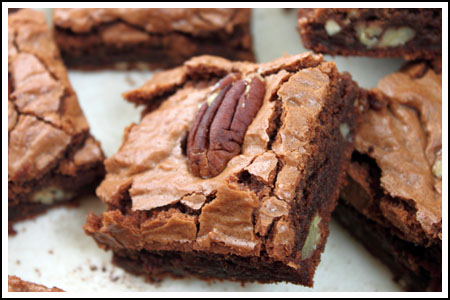 A few months ago the LA Times printed a scaled down, home-kitchen version of the Boudin Brownie recipe. Seeing the recipe brought back memories, but I didn't get around to baking the brownies until yesterday.
The LA Times/Boudin recipe was for a 13×9 inch pan, so I halved it and baked the brownies in an 8 inch metal pan. Boudin bakes their brownies at 350 in a glass pan and since the rule is to lower heat 25 degrees when using glass over metal, I raised the heat 25 degrees since I was using metal instead of glass. 375 F seemed like a high heat for baking brownies, but I'd made other high-heat baked brownies and the result had been a thick crust and fudgy center. And that's exactly what I got. These are fabulous, as far as texture goes. They have a really thick, flaky crust and a middle that's soft and fudgy — pretty much the epitome of the "in-between" brownie.
One final note. I thought I'd over-baked the brownies, so I quick-cooled them in a water bath. I'd definitely use that same method again.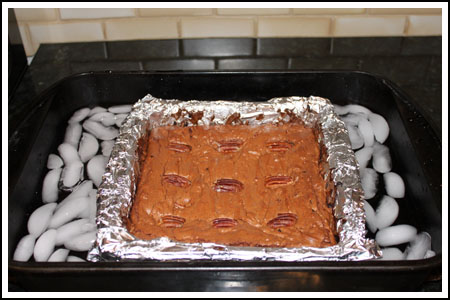 Cut.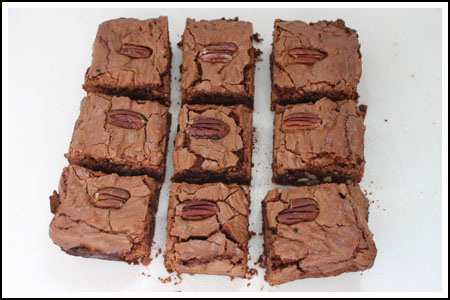 Small Batch Boudin Brownie Recipe Copy Cat
Brownies that are neither cakey nor too fudge-like
Ingredients
1 stick unsalted butter (4 oz) plus extra for greasing
4 ounces bittersweet chocolate
2 1/2 large eggs – (to halve an egg, crack 1 and use 2 tablespoons)
1 1/2 cups granulated sugar
1/2 tablespoon vanilla
1/2 teaspoon salt
3/4 cups (3.19 ounces) flour
1 cup toasted, chopped pecans or walnuts
Instructions
Preheat oven to 375 degrees. Line an 8 inch square metal pan with foil and butter the foil.
Melt the butter in a heavy saucepan over medium heat. Add chocolate, turn off heat, and stir until melted from the residual heat. Let it cool for about 5 minutes.
Beat the eggs and sugar until light and fluffy, 5 to 7 minutes. You can do this in a stand mixer or with a hand-held, but I used a stand mixer since the beating time is so long. Beat in the melted chocolate (which should be slightly warm, but not piping hot at this point), vanilla and the salt. By hand stir in the flour until it is almost combined, then add the nuts and continue stirring gently until all flour disappears. I do this with a heavy scraper.
Pour the batter into the prepared pan, smooth to the edges, and bake in the center of the oven until puffed and almost set, about 38 to 40 minutes. I baked mine for 40 minutes. Worried that I overcooked them, I quick cooled them in a water bath to make double sure they wouldn't continue cooking internally after I'd removed them from the oven. Results were great and I'd probably do this again (40 minute bake time and water-bath quick cool).
Remove from ice water after about 30 minutes. Let cool completely. Lift from pan and cut into squares.
Cut the brownies into 9 big squares or however many you feel like.