Last week I had an ongoing craving for rocky road and tried three different versions of the candy.
First I made the popular condensed milk rocky road. It was very good – like Five Minute Fudge, but better because of the added marshmallow and peanuts. I stored it in the refrigerator, but it tasted best at room temperature so I took a few pieces out before serving. THis is a good recipe and I'm looking forward to trying a new version with butterscotch chips or peanut butter mixed in.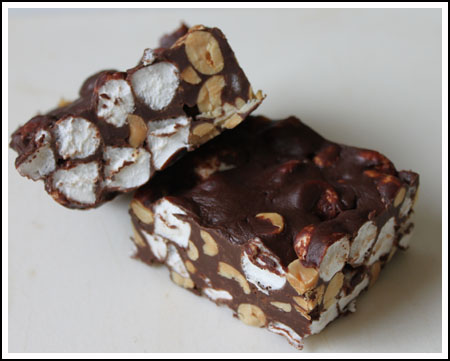 A couple of days later, I made rocky road with melted dark chocolate Dove Promises, peanuts and marshmallows. I didn't post it then because the recipe seemed almost too simple, but I think it was my favorite and have included the technique for making it below.
Yesterday, I tried the old-school version of rocky road – the one that calls for raw eggs. I used pasteurized of course, and planned on keeping the fudge refrigerated. Of the three, the raw egg version was my least favorite. It had a softer texture than the condensed milk version, and for some reason I just didn't like the flavor. So I'm striking that version off the list and will stick with either the condensed millk version or the type made with straight chocolate, marshmallows and peanuts. At least with the straight chocolate version you can have fun experimenting with different quality chocolate.
Here's how I made the Dove Rocky Road.
Dark Chocolate Rocky Road
9.5 oz Dove Dark Chocolate Promises (unwrapped! Ha ha ha)
2 cups mini marshmallows
About ⅔ cup peanuts, lightly salted
Line a loaf pan or small (8 inch) square pan with non-stick foil.
In a heat-proof mixing bowl set over but not touching a pan of simmering water, melt the Dove chocolate. You could also do this step in a double-boiler or in the microwave using a low setting and stirring often.
When the chocolate is melted, remove from heat and stir in the marshmallows and the peanuts.
Press into pan and chill for 2 hours or until set. Remove from pan and slice. If you want, you can skip the pan and just spread candy on a lined pan.