NOTE:  READ THIS BEFORE YOU MAKE THE RECIPE
I didn't watch the show, but Joe at Culinary in the Country gave me a hot tip! C. Tossi made her famous Milk Bar Compost Cookies on Regis and Kelly.
Here's a link to the recipe she gave out. I guess the coffee grounds really are optional. Also, she used corn syrup instead of glucose.
Update: That link doesn't seem to work anymore (it just keeps loading and loading), but if you Google it you can see people who've posted the recipe verbatim from the recipe that was on the Regis & Kelly site.   Not everyone was happy, though.  I think some parts of the original recipe were lost in translation because it just didn't work well for people in home kitchens. After making it myself a few times and having minor success, I updated it a little and it worked perfectly. This recipe was down in the comment section, but I pasted it here so it's easier to fine. I also posted the updated compost cookie clone recipe here, but people seem to miss that one.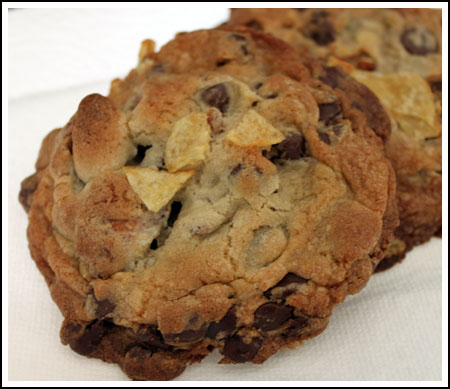 Adapted Version of Regis & Kelly Compost Cookie
4 oz cold unsalted butter, chopped up
1/2 cup granulated sugar
1/4 cup plus 2 tablespoons light brown sugar, packed
1/2 tablespoon corn syrup
1 tsp vanilla
1 large egg
4.5 weight oz flour (If you don't have a scale, fluff up the flour and scoop up 1 heaping cup. Sweep top flat)
1 tsp baking powder
1/2 tsp baking soda
1/2 teaspoon Morton brand Kosher salt or regular salt or use 1 teaspoon coarse Diamond brand
3/4 cups semi-sweet or good chocolate chips – wouldn't recommend regular chopped chocolate because it might cause more spreading. Best to stick with chocolate morsels/chips.
3/4 cup (more or less) broken peanut butter filled pretzels, Zapps potato chips, regular pretzels and pecans. The ¾ cup is approximate – use what seems good to you, but the peanut butter filled pretzels were awesome!
In a stand mixer with the paddle attached, cream the cold butter, both sugars and corn syrup on medium high for 2-3 minutes until fluffy. Scrape down the sides of the mixing bowl.
Add eggs and vanilla and stir to incorporate. Increase mixing speed to medium-high and run mixer for 10 full minutes. During this time the sugar granules will dissolve, the mixture will become an almost pale white color and mixture will double in size.
Meanwhile, stir together flour, baking powder, baking soda and salt.
By hand or using lowest speed of mixer, stir in the flour mixture – don't beat it in or the cookies won't be as tender. Stir in candies and salty things.
Using about a heaping 1/3 cup measure or a stingy 4 oz measure, scoop up dough and form rounds. My scooped rounds weighed a little less than 4 oz each. Put the shaped rounds on a plate, cover with plastic wrap and chill for a few hours or until ready to bake.
DO NOT BAKE your cookies from room temperature or they will not hold their shape.
Heat the conventional oven to 400F. (350F in a convection oven). Arrange chilled cookie dough balls on a parchment or non-stick foil lined cookie sheet – mine was insulated. If your cookie sheets are thin, you might want to stack two and bake the cookies on the stacked cookies sheets.
Bake 9-11 min (I baked mine for 12-13. While in the oven, the cookies will puff, crackle and spread.
According to the original recipe, at 9 min the cookies should be browned on the edges and just beginning to brown towards the center. At 9 minutes, Mine were pale and doughy looking. Leave the cookies in the oven for the additional minutes if needed (it will be needed) and bake a total of about 12 to 14 minutes. All ovens are different so you'll need to watch the cookies, specifically the edges.
Cool the cookies completely on the sheet pan before transferring to a plate or an airtight container or tin for storage (I cooled mine on the sheet for only about 5 minutes, but mine were a tad bit overcooked so they were fine).
Not sure of the true yield because I've only baked two.