Have you tried the new honey oatmeal raisin cookie recipe from Food Network Magazine? It's on page 42 in the "Ask Ellie" section and it's quite similar to the agave honey cookie I posted months ago but with some key differences.  For instance, it makes about double the yield, uses all honey instead of agave, and includes dried milk powder and almond butter, which up the protein and help curb blood sugar spikes.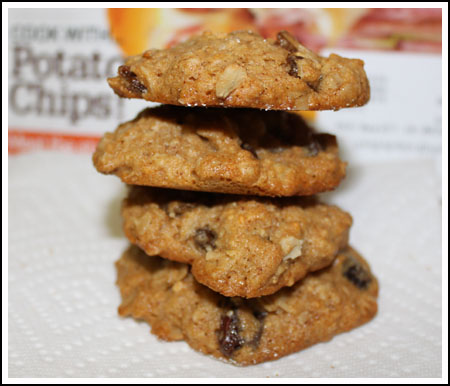 Ellie's recipe is posted on the Food TV website.  Nobody's reviewed it yet, so I'm looking forward to checking back and seeing what other people say.
As for me, I thought the cookies were tasty and had a great combination of flavors -- honey, cinnamon, vanilla and oats. The texture wasn't perfect, though. The cookies left kind of a dry, chalky feel in my mouth which I attribute to the milk powder and almond butter.  They definitely weren't as rich tasting as other oatmeal cookies nor as moist as the recipe with agave, but the raisins made up for the dryness and I enjoyed the cookies quite a bit.  The hint of almond flavor from the almond butter was a nice touch too.  I would definitely make these again for myself or as a healthy snack for kids who'll eat raisins, but I wouldn't serve them at a party or take them to an event unless it was an event for people with special dietary issues.   Also, I wouldn't make these without the dried fruit -- raisins or maybe something else like apricots.