This weekend I had a yellow cake bake-off. Since I don't have a lot of people to help eat the cakes, I made 3 half batches using recipes from the Magnolia Cafe cookbook, a Carole Walter book, and Paula Deen. All 3 cakes were variations on the old 1-2-3-4 cake which calls for 1 cup butter, 2 cups sugar, 3 cups flour, 4 eggs, 4 teaspoons baking powder, 1 cup milk and about 1 teaspoon of vanilla. It's a recipe which tastes different depending on technique, type of flour, and method of measurement.
Since I only posted pictures and descriptions of the first two cakes, I'll go ahead and tell you a little more about the Paula Deen cake (pictured below). It was similar to the other two, but instead of using half self-rising and half all purpose or sifted cake flour, Paula used 3 cups sifted self-rising flour. The cake tasted delicious and of the three, it was the most convenient. However, the texture was a little coarser and looser crumbed than both of the others.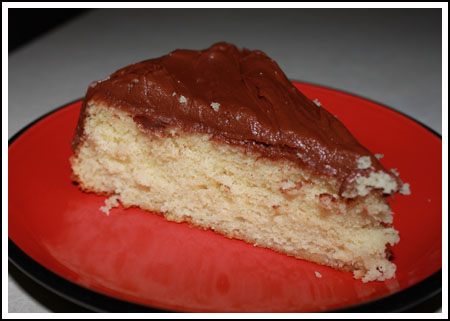 So that's it for 1-2-3-4 cake variations. I'm enjoying these yellow cake trials and I think I'll move on to some yellow cakes that are highly rated, but which use different proportions (e.g Shirley Corriher's, CI's, and Bonnie Butter Cake by Betty Crocker).
| | | |
| --- | --- | --- |
| Magnolia | Carole Walter | Paula Deen |
| Really great cake!  Tasted like a cross between a sponge cake and a yellow cake.  Not as crumbly as some other cakes, yet tender.  Not a lot of baking powder flavor.  This was my favorite of the 3. | Wonderful, light, melt in your mouth cake.  If you are sensitive to baking powder flavor, you might notice its salty metallic flavor.  My husband didn't notice it and this was his favorite. | Loved it!  Very convenient and a good cake to make if you have self-rising flour on hand.  I preferred the texture of Magnolia's cake which wasn't quite as crumbly, but this was still a very good 1-2-3-4 |
Magnolia
Carole Walter
Paula Deen
1 1/2 c. self rising flour (6.8)
1 1/4 c. ap flour (5.6 oz)
1 cup unsalted butter (8 oz)
2 cups sugar
1 teaspoon vanilla
4 large eggs
1 cup milk (whole)
3 c. sifted cake flour (11.2 oz)
1 T. baking powder
1/2 teaspoon salt
1 cup unsalted butter (8 oz)
2 cups superfine sugar
4 large eggs
1 1/2 teaspoons vanilla
1 cup milk (whole)
3 cups self-rising flour
1 cup butter (8 oz)
2 cups sugar
1 teaspoon vanilla
4 large eggs
1 cup milk (whole)