I originally made this cake after trying a yellow cake recipe from Magnolia Bakery. I was happy with the Magnolia cake, but bakers on various food forums had recommended a few others inluding this one -- Carole Walter's Best Yellow Cake.  I tried the Carol Walter recipe yesterday to compare it to Magnolia's.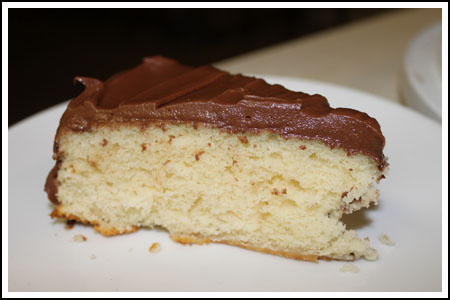 The Carol Walter cake is similar to Magnolia's cake, but calls for cake flour, baking powder and salt rather than Magnolia's combo of self-rising and all purpose flour. It uses a different a good amount of vanilla and calls for superfine sugar instead of regular.
Variations on 1-2-3-4 Cake
I should have noticed this right away and if I baked cakes more often I would have, but both cakes were just variations on the old 1-2-3-4 cake made with 1 cup butter, 2 cups sugar, 3 cups sifted cake flour, 4 eggs, 4 teaspoons baking powder, ½ teaspoon salt and 1 cup of milk.  It's a basic template for yellow cake which bakers like to adjust.
As for this 1-2-3-4 cake variation, I liked it and Todd preferred it over Magnolia's.  Of the two, I liked Magnolia's a little better because it had a cleaner flavor (no baking powder taste) and didn't crumble as much when I put a fork in it.  So the self-rising/all purpose combo was my favorite, but if I had cake flour on hand I'd happily bake and serve this one.
But I'm not stopping with these two!  Yesterday I found a recipe by Paula Deen which is almost the same as these, but calls for 3 cups self-rising flour.  I'm off to bake it right now.
One final note before I head to the kitchen. Rather than halve the recipe and make two 8 inch layers as I did with the Magnolia cake, I halved the cake and baked it in 1 9-inch pan so it would be taller and the ratio of cake to frosting would be higher. That worked out well, so for the rest of the yellow cake experiments, I'll be halving recipes that call for 3 9 inch layers and using 1 9 inch round pan.
Here's the recipe which is paraphrased. For more really good cake recipes, buy Carole's book!
Best Yellow Cake (inspired by Carol Walter)
3 cups sifted cake flour (measured after sifting, important)
1 tablespoon baking powder
½ teaspoon salt
2 sticks (8 oz) unsalted butter, softened
2 cups superfine sugar
4 large eggs, room temperature
1 ½ teaspoons vanilla extract
1 cup whole milk
Preheat to 350 F. Spray 2 or 3 9-inch round pans with flour-added cooking spray.  Line pan bottoms with a round of parchment paper if you have some.
Sift together the (already sifted) cake flour, baking powder and salt. Set aside.
Beat the butter in a stand mixer until creamy. Add the sugar, 1 tbsp at a time, taking about 8 to 10 minutes to blend it in well. Scrape the sides of the bowl occasionally.
Add the eggs, 1 at a time at 1-minute intervals. Scrape the sides of the bowl as necessary. Blend in the vanilla.
Reduce mixer speed to medium-low. Add the flour mixture alternately with the milk, beginning and ending with flour. Mix just until incorporated after each addition.
Spoon the batter into the prepared pans and smooth the surface. Bake in the preheated oven for 20-25 minutes if you've used 3 pans, or 30-35 minutes if you've used 2 pans. Cake should be golden brown on top and come away from the sides of the pan. Cool in pan on rack for 10 minutes, then turn from pan and let finish cooling on a rack.