It's National Oatmeal Cookie Day, so here are some new recipes to try! Bonus. If you like raisins go ahead and throw some in because it's also National Raisin Day.
What to Make for National Oatmeal Cookie Day
I have so many oatmeal cookie recipes and more than one of them say they're the best. So how could I pick the top 5? I went back and picked out the five recipes I use most often when people request oatmeal cookies. And just to make sure my very top pick was still up to par, I made a batch this morning.
One of my all-time favorites is adapted from Quaker's Best.  They don't look like anything special, but they are delicious -- light, buttery, fairly thick, only slightly chewy and with crispy edges. You can make them with or without raisins. Today I used Sun Maid assorted jumbo style and added toasted pecans. For the oats, I prefer using old fashioned but today I got stuck using "Quick" (not instant) and the cookies were still terrific...maybe even better than when I use the old fashioned type.
Oh, one last note. Since I'm using my stand mixer these days, I started with cold butter and beat it with the paddle until creamy. Whenever I do that, I get cookies with very nicely rounded edges.
The Best Oatmeal Cookies
1 ½ cups all-purpose flour (7 oz)
1 teaspoon baking soda
1 teaspoon cinnamon
½ to 1 teaspoon salt (reduce to ½ tsp. if using salted butter)
¼ teaspoon ground nutmeg (fresh if possible)
2 ½ sticks cold unsalted butter (10 oz)
¾ cup firmly packed brown sugar
½ cup granulated sugar
1 large egg
1 teaspoon vanilla
3 cups Quaker oats, (quick or old fashioned, not instant)
¾ cup raisins
½ cup toasted walnuts or pecans, toasted and chopped
Preheat oven to 375 degrees F.
Stir together flour, baking soda, cinnamon, salt and nutmeg; set aside.
In bowl of a stand mixer fitted with paddle, beat the butter until creamy. Add both sugars and beat on medium until light and fluffy. Scrape bowl and beat in egg and vanilla, beating for about 30 seconds or until egg is incorporated.
By hand or using lowest speed of mixer, stir in the flour mixture. When flour is absorbed, stir in oats, raisins and nuts. Turn dough onto a clean surface and divide into 4 equal parts. Divide those parts into 9 balls to make about 36 balls of equal size. Keep dough balls chilled until ready to bake or bake immediately.
On parchment lined or lightly greased cookie sheet, space dough balls about 2 ½ inches apart and press down slightly so that tops are flat.
Bake 8 to 9 minutes for a chewy cookie or 10 to 11 minutes for a crisp cookie. Cool 1 minute on cookie sheets; remove to wire rack. Cool completely. Store tightly covered.
Note about raisins. If I use regular raisins, I put them in a bowl, cover them with boiling water or juice, and let them sit for 5 minutes. Before using, I drain them thoroughly and pat them dry. These days, you can buy pre-plumped raisins. Sun-Maid's "Baking Raisins" let you skip the plumping. You can also use my personal favorite, Sun-Maid assorted Jumbo raisins.
This recipe should yield about 36 cookies
More Oatmeal Cookie Recipes

King Arthur Essential Crunchy Oatmeal Cookies -- For crunchy yet light oatmeal cookies, this one's great.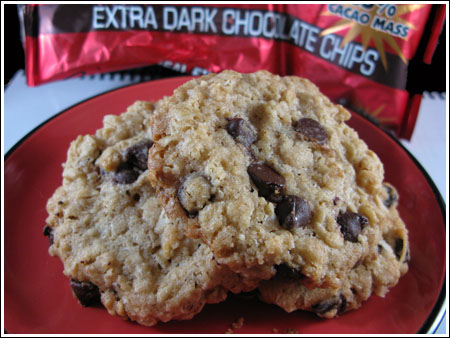 Better Homes and Gardens Loaded Oatmeal Cookies -- These are outstanding, and you don't have to settle for just raisins or chocolate chips. Load them up!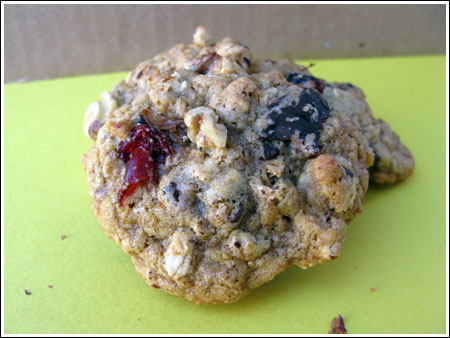 Butterscotch Oatmeal Cookies -- If you prefer butterscotch over raisins or chocolate, you can't go wrong with these.