Outrageous Chocolate Chip Peanut Butter Cookies is one of my favorite and most reliably good peanut butter and chocolate chip cookie recipes. To be honest, there's nothing really "outrageous" about the cookies as they are, but if you add extra peanut butter chips and maybe throw in some milk chocolate along with the semisweet, you're getting close. But even without any extra chips or add-ins, they are super good cookies with a very pretty appearance. That is, they bake up with lots of crackles.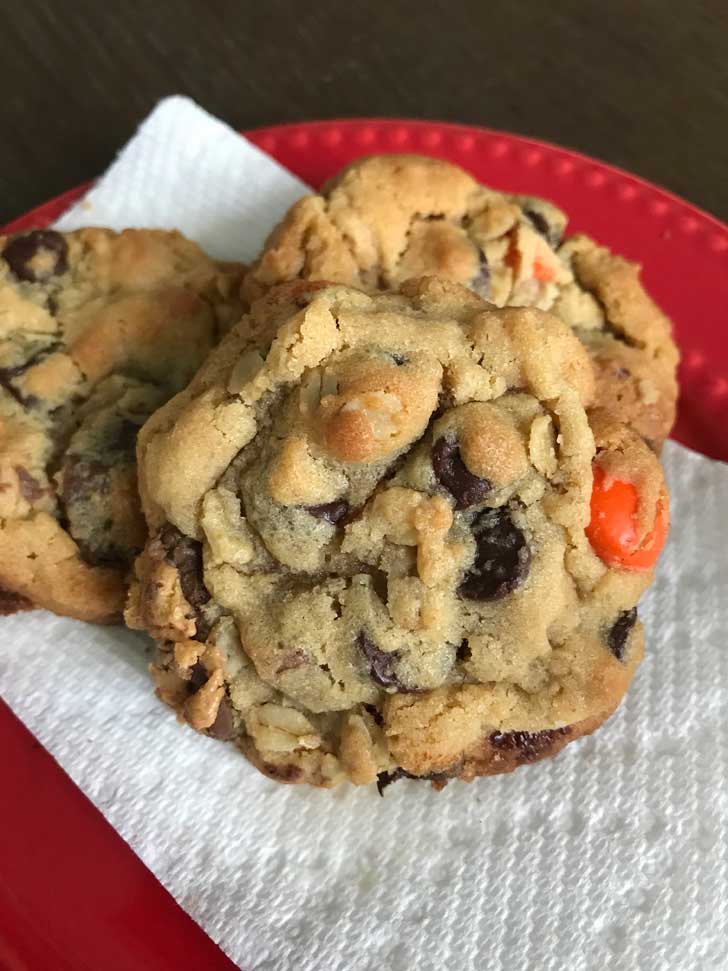 I originally found the recipe on Allrecipes.com many years ago and haven't made many changes other than to play with the add-ins and experiment with how long to cream the butter and sugar. My favorite way to do the latter is to start with cold butter and sugar and beat both with an electric mixer until creamy, then add the egg and beat that quite well too. This creates a lot of air bubbles, so when you throw in that teaspoon of baking soda you'll get some real leavening action.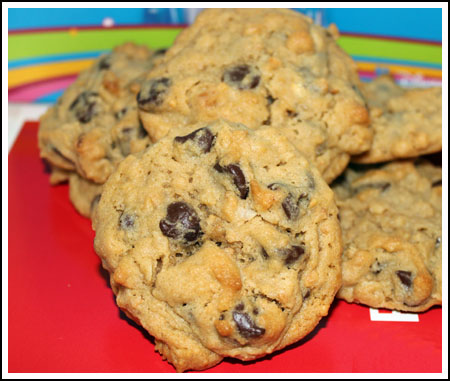 Notes on Outrageous Chocolate Chip Peanut Butter
It's interesting to read old reviews for this recipe on Allrecipes.com. Most people love the cookies, but there are a few who say they are bland or tasteless. I'm pretty sure the reviewers who called the cookies bland used unsalted butter and ¼ teaspoon of salt. As a general rule, most old recipes like this that call for butter use salted, and more modern recipes use unsalted and state that. Also, make sure to use a mainstream sugar-added peanut butter. The extra sugar in the peanut butter helps the cookies spread. No-sugar peanut butter will taste good, but the cookies won't have the right texture. And finally, you may want to make the cookies at 375 rather than 350F for a little more browning. This all depends on your oven, so only increase the heat if you feel the cookies aren't brown enough.
Small Batch Version
This is a pretty small batch recipe, but if you want an even smaller batch you can use these measurements.
50 grams granulated sugar 35 grams brown sugar 60 grams unsalted butter 65 grams of peanut butter ¼ teaspoon vanilla 24 grams beaten egg 65 grams of all-purpose flour ½ teaspoon baking soda ¼ teaspoon salt (use ⅛ if butter is salted) ½ cup chocolate chips 20 grams of oats
Recipe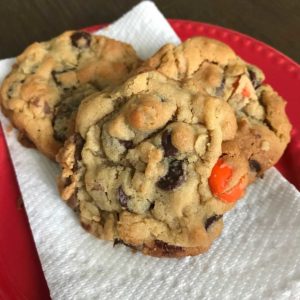 Outrageous Chocolate Chip Peanut Butter Cookies
This is one of my all-time favorite chocolate chip peanut butter cookie recipes.
Ingredients 
½

cup

granulated sugar

(100 grams)

⅓

cup

packed brown sugar

(70 grams

4

oz

unsalted butter

(114 grams)

½

cup

peanut butter

(130 grams)

½

teaspoon

vanilla extract

1

egg

1

cup

all-purpose flour

(125 grams)

1

teaspoon

baking soda

½

teaspoon

salt

use ¼ if using salted butter

1

cup

semisweet chocolate chips

½

cup

rolled oats

or quick oats
Instructions 
Preheat oven to 350 degrees F.

Cream both sugars and butter. Beat in peanut butter, vanilla and egg.

Stir together flour, baking soda and salt.

Add to batter and stir until incorporated.

Stir in oats and chips.

Drop by tablespoons onto parchment lined cookie sheets.

Bake 10 to 12 minutes.Let sit on cookie sheet for about 3 minutes, then transfer to a wire rack to finish cooling.

Makes about 18 cookies