This is the last word on those cookies – the big ones one I've been talking about on and off for months. The closest I've come, and the closest I'll think I'll come since I do not have a bread oven (which someone said might be used for the original cookies) is this.
This recipe makes two gigantic cookies. I've made these a bazillion times in the past two days and a few other intrepid comment readers have tried them too. My best results came using the recipe below the photo.
So anyway. No more on these cookies……unless someone starts making them with another interesting leavener like a levain or yeast or sourdough starter. But I think the recipe is pretty basic and the thick shell, browned edges and super-scruffy tops come from a bread oven. But this one is close.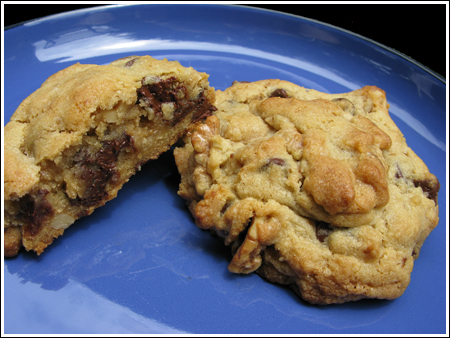 Update: This was not the last word. Now when I make these, I use this recipe. If you just want two bit cookies, you can still use the recipe below.
Giant Chocolate Chip Cookies
2 ounces unsalted butter, room temp
3 tablespoons granulated sugar
3 tablespoons dark brown sugar, but light okay too
1 3/4 tablespoons beaten egg (that's half an egg)
3/4 cups BREAD flour (3 1/4 oz) – weigh if possible. If no scale, scoop and sweep
1/8 plus 1/16 teaspoon salt
1/4 teaspoon baking soda
1/3 cup semi-sweet chocolate chips
1/4 to 1/3 cup coarsely chopped, untoasted walnuts
Preheat oven to 350 degrees F.
Beat butter and both sugars just until they come together. Don't over-beat. Add the egg and beat just until incorporated.
Mix together the flour, salt and baking soda. When thoroughly mixed, add to batter and stir just until blended. Stir in chocolate chips and nuts. The dough should be neither sticky nor dry.
Divide dough into two large mounds, but keep the mounds kind of raggedy. That is, don't smash them into compact balls.
Bake on ungreased insulated cookie sheet or an upside down rimmed cookie sheet for 20 minutes at 350. Cool on sheet for about 10 minutes then transfer to a wire rack to cool.