A while ago I bought a box of bran cereal to make bran muffins. Since then I've made multiple batches of muffins, but I'm still trying to use up the cereal and have been cruising All Bran's recipe database for ideas. Did you know you can make chicken enchiladas with bran cereal? Or how about bran baked fish? I'm sure they are better than they sound, but I decided to put my cereal to use in a recipe for Bran Chocolate Chip Bars.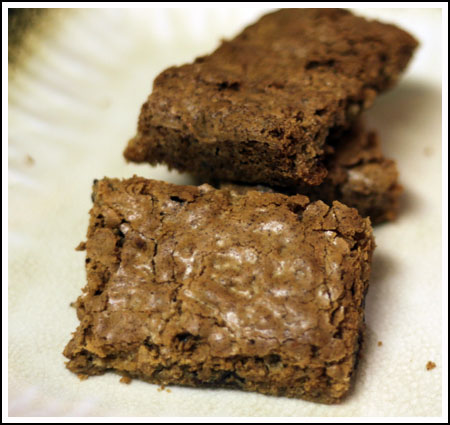 I wasn't sure what to expect from this recipe. Because it was from a test kitchen, I knew it would it would be okay, but do chocolate chip bars really need bran? Would the cereal do anything for the cookie? I liked the fact the bars had a little fiber, and the whole wheat flour was a good thing too. But if a snack bar doesn't taste great, what's the point?
As it happened, the bars were a surprise hit! The bran added a lot of flavor, but it also helped give the bars a very firm, chewy, texture. They were  shiny-topped, dense, not overly sweet, and all-around unique — perfect for play groups, brownie meetings, or an afternoon treat with coffee.
Here's a link to the original printable recipe. I used white whole wheat flour instead of the flour combo and made some changes to the technique, so I re-typed my version as well.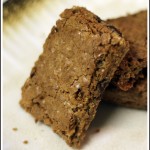 Print Recipe
Bran Chocolate Chip Bars
Chocolate chip bars made with All Bran cereal
Ingredients
1 1/3

cup

All Bran Original cereal

1

cup

white whole wheat flour

4.5 oz -- fluff and spoon

2

teaspoons

baking powder

1/4

teaspoon

salt

1/3

cup

vegetable oil

1

large egg

1 1/2

cups

firmly packed brown sugar

1

teaspoon

vanilla

3

tablespoons

water

1/3

cup

extra dark chocolate morsels
Instructions
Preheat oven to 350 degrees F. Line a 13x9 inch metal pan with foil and spray bottom with cooking spray.

Stir together cereal, flour, baking powder and salt. Set aside.

Beat oil, egg and sugar together in a large mixing bowl (I did this with a whisk). Stir in vanilla and water. Add cereal mixture, stirring until well combined. Stir in chocolate morsels. Spread evenly in pan and bake for about 30 minutes. Cool completely.

Lift foil from pan, set on a rack and cut into 24 bars.

Yield: 24 squares