Coffee Cake Bars are from a recipe adapted from an old state fair winning recipe and the bars are quite cake-y.  In fact, I put "cake" in the title of the recipe so you'll know what you're getting. These are bar cookies, but they're the kind you might serve on a plate and eat with a fork. They are really good, but the cake component is pretty basic and relies on all the textures and flavors from the add-ins.  Because of this, don't be tempted to leave out the raisins. The drizzle of coating is a nice touch too, but I didn't have any and used melted white chips. They never work very well because they don't flow nicely when melted, but they were better than nothing.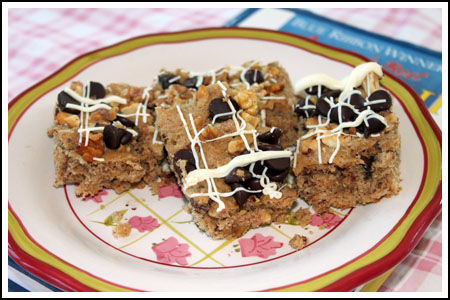 Coffee Cake Bars
1 ½ cups walnuts
1 2/3 cup (6 oz) all purpose flour
1 teaspoon baking powder
1/4 teaspoon baking soda
1/4 teaspoon salt
1/2 teaspoon ground cinnamon
4 tablespoons butter
1 cup packed light brown sugar
1 large egg
1/2 cup cooled strong coffee
1/2 cup raisins
1/2 cup semi-sweet chocolate chips
3 oz white "bark" or confectioners' coating**
Preheat oven to 350 degrees F. Lay walnuts on a rimmed cookie sheet and toast them for 8-10 minutes. Let cool, then chop.
Thoroughly grease a 13×9 inch metal pan or line it with foil and spray foil with cooking spray.
Mix together the flour, baking powder, baking soda, salt and cinnamon. Set aside.
In a mixing bowl, using an electric mixer, cream the butter and brown sugar until light. Add the egg and beat for another minute. Add the flour mixture and coffee alternately. Stir in 1 cup of the walnuts and the full 1/2 cup raisins. Spread the batter in the baking pan going to the edges. Sprinkle remaining walnuts and chocolate chips across top.
Bake on center rack for 20 minutes. Remove from oven and let cool. Melt the in a bowl set over barely simmering water. Place in a heavy duty zipper bag, snip a tiny hole in the bottom corner and drizzle over top. Let cool and set.
Lift from pan, set on a cutting board and score into bars. Makes about 30