Last year I had the opportunity to go to Minnesota. What I didn't know before booking my trip was that the Minnesota State Fair was going on, so when I got home I was kind of bummed to find I'd missed one of the biggest and longest running fairs in the country. Luckily, I got to experience it vicariously through a few readers who attend every year. One person was Gloria Rice, who also happens to enter the baked goods contests and almost always takes home a prize. Last year these brownies won third place. Gloria shared the recipe with me and I tried it since she was so nice to do so, but the truth was that I didn't like the idea of bananas clogging up the chocolate flavor of my brownies. In the end, it was a good thing I tried the recipe. The banana flavor melded perfectly with the chocolate, it wasn't subtle nor was it overwhelming, and I really liked the soft texture it added to the brownies. I made that recipe again and again and even did some variations, like adding Oreos.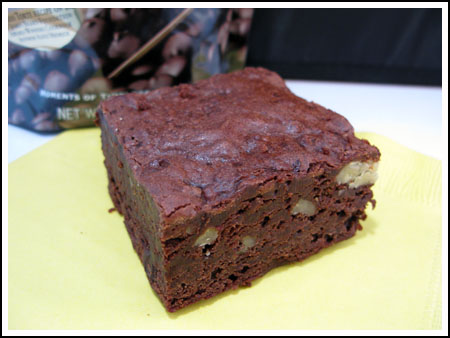 If you haven't tried the banana brownie recipe, here it is again.
By the way, the fair is in full swing right now so I checked in with Gloria to see if she'd won anything. She did! This year her maple pecan bread won a blue ribbon, her strawberry bread won second.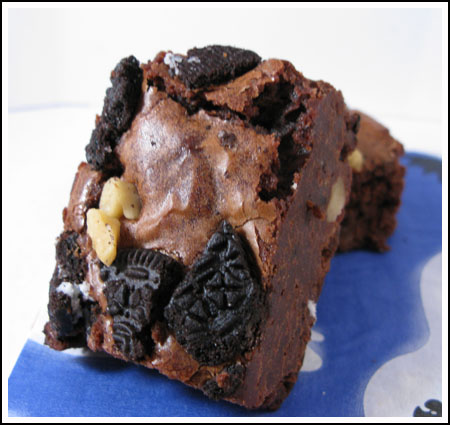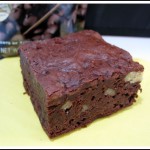 Print Recipe
State Fair Winning Chocolate Banana Brownies
Gloria's State Fair Chocolate-Banana Brownies
Ingredients
5

oz

semi sweet chocolate

or a little less that 1 cup chips

1

oz

bittersweet chocolate

or 3 tablespoons chips

6

tablespoons

salted butter

1

cup

packed light brown sugar

2

large eggs

1/2

t

vanilla

optional – Gloria leaves it out, anna added ½ tsp

1/2

of a small banana-well mashed

3/4

cup

sifted flour

1

T

unsweetened natural cocoa powder

1/4

teaspoon

salt

if using unsalted butter, add an extra pinch

1/2

cup

semi sweet chocolate chips

1/2

cup

lightly toasted chopped pecans

handful of broken Oreos or some Mini Oreos

optional
Instructions
Preheat oven to 325 degrees F. Spray cooking spray on bottom only of an 8 inch metal pan. Gloria noted that for the fair, she used non-stick foil to line the pan.

Mix flour, cocoa, and salt together and set aside.

Combine sugar, eggs, and banana in a separate bowl-stir until combined. I did this with a fork.

Melt butter in a saucepan over medium low heat, then reduce heat to low and add 5 oz and 1 oz of chocolates. Cook and stir over low until smooth. Cool 5 minutes.

Add chocolate to sugar egg/banana mixture-stir until combined.

Stir in dry ingredients until just combined.

Fold in that last 1/2 cup chips and nuts (and Oreos, if using). Bake 35-40 min, check at 35 (Anna's note: I baked a full 45 min)

Cool completely before cutting. Anna's note: I like to chill before cutting

Yield: Obviously, this makes 1 8 inch pan. How many brownies you get is up to you. I cut mine into 9 giant squares, but if you chill the brownies before slicing, you should be able to cut the brownies as small as you'd like. You might even want to try cutting 36 squares and serving them in mini cupcake holders.