If you like brownies in the form of cookies, here's a recipe that lives up to its name. It's called Chocolate Brownie Mounds, and I found it in a collection of recipes using Hershey's chocolate.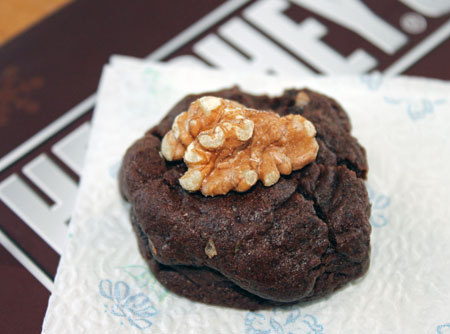 This recipe originally called for margarine, but you don't have to use it. Cookies made with margarine are often softer, a characteristic you probably want in a brownie type cookie, but a lot of bakers don't keep margarine around. For this recipe, I used unsalted butter plus an extra pinch of salt to make up for what was in the margarine. For kicks, I may try it with tub style I Can't Believe it's Butter to see if I can get the insides even softer without getting the trans-fats from margarine.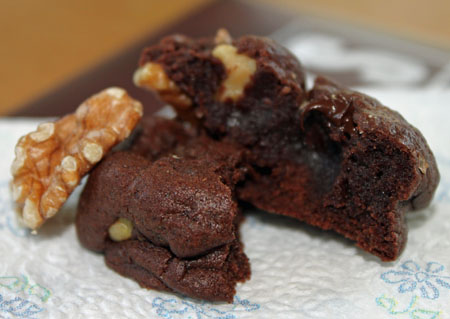 The recipe calls for a full 1 1/2 cups of walnuts. Toasting them is always a good idea, so I did that. Also, I used less than half as many walnuts called for in the recipe and added in a heaping cup of dark chocolate chips. Those were definitely needed. While the base cookie dough is fabulous, the dark chocolate chips enhanced the good results.
Finally, the recipe says it makes 4 dozen cookies but the directions say to just use a rounded teaspoon. Well, that must be a generously rounded teaspoon or the kind of tea you use for tea rather than a measuring spoon because I used almost a tablespoon and got 4 dozen.
So those are my nit-picky notes for the day, but boy was that ever a good cookie! It really did remind me of a brownie with a dry-ish shell and a soft and chocolaty inside. To make the cookies more brownie-like I put a walnut half in the center as soon as they came out of the oven.
Recipe as submitted by the user is on Hershey's cookie site — Chocolate Brownie Mounds. In case you have a problem accessing the link and want the recipe now, here it is.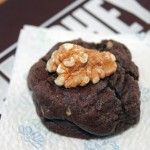 Print Recipe
Chocolate Brownie Mounds
Thick, chewy, chocolate cookies with a soft inside and firm shell.
Ingredients
2/3

c

margarine

softened (I used unsalted butter)

1 1/2

c

white

granulated sugar

2/3

c

corn syrup

2

large eggs

2

t

vanilla

3 1/2

c

flour

all purposed, unbleached -- fluff, scoop, level

1

t

baking powder

1/2

t

salt

6

squares baking chocolate

melted (and slightly cooled)

1 1/2

c

coarsely chopped walnuts

toasted if you have time!
Instructions
Preheat oven to 350ºF.

Cream together margarine (or room temperature butter) and sugar. Stir in syrup, vanilla and eggs.

Sift or just stir together flour, baking powder and salt. Add to sugar mixture, mixing well. Add melted chocolate and nuts. Stir until mixed.

Drop by heaping teaspoons onto parchment lined baking sheet. Bake for 10 to 12 minutes. Makes about 4 dozen cookies.
Notes
The dough keeps well in the refrigerator. I baked some of the cookies right away, then shaped the rest of the dough into balls and put them in the refrigerator for a few hours. The cookies which I shaped and chilled definitely had a nicer shape.