Chocolate Brownie Mounds are thick brownie cookies with walnuts I found the original recipe in a collection of recipes using Hershey's chocolate. In this case that chocolate is Hershey's unsweetened baking chocolate.
Margarine for Softer Cookies
This original version of this recipe calls for margarine, but you don't have to use it. Cookies made with margarine are often softer, a characteristic you probably want in a brownie type cookie, but a lot of bakers don't keep margarine around. For this recipe, I used unsalted butter plus an extra pinch of salt to make up for what was in the margarine.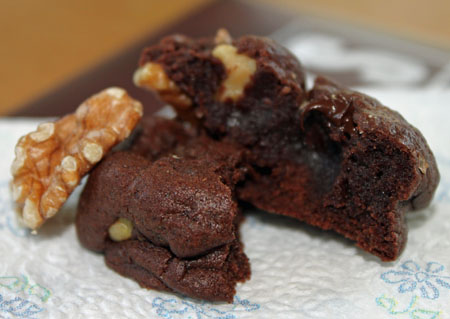 Walnuts and Chocolate Chips
Walnuts really enhance the cookies. I almost always toast nuts for cookies, but I've found that walnuts don't always need toasting. In this recipe you can use 1 ½ cups or even more. The original version called for something like 3 cups! While the base cookie dough is fabulous, some dark or bittersweet chocolate chips make the cookies even better. You could also used chopped chocolate, though the cookies may spread more.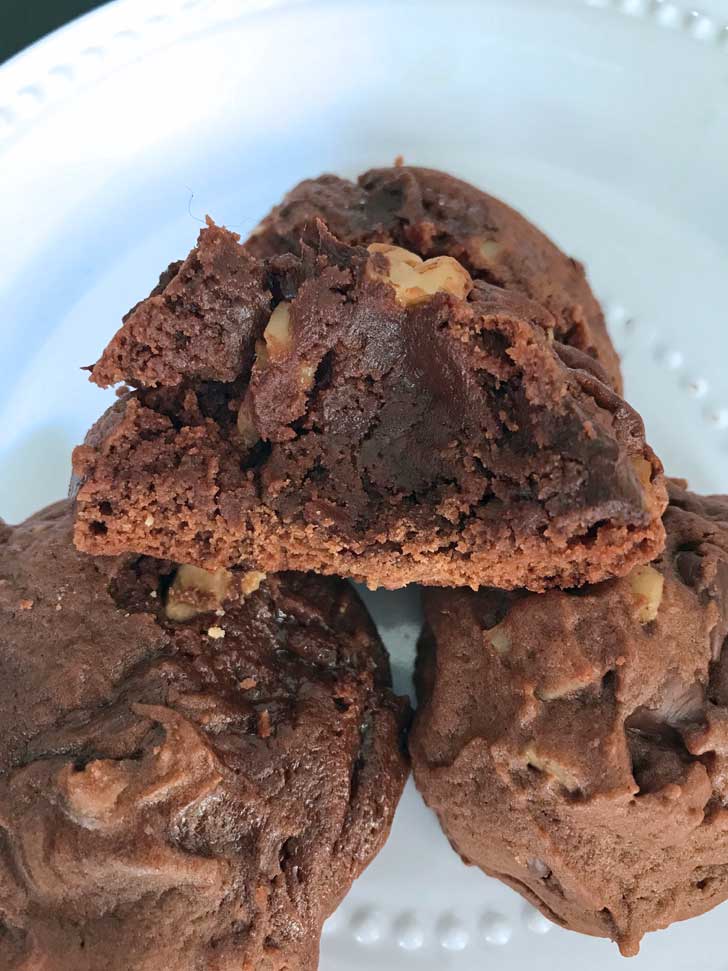 Yield
For best results, use a medium size cookie scoop. The yield should be a little over 40 cookies. A rounded tablespoon also works!
Notes on Texture Etc.
I've made these with different types of flour, but mostly just AP. They always bake up with a thick shell and a slightly dry center, so it's important not to overbake. The walnuts and the chocolate chips are necessary, and you can use as many as you want. Also, I've been baking these with Country Crock brand "plant butter" straight from the tub.
Small Batch Version
Here's a scaled down version in case you want to make a small batch first.
Small Batch Chocolate Brownie Mounds
38 grams of margarine (Country Crock Plant Butter, Avocado or Almond Oil) 75 grams sugar 50 grams light corn syrup 25 grams eggs ½ teaspoon vanilla 110 grams flour ¼ teaspoon baking powder ⅛ teaspoon salt 42 grams unsweetened chocolate, melted Handful of walnuts and chocolate chips (Use plenty)
Instructions
Beat the egg separately. You will only use 2 tablespoons of it. Beat together the margarine (you can use it straight from the tub), corn syrup, 2 tablespoons of the egg and the vanilla. Mix together the flour, baking powder and salt and stir into the creamed mixture, then stir in the walnuts. If using chocolate chips, add them too. Drop by heaping teaspoons (or use a cookie scoop to make them larger) onto a parchment lined baking sheet. Bake in a preheated 350 degree oven for about 10-12 minutes (or longer for larger cookies). -- Makes 10 (if using a medium cookie scoop)
Recipe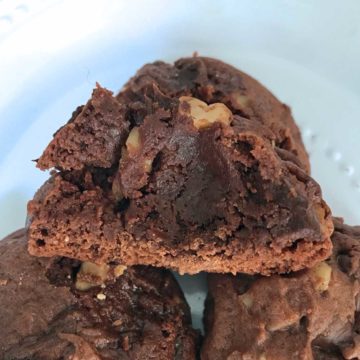 Chocolate Brownie Mounds
Thick, chewy, chocolate cookies with a soft inside and firm shell.
Ingredients 
⅔

cup

margarine or softened butter

(150 grams)

1 ½

cup

sugar

(300 grams)

⅔

cup

corn syrup

(200 grams)

2

large

eggs

(100 grams)

2

teaspoons

vanilla

3 ½

cups

flour, all-purpose unbleached

(440 grams)

1

teaspoon

baking powder

½

teaspoon

salt

6

oz

unsweetened chocolate, melted and slightly cooled

(170 grams)

1 ½

cups

coarsely chopped walnuts

toasted if you have time!
Instructions 
Preheat oven to 350ºF.

Cream together margarine (or room temperature butter) and sugar. Stir in corn syrup, vanilla and eggs.

Sift or just stir together flour, baking powder and salt. Add to sugar mixture, mixing well. Add melted chocolate and nuts. Stir until mixed.

Use a medium size cookie scoop and drop mounds of dough onto parchment lined baking sheets. Bake one sheet at a time for 10 to 12 minutes.
Notes
The dough keeps well in the refrigerator. I baked some of the cookies right away, then shaped the rest of the dough into balls and put them in the refrigerator for a few hours. The cookies which I shaped and chilled definitely had a nicer shape.