Growing up, I was always amused at how my grandmother called margarine "oleo"; so as I was looking through old Texas Czech kolache recipes that called for "oleo", I couldn't help but think of my grandparents and how happy they'd be to try these fresh, homemade fluffy kolaches. I also started thinking about the formulation of margarine and wondering if maybe margarine was the reason some kolaches were not only softer, but didn't have much of a crust. I had to know, so yes — I ended up in the margarine aisle.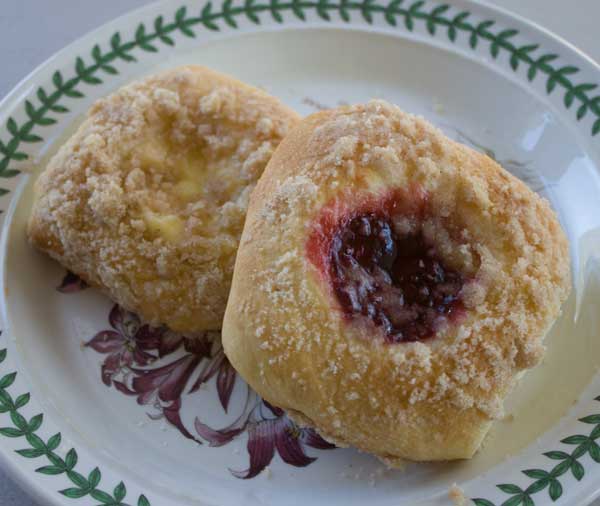 This is a good time to note that it appears the margarine companies have changed their formulation, because if you look at labels the transfats have been greatly reduced if not eliminated depending on the brand. Since the margarine of today is different than it was 20 or 30 years ago, I used a brand that had roughly the same amount of fat as butter and that I'd baked with before — I Can't Believe It's Not Butter in stick form.
For the main recipe, I started with King Arthur's, but reduced the salt a bit, used milk instead of water and kept with the Red Star platinum yeast because it's been working really well for me. I also tested the recipe two ways — KA's way, where you knead the dough and let it chill overnight, and the usual way where you just let the bread rise for an hour and proceed.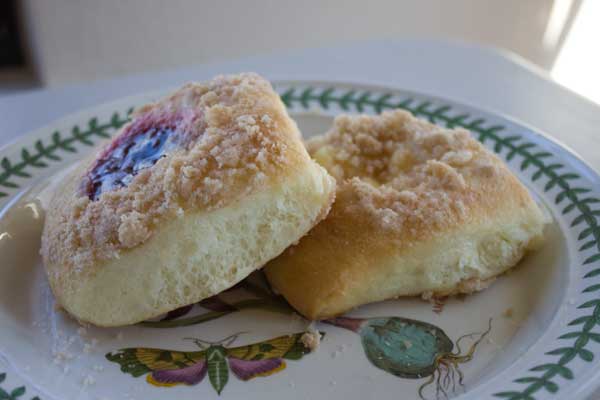 The dough which I kneaded, let rise and baked (no chilling overnight) rose perfectly and the kolaches looked like the ones in the first and second pictures. The kolaches made with the dough that had chilled overnight took a lot longer to rise (almost two hours), but still baked up nicely.  An added bonus to the chilled dough was that it was extremely easy to roll out.  Not that you have to roll out kolache dough, but I'm tired of circles and have been cutting mine into squares.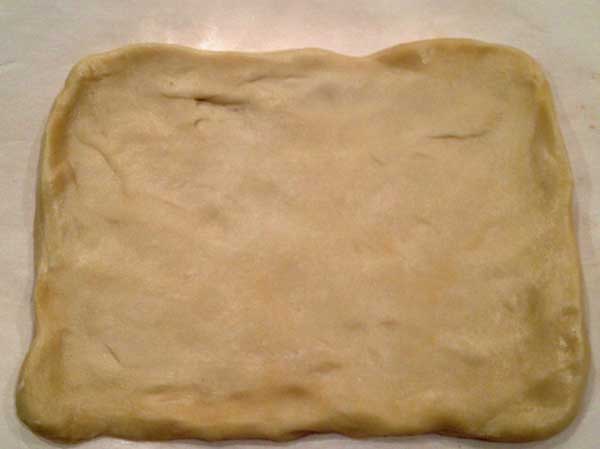 Results?  Excellent!  Todd's co-worker said the last ones I sent in were the best she'd ever eaten, so now I'm wondering what she'll say about these. The texture was somewhere between a soft dinner roll and a yeast raised glazed doughnut. As for the crust, it was definitely thinner than the kolaches made with butter, though I wouldn't say there was no crust. This recipe is baked at 350F as opposed to 400F, so the rolls are not quite as brown, but they're very pretty. All in all, I liked this recipe too. The convenience factor of being able to make the dough and then shape in the morning is also a benefit, though I don't see why you couldn't do that with any kolache dough.  And no, you don't have to use margarine or I Can't  Believe it's Not Butter in this recipe!  Use salted butter or whatever you feel like.  The margarine was just an experiment to see if it affected the crust, and I think it might have.
So three recipes down (not counting the total failures) and a gazillion more to go!  Next up, I'll share a kolache recipe made with cook and serve pudding.

Soft and Fluffy Kolaches with a Thin Crust
Very Light and Fluffy Kolaches With a Thin Crust
Ingredients
8 tablespoons salted butter or I Can't Believe it's Not Butter
1/2 cup milk, I used whole but whatever you have should work
4 cups bread flour (I used King Arthur) -- 504 grams
1/2 cup granulated sugar
1 packet Red Star Platinum yeast
1 teaspoon salt
1 cup sour cream, gently warmed
2 large eggs at room temperature
Posypka Topping
1/3 cup sugar
2 1/2 tablespoons flour, bread is fine
1/8 tp 1/4 teaspoon cinnamon
4 teaspoons melted butter
Cream Cheese Filling
8 oz softened cream cheese
1/4 cup sugar
1 egg yolk, room temperature
Pinch of lemon zest
½ teaspoon vanilla
Optional: Assortment of fruit pie fillings or preserves
Instructions
Soften the butter in the microwave or in a saucepan so that it's not cold, then add the milk and heat them both together until the milk starts to boil and the butter melts. I did this in a Pyrex 2 cup measure in the microwave, but a saucepan is fine. Let mixture cool down to 130 degrees F.
Meanwhile, combine 2 cups (252 grams) of the flour, sugar, yeast and salt in the bowl of a stand mixer.
Pour the butter mixture into the flour mixture, then add the warm sour cream and eggs and stir until well mixed. Add the remaining flour by 1/2 cups until the dough is soft, but still a bit sticky. If you weighed the flour, most likely you will use it all. Don't be tempted to add more, the dough should be a little sticky.
Using the dough hook attachment, knead until dough is soft and elastic -- though it does get smooth, it's still a little sticky (though elastic) and you have to kind of scrape it off the side of the bowl. Transfer to another bowl that you've rubbed liberally with butter. At this point you can let the dough rise for an hour and proceed with the recipe, or you can refrigerate the dough overnight and let it rise slowly. It will not rise very much if you refrigerator it.
Next day (or in an hour, after dough has risen), remove the dough from the refrigerator or wherever you'd set it to rise and punch it down. Divide it into about 20 pieces. Alternatively, you can roll it out into a rectangle and cut it into square pieces.
Place the pieces on lightly greased or parchment-lined baking sheets or 9x13 inch pans, leaving about an inch between them. Brush with melted butter or whatever fat you prefer. Cover with a greased sheet of plastic wrap and let sit for about an hour or until they've risen. Note: If you are working with chilled dough, it may take the shaped rolls up to two hours to really rise.
Make filling while dough rises. For the topping, just mix dry ingredients together and toss with butter until crumbly. For cheese, just beat cream cheese and sugar until smooth, then beat in yolk, zest and vanilla.
Press a small indentation in the center of each roll and add a spoonful of cheese filling or canned pie filling. Brush with a little more butter and sprinkle with crumb mixture. Let sit while oven preheats to 350F
Bake in a 350 degree oven for about 18 to 20 minutes or until very lightly browned.
Serve the fruity ones hot, but let the cheese ones cool down a bit.
Notes
This recipe halves very easily. Half a yeast packet is about 1 ¼ teaspoons. If you only need 8 to 10 rolls, just measure out your yeast and save it for another time!