These fluffy kolaches with a cream cheese filling were originally made in honor of my grandmother who called margarine "oleo".  The first time I made them, I used margarine to see if it would have any affect on the texture.  In some recipes, margarine actually makes things softer and fluffier.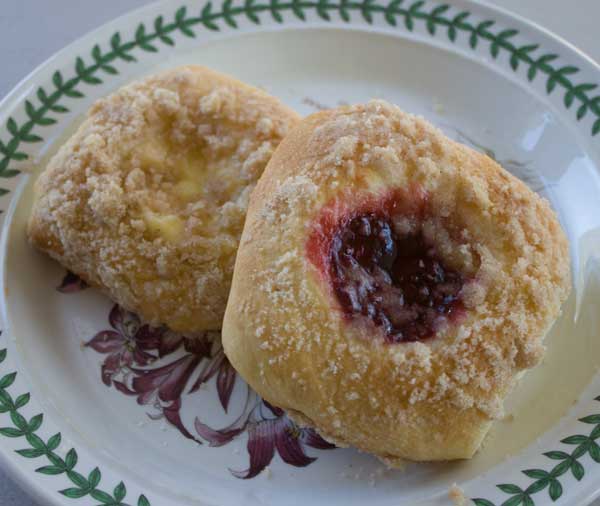 In the end I found that margarine did have a bit of an effect on the texture — texture was softer and the crust was thinner. We liked the butter version better, but the margarine version was still good.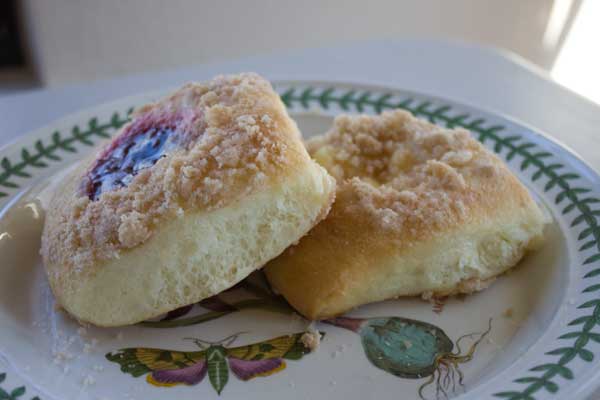 This recipe can be made all at once or you can make the dough and let it rise overnight. The kolaches made without the overnight rise rose perfectly and the kolaches looked like the ones in the first and second pictures. The kolaches made with the dough that had chilled overnight took a lot longer to rise (almost two hours), but still baked up nicely.  As a bonus, the chilled dough was extremely easy to roll out.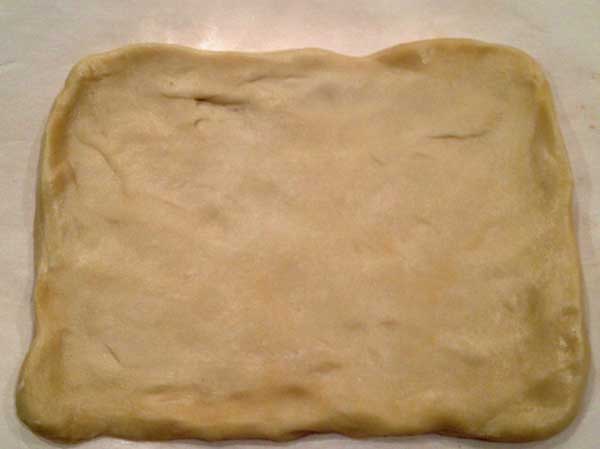 The texture of these fluffy kolaches is somewhere between a soft dinner roll and a yeast raised glazed doughnut. I like the convenience of being able to chill the dough overnight as well.
Update:  I can no longer find the Platinum yeast so I just use fast rising instant.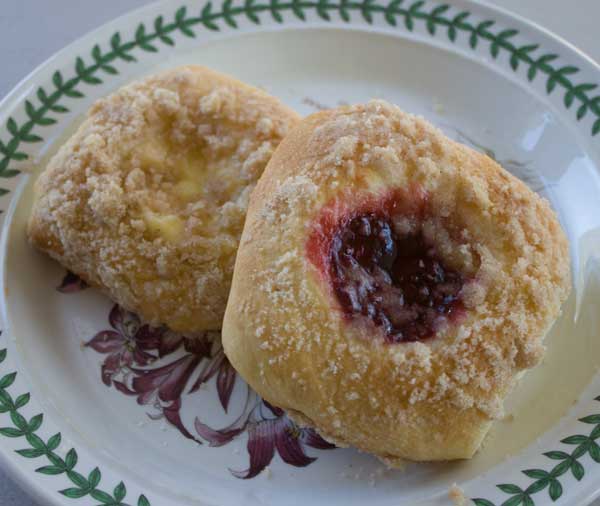 Soft and Fluffy Kolaches with a Thin Crust
Very Light and Fluffy Kolaches With a Thin Crust
Ingredients 
8

tablespoons

salted butter

1/2

cup

milk

I used whole but whatever you have should work

4

cups

bread flour

I used King Arthur -- 504 grams

1/2

cup

granulated sugar

1

packet

instant yeast (fast rising)

1

teaspoon

salt

1

cup

sour cream

gently warmed

2

large eggs at room temperature
Posypka Topping
1/3

cup

sugar

2 1/2

tablespoons

flour

bread is fine

1/8

tp 1/4 teaspoon cinnamon

4

teaspoons

melted butter
Cream Cheese Filling
8

oz

softened cream cheese

1/4

cup

sugar

1

egg yolk

room temperature

Pinch

of lemon zest

½

teaspoon

vanilla

Optional: Assortment of fruit pie fillings or preserves
Instructions 
Soften the butter in the microwave or in a saucepan so that it's not cold, then add the milk and heat them both together until the milk starts to boil and the butter melts. I did this in a Pyrex 2 cup measure in the microwave, but a saucepan is fine. Let mixture cool down to 130 degrees F.

Meanwhile, combine 2 cups (252 grams) of the flour, sugar, yeast and salt in the bowl of a stand mixer.

Pour the butter mixture into the flour mixture, then add the warm sour cream and eggs and stir until well mixed. Add the remaining flour by 1/2 cups until the dough is soft, but still a bit sticky. If you weighed the flour, most likely you will use it all. Don't be tempted to add more, the dough should be a little sticky.

Using the dough hook attachment, knead until dough is soft and elastic -- though it does get smooth, it's still a little sticky (though elastic) and you have to kind of scrape it off the side of the bowl. Transfer to another bowl that you've rubbed liberally with butter. At this point you can let the dough rise for an hour and proceed with the recipe, or you can refrigerate the dough overnight and let it rise slowly. It will not rise very much if you refrigerator it.

Next day (or in an hour, after dough has risen), remove the dough from the refrigerator or wherever you'd set it to rise and punch it down. Divide it into about 20 pieces. Alternatively, you can roll it out into a rectangle and cut it into square pieces.

Place the pieces on lightly greased or parchment-lined baking sheets or 9x13 inch pans, leaving about an inch between them. Brush with melted butter or whatever fat you prefer. Cover with a greased sheet of plastic wrap and let sit for about an hour or until they've risen. Note: If you are working with chilled dough, it may take the shaped rolls up to two hours to really rise.

Make filling while dough rises. For the topping, just mix dry ingredients together and toss with butter until crumbly. For cheese, just beat cream cheese and sugar until smooth, then beat in yolk, zest and vanilla.

Press a small indentation in the center of each roll and add a spoonful of cheese filling or canned pie filling. Brush with a little more butter and sprinkle with crumb mixture. Let sit while oven preheats to 350F

Bake in a 350 degree oven for about 18 to 20 minutes or until very lightly browned.

Serve the fruity ones hot, but let the cheese ones cool down a bit.
Notes
This recipe halves very easily. Half a yeast packet is about 1 ¼ teaspoons. If you only need 8 to 10 rolls, just measure out your yeast and save it for another time!