Happy Labor Day Weekend!
And to celebrate the upcoming holiday, I did something really out of character and baked.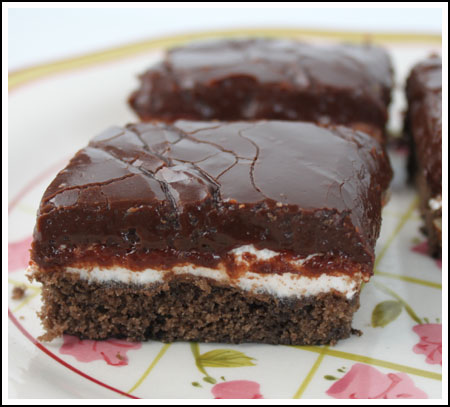 This fudgy multi-textured bar cookie is adapted from Greg Patent's Baking in America. I've had this recipe for ages, but it wasn't until today that I noticed it was a little different than most. I liked how it called for large, halved marshmallows instead of marshmallow crème or minis, and I also liked the looks of the icing recipe which called for brown sugar.
Because my plans for the weekend include even more baking, I went ahead and made a half batch of these using an 8 inch pan. The full recipe is double this, baked in a 13x9 inch pan with a baking time that is more or less the same.
These were very good and I liked how neatly they sliced, unlike some marshmallow bars that fall apart. Also, the icing was definitely worth waiting for. I could have lived without the pecans in the batter, but they did cut the sweetness a little and added loads of nutrition. These are practically health food, right?
Marshmallow Fudge Bars
4 tablespoons unsalted butter
5 tablespoons sugar
½ teaspoon vanilla extract
1 large egg
⅓ cup all purpose flour
1 tablespoon cocoa powder, Dutch process
⅛ teaspoon baking powder
⅛ teaspoon salt
¼ cup chopped pecans
12 large marshmallows snipped in half
¼ cup packed light or dark brown sugar
1 ½ oz unsweetened chocolate, chopped
2 tablespoons hot water
2 tablespoons room temperature butter, cut up
¾ teaspoons vanilla
¾ cups powdered sugar
1-3 tablespoons room temperature heavy cream
Preheat oven to 350 degrees F. Line inside of an 8 inch metal pan with foil and spray foil with cooking spray or rub with butter and dust with cocoa.
Beat the butter until with an electric mixer until creamy. Gradually add sugar and beat butter and sugar for 3 or 4 minutes or until very light, scraping sides of bowl often. Beat in the vanilla, then beat in the egg.
Thoroughly mix together the flour, cocoa powder, baking powder and salt. By hand (no mixer, that is), gradually add the flour mixture to the batter, stirring until incorporated. Stir in the pecans. Drop spoonfuls of the batter all over the bottom of the foil-lined pan, then gently smooth them together with a spoon so that you have a very thin layer of batter covering the pan.
Bake cake for 13-15 minutes. I baked mine for 15 and that worked out okay, but 13 probably would have worked too. Pull from oven. Arrange marshmallow halves across top fitting them in the best you can. Return to oven and bake for 3 minutes. Pull from oven and let cool completely.
Make frosting (you can start this before the bars are completely cool because the frosting requires some cooling as well).
Combine the sugar, chocolate and hot water in a saucepan and bring to a gentle boil over medium heat or whatever heat you need to get to a gentle boil. When mixture starts to boil, stir constantly for 3 minutes. Remove from heat and add the butter. Stir until butter melts, then add the vanilla. Let cool to room temperature (See my note about this part). When cool, beat in the powdered sugar. At this point the icing will appear grainy and possibly ruined. It's not! Beat in the heavy whipping cream one tablespoon at a time until the icing becomes glossy and fairly pourable.
Pour over the marshmallows, tilt pan to spread, then use a spoon to completely spread across marshmallows.
Let set – this should take about an hour. Lift foil from pan, set on a cutting board, cut into squares or bars.
Makes an 8 inch pan.
Note: I let my chocolate mixture cool a little, but I got impatient and beat in the powdered sugar while it was still warm. The icing looked good, but was still warm when I put it on the marshmallows and as a result, they melted and lost some volume.