Not long ago, Fuzz surprised me by requesting a pint of Ben & Jerry's Cheesecake Brownie Ice Cream. While I fully support her adventurous flavor choices, I was surprised she'd chosen one flavored with cream cheese brownies. When I asked her "Why cheesecake brownie ice cream?" she told me it was her favorite type brownie recipe. Again, I was surprised. I hadn't made those in ages, yet she remembered the flavor and that she liked them best. I decided right then that I'd make her some cheesecake brownies.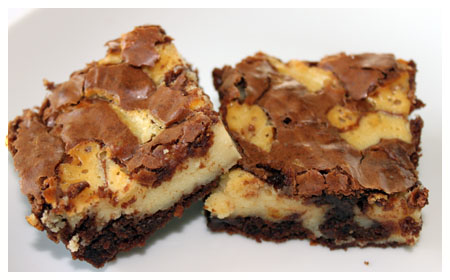 But I didn't. I waited weeks and weeks. I'm not sure why I waited so long but today seemed like the perfect day for Fuzz's cream cheese brownies, so I looked at dozens of recipes and ended up making these.
A Popular Recipe
This is quite a popular recipe. You can find it in many places including allrecipes.com and Recipezaar. And a years ago Smitten Kitchen made a Cooks illustrated version where the filling was the same. And it's the filling that I don't like. It's kind of eggy, thick, and the butter buffers the tanginess of the cream cheese. So maybe this recipe is popular with people who don't love the flavor of cream cheese? I don't know. It's not my favorite, but the brownies aren't bad and hopefully Fuzz will approve. I kind of wish I'd made The Red Hat Society recipe.
I'm going to chill these for 24 hours and share them with the neighbors tomorrow night to get some opinions. Maybe I'm being too hard on the recipe.
Recipe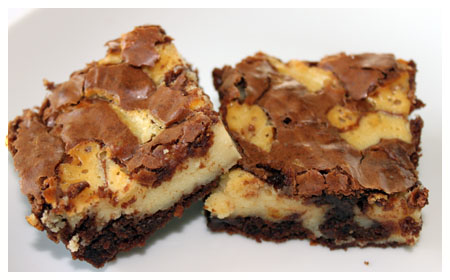 Cream Cheese Brownies
Cream Cheese Brownies made with German's brand chocolate.
Ingredients 
Cream Cheese Filling
2

tablespoons

butter

1

3 oz package cream cheese, softened

¼

cup

granulated sugar

1

large egg

1

tablespoon

flour

½

teaspoon

vanilla
Brownie Batter
3

tablespoons

salted butter

4

ounces

German sweet chocolate

2

large eggs

¾

cup

granulated sugar

1

teaspoon

vanilla

½

teaspoon

baking powder

¼

teaspoon

salt

½

cup

flour

¼

teaspoon

almond extract

optional
Instructions 
Preheat oven to 350 degrees F. Line an 8 inch square metal pan with foil and spray foil with cooking spray (or use nonstick foil).

Make the cream cheese filling first. In a mixing bowl, beat the butter and cream cheese until smooth. Beat in the sugar, then beat in the egg. Stir in the flour and vanilla. Set aside.

Make the brownie batter. In a medium saucepan, melt the butter over medium heat. Reduce heat to low and add the chocolate, stirring over low heat until chocolate is melted. Set aside to cool.

With an electric mixer, beat the eggs for one minute. Gradually add the sugar and beat until thick and pale. Beat in vanilla, baking powder and salt. By hand, stir in the flour. Stir in melted chocolate mixture.

Pour about ¾ of the batter into the pan. Pour the cream cheese mixture over the chocolate batter. Pour remaining chocolate batter over cream cheese mixture, leaving gaps so the cream cheese shows.

Bake on center rack of oven for 35 to 40 minutes. Let cool to room temperature, then chill brownies until firm. Remove from pan by lifting foil. Place on a cutting board and cut into 16 squares.