This recipe is from a book called The Perfect Recipe Baking Book: 50 Foolproof Recipes for America's Classic Cakes, Pies, Cookies, and More
by the late Murray Jaffe.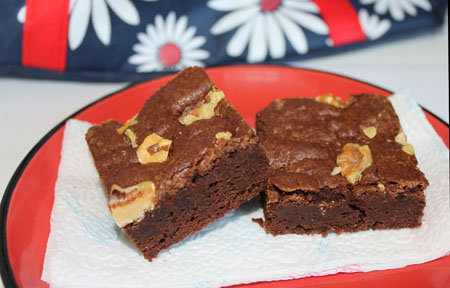 I'd never heard of Mr. Jaffe until I found his book in the Pleasant Hill library, but I wish I could have met him. He made his fortune helping his 17 year old daughter Barbara start a baking company in 1971. They named it Barbara's Bakery, and after running the company for many years sold it to Weetabix. Barbara and Murray remained very passionate home bakers, and during his retirement Murray wrote this cookbook citing Barbara as his inspiration. In it are the 50 recipes he saved over the years and which of course, he believed were perfect.
This brownie recipe was Murray's idea of perfection and in the intro he states that he must have tried 50 brownies recipes before stopping at this one. With an endorsement like that, how could I resist?
One interesting thing to note is that Murray Jaffe's Perfect Brownies require a good beating *after* the addition of flour. The success of so many baked goods hinges on stirring the flour gently after adding and not over strengthening the gluten with beating. But with brownies, you want to strengthen the gluten a bit to give them some chew. In this recipe Murray mentions how important that is, and he is right! Beating the batter after adding the flour makes the texture more like box brownies.
So if you want a brownie with the texture of a box and the flavor of homemade, Murray's recipe is perfect.
And flavor is important as texture, of course! Because the chocolate flavor comes from cocoa, your brownies will be only as good as the cocoa you use. However, I can tell you that if you break out the "every day" cocoa, you'll still get awesome brownies. These are chewy on the outside, thick and soft in the center.
Meanwhile, if you can get your hands on a copy of this book consider yourself lucky. It's been out of print for a while, but Murray Jaffe was ahead of his time as a home baker. Every recipe has an intro, but his advice on kitchen scales, salted vs. unsalted butter, types of cookware, weights of eggs, is progressive for cookbooks of that time. Or at least in terms of home baking.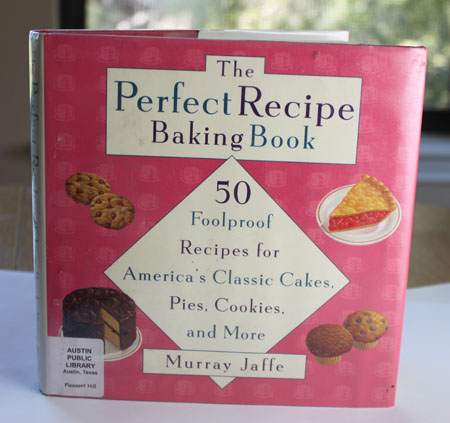 Recipe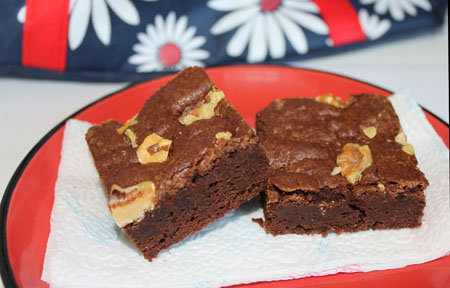 Perfect Recipe Baking Book -- Murray Jaffe's Perfect Brownies
Murray's Perfect Brownies are an easy cocoa based brownie recipe.
Ingredients 
4

ounces

1 stick salted butter, room temperature **

1 ½

cups

granulated sugar

2

large eggs

room temperature

½

cup

plus 1 tablespoon cocoa – measure then sift after measuring

1

cup

plus 2 tablespoons all purpose flour

½

teaspoon

baking powder

¼

teaspoon

salt **

1

tablespoon

water

1

teaspoon

vanilla

¾

cup

coarsely chopped toasted walnuts
Instructions 
Line an 8 inch square metal pan with foil and spray bottom with cooking spray.

Preheat oven to 350 degrees F. Position rack to center.

In a large bowl, beat the butter until creamy. Beat in the sugar until mixed in. Beat in the eggs (just until mixed -- don't beat in a lot of air), then add the cocoa and mix until smooth. Thoroughly blend together the flour, baking powder and salt. Add to the mixing bowl and beat for 2 minutes (important ). Add the water and vanilla and mix, then mix in the walnuts. Dough will be stiff and sticky.

Spread dough in pan and bake for 30 40 minutes (I baked for 30) or until a toothpick inserted in the center comes out without batter on it.

Let cool for a few hours, then lift from pan and cut into 16 squares.
Notes
**Murray uses salted butter. I used unsalted and increased the salt in the recipe by ¼ scant teaspoon to make ½ scant teaspoon.