Can't decide what to bake today? Check the Best Days section of the Farmer's Almanac.
I've always liked the idea of an almanac, but have to admit I never owned one or thought to go looking for the Farmer's Almanac on the Internet. But recently, after hearing that almanac.com had a nice collection of recipes, I did just that. So now along with knowing that today is a good day for "cutting hair to discourage growth", I have a new recipe source.
Almanac.com has a fairly extensive recipe database, but this recipe is actually from their book, Old Farmer's Everyday Recipes Almanac. Along with tips on canning and storing, the book includes recipes for all time favorites such as chicken pot pie, pot roast, various quiches, fritattas and ratatoullie, plus more eclectic recipes from prior Almanac.com cooking contests such as Moroccan Style Chicken Breasts with Spiced Couscous, Grilled Chicken in Chocolate Sauce Piquante, and Crescent City Banana Bundles all written in a streamlined, practical fashion which a typical weeknight cook or baker will appreciate.
Now about this pie, it was created by Laure Charkowsky of Cranfod, NJ and it won first place the the Farmer's Almanac contest of 1994. I chose the recipe because yesterday seemed like a chocolate pie kind of day (although the almanac said it was an "end projects" and "have dental care" kind of day) and I liked the fact this was the kind of pie you bake rather than a custard style stir-over-the-stove type chocolate pie. The texture was interesting, too. Rather than a smooth, pudding-like filling, the filling was like soft fudge. The light whipped cream balances out the heavy fudge filling and those two things, plus the crust, make for an interesting combination of textures. For the crust you can use a plain pastry crust or a graham cracker crust. Also, the original recipe is for a 10 inch pie plate, but I used a 9 inch deep dish and it worked just fine -- though I did leave behind a tiny bit of filling. I also used half of the amount of cream called for, piled the cream in the middle, and left the perimeter of the pie "blank".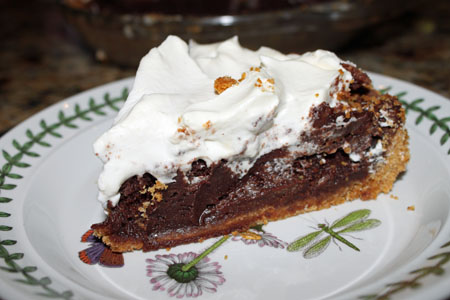 Old Fashioned Fudge Pie

¾ cup (1 ½ sticks) unsalted butter, cut up
3 ounces unsweetened chocolate ,broken
3 extra-large eggs plus 1 egg yolk
1 ½ cups sugar
6 tablespoons flour
¼ teaspoon salt
2 teaspoons vanilla extract
1 fully baked pie crust, 10 inch or 9 inch okay
2 cups heavy whipping cream
3 tablespoons sifted confectioners sugar
1 teaspoon vanilla extract

Preheat the oven to 325 degrees F.

Filling: In a heavy saucepan over low heat, melt the butter and chocolate, stirring occasionally to blend. Set aside to cool. In a large bowl and with an electric mixer, beat the eggs and egg yolk until light or pale yellow. Add the sugar, flour and salt and beat to combine. Whisk in the cooled chocolate. Add the vanilla and stir. Pour the filling into the baked piecrust and bake for 40 minutes or until a knife inserted 2 to 3 inches from the edge can be withdrawn cleanly. Small bubbles may appear over the surface of the baked pie and cracks may form. Remove the pie from the oven and cool it on a rack.
Topping: In a large bowl and with an electric mixer, whip the topping ingredients. Spread the topping on the pie. Chill for at least an hour.