After trying the first Chocolate Chiffon Pie which contained 7 oz of semisweet chocolate, I tried another recipe with only 2 oz of unsweetened chocolate and different amounts of cream, egg whites and sugar. This new pie doesn't pile quite as high as the other, but it's a little less expensive considering the amount of chocolate. Here is a picture of it prepared in a rolled graham cracker crust. The recipe below calls for a normal graham cracker crust. Maybe some day I'll post the rolled recipe, but I'm still on the fence about it.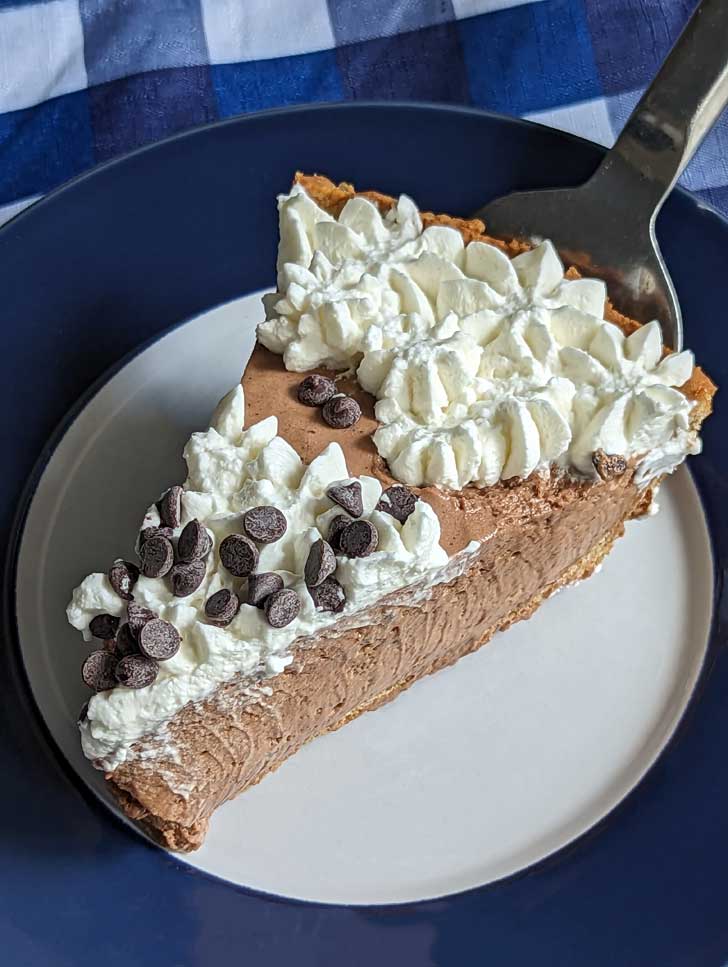 Temperature of Chiffon Pie Ingredients
Unsweetened Chocolate Chiffon Pie follows pretty much the same pattern as the other pie.
Soften a packet of gelatin in milk
Melt chocolate with milk, then dissolve softened gelatin in hot mixture
Whip some egg yolks with sugar and salt
Whip some cream
Whip some egg whites
Fold everything together and chill
The tricky part is making sure the chocolate mixture, whipped cream and whipped whites are all at about the same level of thickness. The chocolate mixture needs to cool before you fold it into the cream and egg whites, then the combined mixture needs to thicken enough so that you can pile it in the pie shell.
Here's the new recipe if you want to give it a try. It's transcribed from something someone wrote down and I've only made it once, therefore I can't say it's been triple tested. I do plan to make it again soon so I can at least say it's been double tested.
Double Boiler Yay or Nay
Fuzz has moved to Chicago, but while she was home visiting we had an intense discussion about double boilers. Okay, it wasn't intense, but it was fun having someone to talk about double boilers with. My stance was that they are very helpful in that you can walk away from your custard without it burning and that the top of a double boiler fits easily over a bowl of ice should you wish to use an ice bath. Her argument was that it was just another piece of equipment, why not just set a bowl over a pan of simmering water? I see her point, but I still think if you have room for one, a double boiler is easier to deal with than a clumsy bowl over water. Also, double boilers are cheap (sometimes you can find them at thrift stores) and they do not take up too much room).
Recipe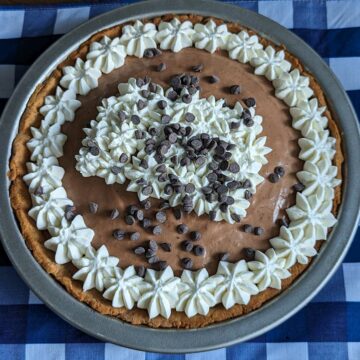 Chocolate Chiffon Pie
A fluffy, chiffon pie made with unsweetened chocolate
Ingredients 
Crust
1 ½

cups

graham cracker crumbs (from 12 sheets or 24 squares)

3

tablespoons

sugar

6

tablespoons

unsalted butter

⅛

teaspoon

salt, omit if using salted butter
Chocolate Filling
¼

cup

water, cool

1

envelope

unflavored gelatin (2 ½ teaspoons)

1

cup

whole milk

(225 grams)

2

ounces

unsweetened chocolate, chopped

½

cup

granulated sugar

(130 grams)

2

large

eggs, separated

¼

teaspoon

salt

¾

cup

heavy whipping cream (see note)

1

teaspoon

vanilla extract
Whipped Cream Garnish
¾

cup

heavy whipping cream

⅔

tablespoons

confectioners' sugar

½

teaspoon

vanilla extract
Instructions 
Graham Cracker Crust
Make the graham cracker crust first. Mix together graham cracker crumbs, sugar, butter and a pinch of salt (optional). Press into the bottom and up sides of a 9 inch pie plate. Bake at 350 for 8 minutes. Let cool completely.
Chocolate Filling
Soften the gelatin by sprinkling it over ¼ cup of cold water. Press it down with the back of a spoon if you need to to make sure that the gelatin is covered in water.

Meanwhile, add some water to the bottom of the double boiler and bring it to a simmer.

Put the milk and chocolate in the top of a double boiler and heat until chocolate is melted and mixture is very hot. Add the softened gelatin and stir until dissolved. Remove from heat.

In a large bowl, beat the egg yolks until thick and lemony and beat in the half the sugar and vanilla. Stir the slightly cooled chocolate into the egg yolk mixture. Do it gradually so as not to cook the egg yolks. Set mixture aside to continue cooling.

If you want to speed things up you can whisk it over a bowl of ice water or put it in the refrigerator (just keep an eye on it so it doesn't start to gel).

In another mixing bowl, beat the egg whites until stiff peaks start to form, then gradually beat in the remaining sugar. In a third mixing bowl, beat the cream until it holds its shape and starts to form peaks.

Fold ⅓ of the cooled and perhaps slightly thickened chocolate mixture into the egg whites, then another ⅓ of the chocolate mixture into the cream, then fold everything together in one bowl, then fold everything (including that last ⅓ of chocolate) together in one of your many bowls. You can use the one you whipped the cream in or the egg white bowl.

At this point the filling will most likely be too runny to pile into the shell, so put the whole bowl in the refrigerator and check it in 30 minutes. If it's already started to thicken, you can start putting it in the shell.

Pour some of the mixture into pie shell, filling just to rim. Place pie with filling in the refrigerator along with remaining filling that is in the bowl. Check the filling in the bowl every 30 minutes to see if it has thickened. When it is thick enough to pile, pile into the center of the pie.

Garnish the sides with piped sweetened whipped cream. To make whipped cream, beat ¾ of cream along with 2-3 tablespoons of confectioners' sugar until stiff peaks form. Beat in vanilla.

Chill for 6 hours or overnight.
Notes
Maida's recipe calls for 1 ½ cups of cream and 2 extra-large or jumbo eggs. My version uses less cream and more egg whites for a slightly fluffier pie.