Kitchen Sink Cookies are about as American as they come, and to be honest they are just what I needed today -- a cookie with an interesting texture and flavor, but quick, and maybe a little nutty.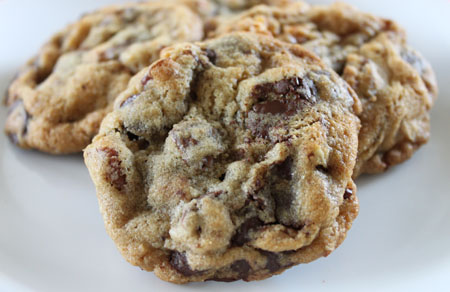 This particular Kitchen Sink Cookies recipe is adapted from Elinor Klivan's Essential Chocolate Chip Cookbook.  In the book she describes it as a cookie with just enough dough to hold together heaps of chocolate chips, pecans, almonds and walnuts. You can vary the nuts as you wish. I used pecans, walnuts, chocolate chips and some chopped up Heath Bars. If you like dried fruit, throw some in. They're kitchen sink cookies and this is a particularly good recipe.
Kitchen Sink Cookies
1 cup plus 2 tablespoons unbleached ap flour (5 oz)
¾ teaspoon baking soda
½ teaspoon salt
4 oz (1 stick) unsalted butter, room temperature
½ cup light brown sugar (100 grams)
6 tablespoons granulated sugar (75 grams)
1 large egg
1 ½ teaspoons vanilla extract
2 cups semisweet or dark chocolate chips
¾ cup chopped up Heath Bar (coarsely chopped)
1 cup pecan halves, toasted and chopped
1 cup walnut halves, toasted and chopped
Plus some chopped almonds (if you have some)
Preheat oven to 350 degrees F.
Sift the flour, baking soda and salt together and set aside.
In bowl of a stand mixer, cream the butter and both sugars for about a minute. Scrape sides of bowl. Continue creaming for another minute. Reduce speed to low and beat in egg and vanilla stirring just until blended. On low speed, add the flour mixture and stir just until it is incorporated. Mix in the chips, toffee, and nuts. At this point, you may chill the dough or go ahead and bake the cookies. I chilled the dough.
Drop dough by lightly rounded tablespoons onto the baking sheets, spacing the cookies 2 inches apart.
Bake the cookies one sheet at a time until the edges are lightly browned and the centers are just slightly colored – about 14 minutes. I baked mine on convection at 325 for about 12 minutes. Cool on baking sheets for 10 minutes, then transfer to a rack to cool completely.
Makes about 36 cookies in theory – my yield was less than that.