The nice thing about giant cookies is that you can wrap them individually and give them as gifts. As a matter of fact, this batch is going to my neighbors down the street who picked my daughter up from school while I was away. As soon as I post this I'm heading to the craft store for some little velo bags.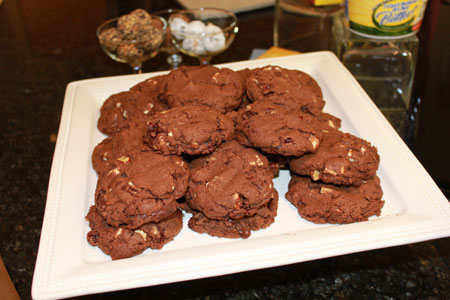 This of course is the recipe I told you about yesterday – the one the test kitchen was quite proud of. Watching Normajean make the cookies was interesting because she made a point to prepare them as a casual home baker would. Since the typical American home baker doesn't weigh ingredients (though I hope that changes) or think much about how they scoop the flour or whether the cocoa powder is natural or Dutch process, the test kitchen tries to create recipes that won't fail if you do one or two things slightly different.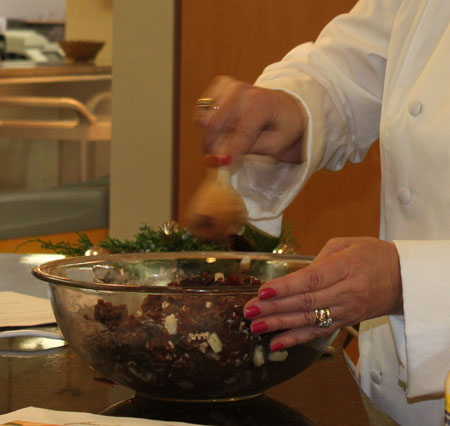 Today was a good example. I wasn't thinking when I made these cookies and decided to make them with Valrhona cocoa powder, which is Dutched and therefore less acidic than natural style. My cookies were delicious, but it occurred to me that they probably would have been puffier had I used natural styel cocoa since the ingredients in the recipe are mostly alkaline and natural cocoa has some acidity to it. The cookies with the Dutch process cocoa tasted great, but had a different flavor than the ones at the test kitchen and were not quite as high.
So I made them again.
The dark, flatter ones are the Dutch chocolate cookies and the fat ones are the ones made with Hershey's Natural. I liked the batch made with natural cocoa powder the best.
RECIPE FOR TRIPLE CHOCOLATE CHUNK COOKIES — Note: If you make these with unsalted butter, my advice is to add a scant 1/2 teaspoon salt to the recipe.