Many years ago I had the opportunity to visit the I Can't Believe it's Not Butter test kitchen in Unilever's Englewood, NJ headquarters. What I remember mainly from the trip are two things -- that Englewood Cliffs is really pretty (I think I'd imagined it as factories), and this recipe for Ultimate Triple Chocolate Chunk Cookies.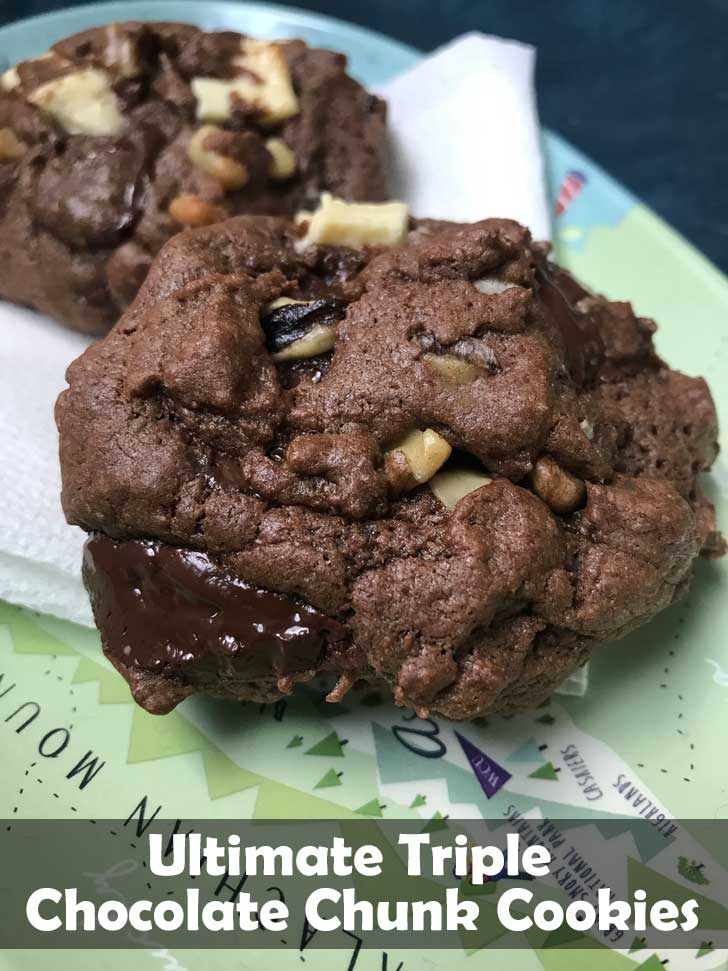 Normajean, who works in the test kitchen, had just created this recipe and was so excited about it! I could really feel her enthusiasm towards her job and her cookies (and was jealous, but that's okay). She let us try the cookies, made of course with I Can't Believe it's Not Butter, and everyone on the tour agreed they looked and tasted delicious.
As you can guess, I made the Ultimate Triple Chocolate Chunk Cookies as soon as I got home from the trip, and I'm still making them to this day!
Some Neat Things About Ultimate Triple Chocolate Chunk Cookies
What I love about these cookies is that they are big, fat, fudgy and loaded with chunks of white and dark chocolate, nuts and cherries. Texture is important to me, and these have a great texture. Honestly, they are practically chunks held together with cookie. That's probably why the recipe can get away with using what amounts to half the fat as usual cookies. I Can't Believe it's Not Butter tub style has only 60 grams of fat per tablespoon, so a cup of the ICBINB is way less fat than you'd get from a cup of actual butter. But it works here! Again, probably because the majority of the cookie is chunks of things.
Some Cookie Notes
Normajean made these using a glass bowl and a wooden spoon, so that's how I make the cookies. I don't think I've ever bothered with an electric mixer. Then again, I often halve the recipe, so I wouldn't blame you for wanting to use an electric mixer to stir. Just remember you don't have to put any effort into creaming the butter and sugars, but rather just mix it all together. Less air = denser, fudgier cookies. That, plus there's not much baking soda.
Natural cocoa powder (as opposed to Dutch process) seems to always give me fatter cookies. If you look at the photo of the cookies on the rack, you can see that the ones in the front (natural) are a little thicker. But Dutch process works too, so if that's all you have don't worry.
I Can't Believe it's Not Butter has salt in it, so the original recipe does not call for extra salt. I like to add an extra pinch anyway. If you substitute some other fat that doesn't have salt, be sure to add about ¾ teaspoon.
What you do need are chunks, nuts and cherries. It's all the add-ins that add bulk, so if you leave out the nuts makes sure to replace with an equal amount of something else.
Recipe