I'm trying to nail down this year's Thanksgiving menu and finding it difficult to choose between two favorite pecan pies: The one I discovered a few years ago or the one I've been making since I was 14.
At least I've narrowed it down to two, so it's safe to say these are my two favorite pecan pies.
What these two pies have in common is browned butter. The pecans release their oils after being toasted, then soak up the flavor of the butter.
The first pie is great for people who like pecans but don't care for traditional pecan pie's strong dark corn syrup flavor. It has milder flavor and always sets up nicely. The cream tones down the sugar, so don't try to leave that out or the pie might be sweeter than you like.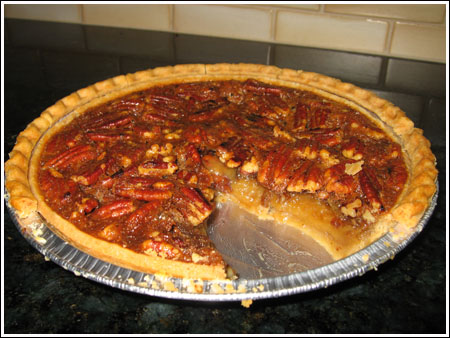 The Best Pecan Pie Yet
1 9 inch deep dish unbaked pie shell
1 1/2 cups pecan halves
4 tablespoons room temperature unsalted butter, cut up
3 large eggs
1 cup light corn syrup or Karo "brown sugar" corn syrup (both work equally well)
3/4 cup packed dark or light brown sugar
2 tablespoons whipping cream
1 1/2 teaspoons vanilla extract
1/8 teaspoon salt
Preheat oven to 350 F. Place pecans in a large skillet or saute pan and turn heat to medium high. Cook pecans for 2 minutes, stirring often. Reduce heat to medium, add butter to skillet with pecans, and "stir-fry" butter and pecans until butter melts and just barely starts to brown – take care not to burn. This should only take about 3 minutes. Remove from heat and set aside.
In medium bowl, whisk together eggs, corn syrup, brown sugar, cream, vanilla and salt. Remember just to whisk — don't beat or add too much air to the mixture. Stir in melted butter/pecan mixture then pour filling into unbaked crust.
To catch any drippings, set a rimmed cookie sheet on the lower rack of the oven. Set the pie on the middle rack and bake for 45-50 minutes or until top is golden brown and appears set. The pie should still be slightly jiggly in center. Let cool completely at room temperature. Transfer to refrigerator to chill. I make it a day ahead, chill overnight, then bring to room temperature and slice.
This pie also freezes quite well.
The second pie is the one I've been making since I was 14. The dark syrup gives it more of a traditional Southern flavor, but it's still not too strong.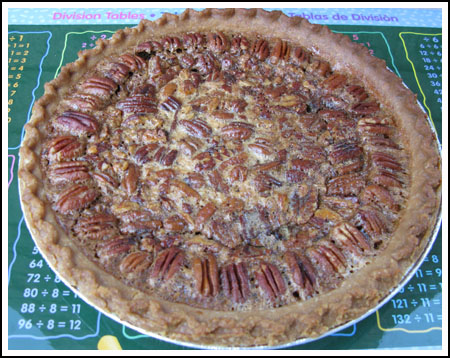 I posted it a while back and got a few good reviews from other bakers, so hopefully you'll take that as an endorsement if you are looking for a good pie recipe.
Old Favorite Browned Butter Pecan Pie
An easy and delicious pecan pie made with browned butter. I've been making this one for about 30 years.
Ingredients
1 1/2 cups pecan halves
1 (4 oz) stick butter (regular or unsalted)
3 large eggs
1 cup sugar
1 cup dark corn syrup (or use ½ dark plus ½ light)
1 teaspoon vanilla extract
1/4 teaspoon salt
1 unbaked pie shell – use homemade or refrigerated
Instructions
Lay 1 cup of the pecan halves on a cookie sheet and bake at 350F for about 6-8 minutes or until toasted. Let cool, then chop so that you have 1 cup chopped toasted pecans and about a half cup of pecan halves (these will be the border). (Note: Alternatively, you can stir fry chopped pecans in butter just until the butter starts to turn brown. Lately I've been doing them separately for this recipe, but both ways are fine).
Melt the butter in saucepan set over medium heat and cook it just until it starts to brown. Remove from heat and let it cool for about 10 minutes.
Whisk the eggs lightly in a large mixing bowl. Whisk in the sugar, corn syrup, vanilla and salt. Pour in the semi-cooled browned butter.
Put the chopped pecans in the unbaked pie shell and pour the filling over the top. Use the remaining 1/2 cup pecan halves to make a border. Bake at 400 for 10 minutes, then reduce heat to 325 degrees and bake for another 35-45 minutes** or until the sides are set but the center (about a 3 inch circle in the middle) is still jiggly. Remove from oven. Pie will set as it cools. Let it cool at room temperature for a few hours. Store in refrigerator until ready to serve. You can keep it at room temperature, but it won't be as stiff.
Notes
Note: Deep dish pies usually bake 400 for 10 minutes and 325 for 45 minutes while smaller pie tins usually take the original amount of 400 for 10 minutes and 325 for 35 minutes.
Related posts: