One Stick of Butter Pecan Pie is a pie I've been making since I was 14. I used to call it Browned Butter Pecan Pie, but now I have other pecan pies with browned butter, so the standout feature in this pie (to me, at least) is that it uses a whole stick (114 grams) of melted browned butter in the filling. The recipe used to be in an old post with another pie called Best Pecan Pie Yet, but I'm giving it its own page.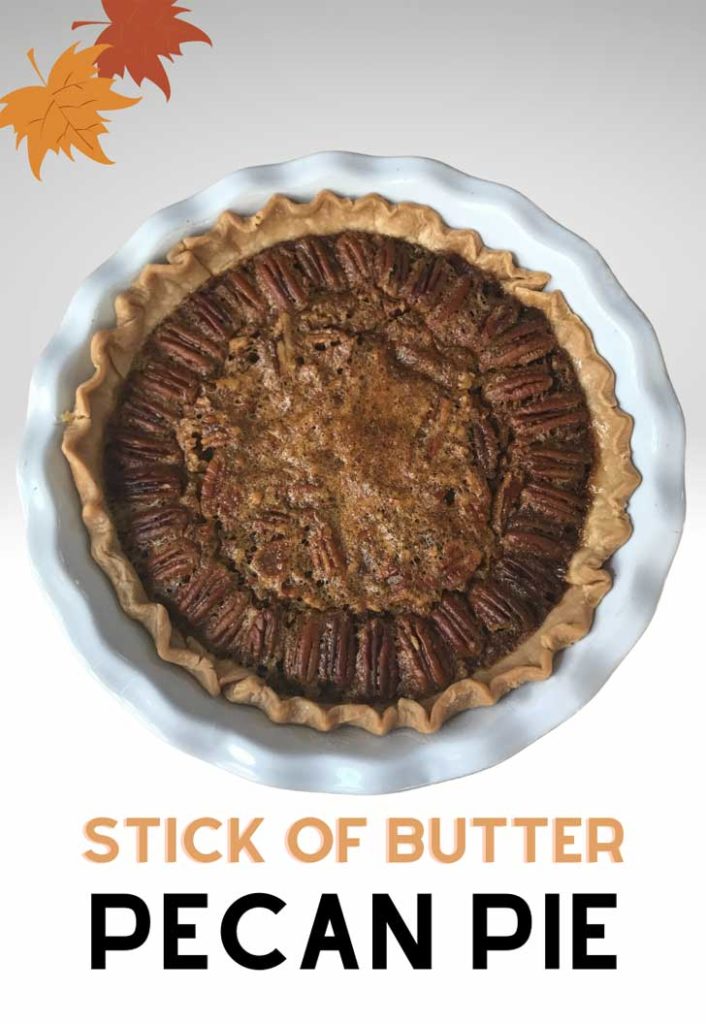 Dark Corn Syrup in One Stick of Butter Pecan Pie
In addition to a a stick of butter, this is a dark corn syrup pecan pie. The dark syrup, Karo, gives it a traditional Southern flavor. It's a very rich pie with a lot of butter, so refrigerating it for a bit helps it set up. You'll also need a fairly deep dish pie crust.
I posted this a while back and it received few good reviews from other bakers, so hopefully you'll take that as an endorsement if you are looking for a good pie recipe.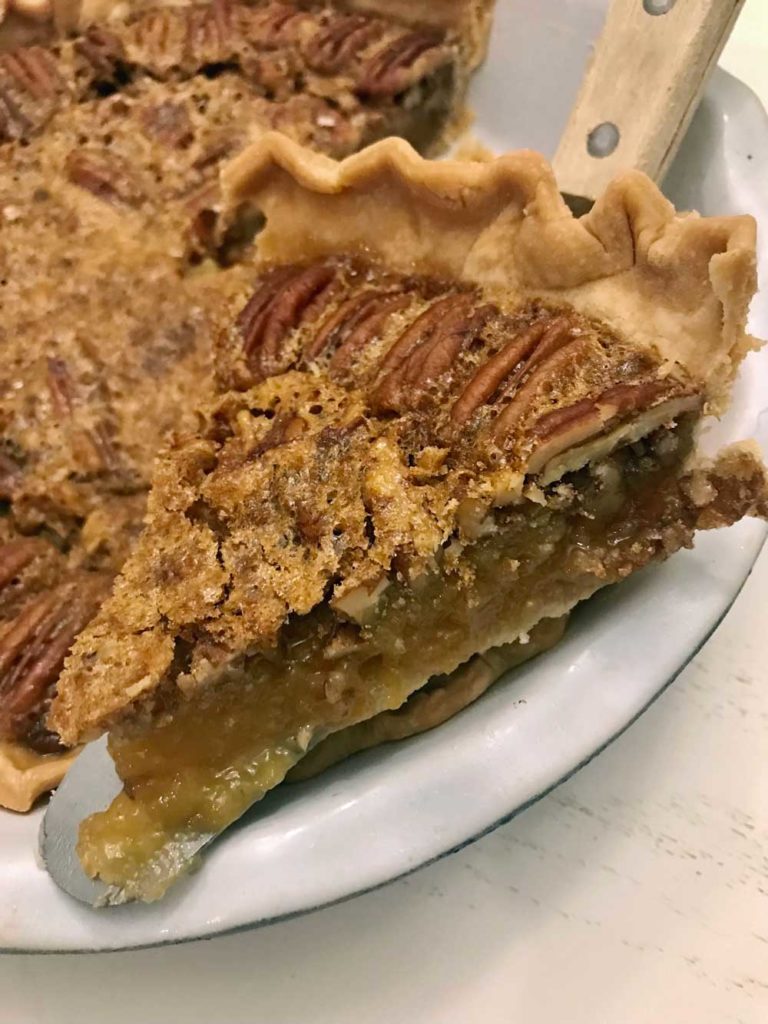 More Tips
A lot of people are making this pie for the holidays, so I've added some more tips and specifications. They are in the written recipe as well as below.
The pecans that go in the pie are coarsely chopped. The recipe calls for a cup, but feel free to use a heaping cup or a little bit more if you'd like.
As you stir-fry them with the butter, it will foam up quite a bit. Interestingly, different brands of butter produce varying amounts of foam. I'm guessing more foam means more water in the butter. FYI I bought Challenge brand because it was a BOGO and it produced a ton of foam -- way more than Land o' Lakes.
I usually measure things with a scale, but for this recipe I've always measured the corn syrup with a cup (inside sprayed with cooking spray so that it will slide right out!). Today I noted the weight of the cup of corn syrup and it was around 270 grams, so I've added the weight.
The recipe calls for dark corn syrup, but I often use half dark and half light.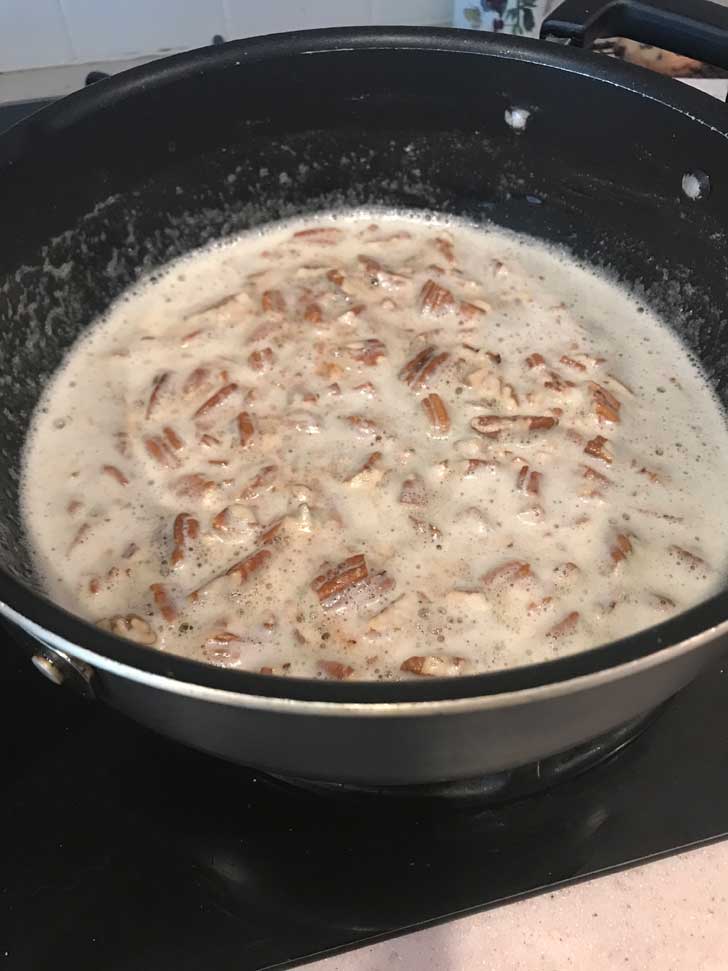 Recipe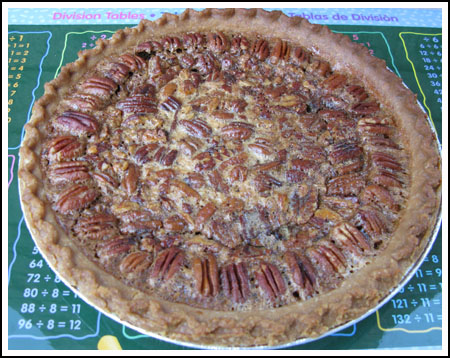 Browned Butter Pecan Pie aka One Stick of Butter Pecan Pie
An easy and delicious pecan pie made with browned butter. I've been making this one for about 30 years. I've used the technique of browning the butter separately and toasting the pecans separately as well as stir-frying the pecans in butter until it just starts to brown. The method of stir-frying the pecans works a little better because the pecans absorb some of the butter.
Ingredients 
1

cup

chopped pecans

½

cup

pecan halves

unchopped to be used as border

1

stick

butter, unsalted or salted (4 oz)

(114 grams)

3

large

eggs

room temperature

1

cup

sugar

(200 grams)

1

cup

dark corn syrup or use ½ dark plus ½ light

(270 grams)

1

teaspoon

vanilla extract

¼

teaspoon

salt

1

deep dish

unbaked pie shell
Instructions 
Put the 1 cup of chopped pecans in a dry skillet and turn heat to medium. Heat the pecans, stirring constantly, for about 2 minutes.

Add the butter and continue to cook the two together until butter just starts to brown and nuts are aromatic. Remove from heat.

Whisk the eggs lightly in a large mixing bowl. Whisk in the sugar, corn syrup, vanilla and salt. Pour in the slightly cooled brown butter and pecan mixture.

Use the remaining ½ cup pecan halves to make a border.

Set on a rimmed baking sheet (to catch any overflow).

Bake at 400 for 10 minutes, then reduce heat to 325 degrees and bake for another 35-45 minutes (most likely it will be 45 if using a glass pie dish) or until the sides are set but the center (about a 3 inch circle in the middle) is still jiggly. Remove from oven. Pie will set as it cools.

Let it cool at room temperature for a few hours. Store in refrigerator until ready to serve. You can keep it at room temperature, but it won't be as stiff.
Notes
Note: Deep dish pies usually bake 400 for 10 minutes and 325 for 45 minutes while smaller pie tins usually take the original amount of 400 for 10 minutes and 325 for 35 minutes.