Dolly Parton's walnut pie recipe came up in conversation this week, so I put one of her cookbooks on my Christmas list. But it brought to mind another walnut pie recipe I'd been meaning to try for the past 15 years. The pie is from Private Collection, a cookbook by the Junior League of Palo Alto, and I made it this weekend using "Thanksgiving is on the way" as an excuse. Well, we cut into it already. Now I'm trying to decide whether to freeze the rest and plate slices on T-Day or just eat it ourselves. Here's a slice shot. I messed up the edge and tried to cover it with whipped cream.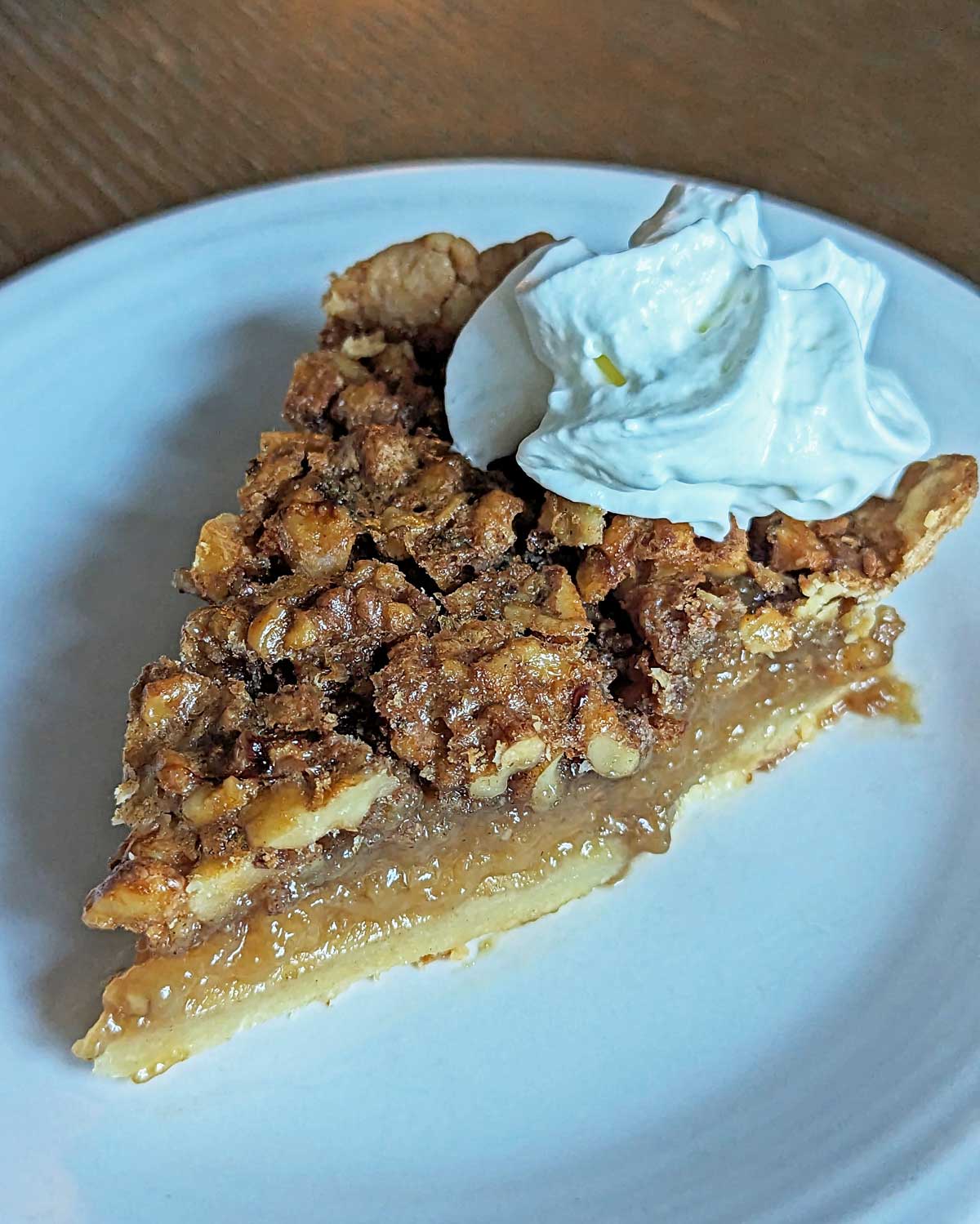 The broken edge was totally my fault, but the recipe itself is as easy as they come. You can make your walnut pie with a homemade crust (no need to parbake) or a store bought roll and bake crust. I used a homemade crust for this one. It may not look good, but it was flaky and buttery and I forgave myself for being so reckless with the baking.
The filling of this pie is smooth and not too runny. It calls for cinnamon and vanilla and definitely needs both flavorings to liven up all the corn syrup. Recipe calls for one cup. I always weigh corn syrup because it's easy to use a little too much or too little based on how you fill your cup. The ideal amount is probably around 300 grams.
There's no need to toast the walnuts beforehand, and everything is just mixed together in a bowl. It's quick to prepare, but does require 50 minutes of baking time and even longer to cool. Chilling before slicing is also a good idea.
Glass vs. Metal Pie Dish for Walnut Pie
Just be careful when using a glass or ceramic pie dish, as the crust may brown a little quicker and you may need to shield the edges. This was where I went wrong. I've been using a metal pan lately, and when I switched to glass I didn't bother shielding or checking to see if the crust was browning. Posting this picture reluctantly so you can see what not to do.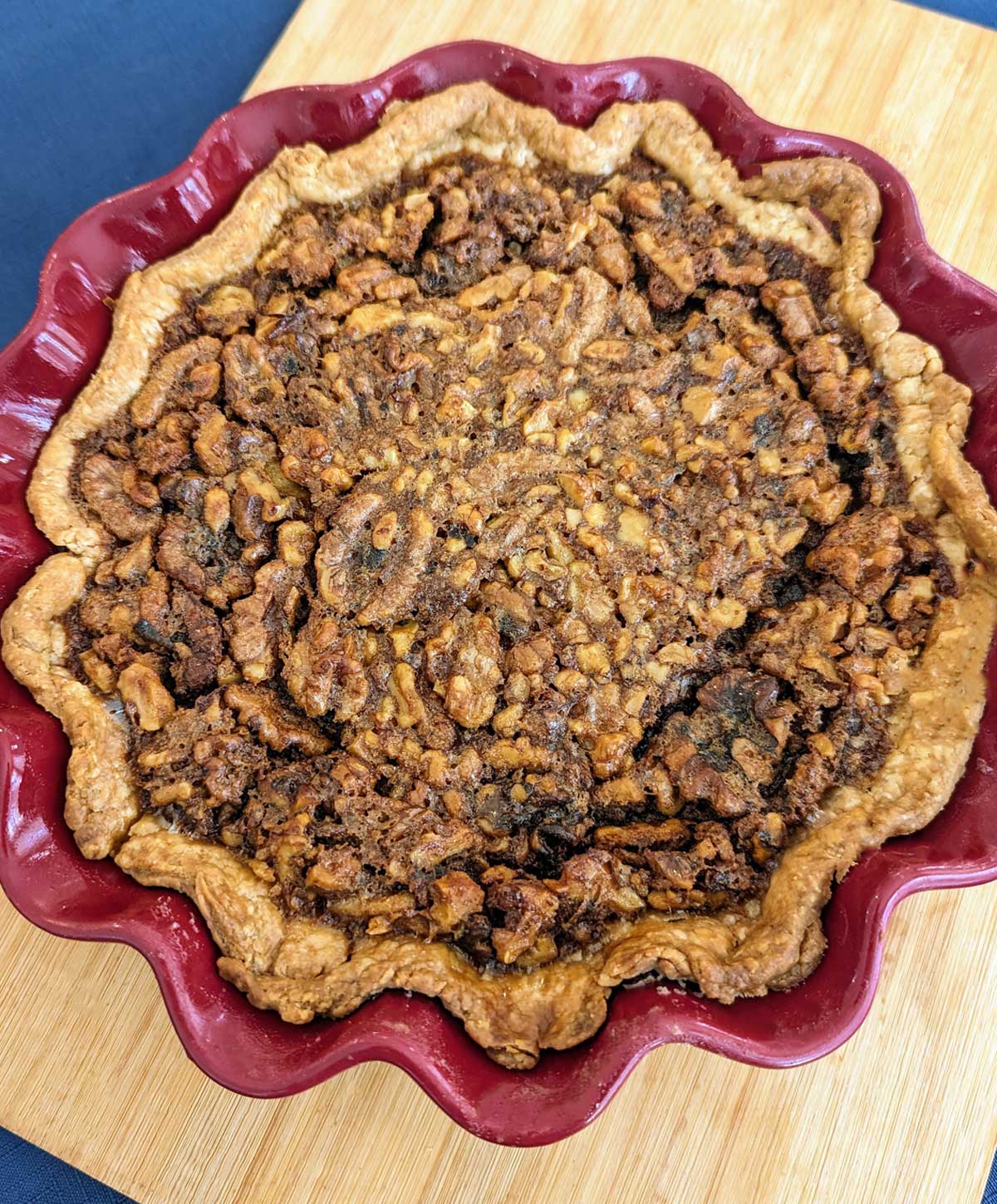 Recipe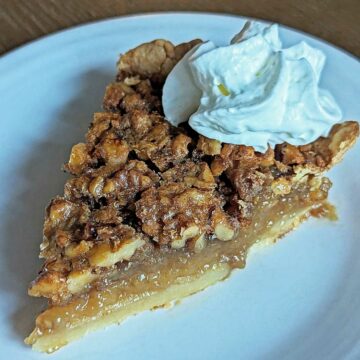 Walnut Pie
Similar to pecan pie but with walnuts.
Ingredients 
1

9-inch

unbaked pie shell or a roll-and-bake crust

deep dish

3

large

eggs, bring to room temperature

½

cup

dark brown sugar

(100 grams

1

cup

light corn syrup

(300 grams)

4

tablespoons

unsalted butter, melted

(56 grams)

1

teaspoon

cinnamon

¼

teaspoon

salt, plus an extra pinch if using unsalted butter

1

teaspoon

vanilla extract

1

cup

broken English walnuts or walnut halves (heaping cup)
Instructions 
If using a store-bought roll and bake crust, let it come to room temperature. Roll out and fit into a 9-inch pie dish and keep chilled until ready to use.

Preheat the oven to 375 degrees F. Place a heavy duty rimmed baking pan in the oven and allow it to heat along with the oven.

Whisk or beat the eggs in a mixing bowl. Whisk in dark brown sugar, corn syrup, melted butter, cinnamon, salt and vanilla in that order, then stir in the nuts.

Pour mixture into the pie shell.

Set the pie on the preheated rimmed baking sheet and bake on lowest rack of the oven at 375 degrees F for about 50 minutes. Check after about 30 minutes to make sure the edge isn't brownie too quickly. If so, shield edge with foil. Filling should be just slightly jiggly when the dish is shaken.

Allow the pie to cool for several hours, then chill to help set the filling. You can bring it back to room temperature before serving.
Nutrition