After an action-packed trip to Hershey, PA, I'm back home in Austin sorting through pictures and trying to round up all the new recipes I brought home. These Reese's-in-the-Middle Cookies are from Chef Cher at the Hotel Hershey.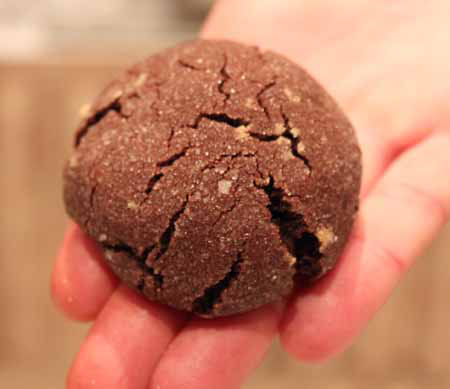 We watched Cher's assistant pastry chef make this cookie one night after dinner. He used a stand mixer for the demo, but did you know that something like 80% of all home bakers use hand-held mixers? In the test kitchen, they make all their cookies with hand-helds to get the same results as an average home baker, but since this recipe is from the resort kitchen it was made with a stand mixer. It was also written in weights, but I went ahead and put the volume measures next to each ingredient.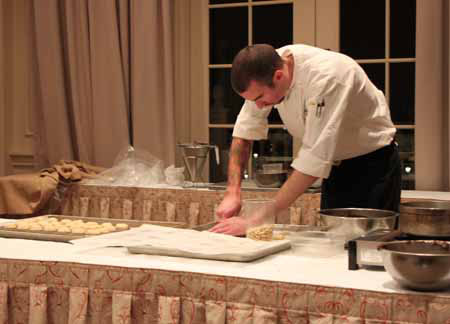 This was one of my favorite recipes from the trip. The chocolate "shell" has a really good texture and flavor, but what makes the cookies special is that the filling has very finely chopped Reese's pieces in it. Also, I apologize for not having a yield, but I couldn't find it on the original recipe. I'm guessing you'll get about 2 dozen.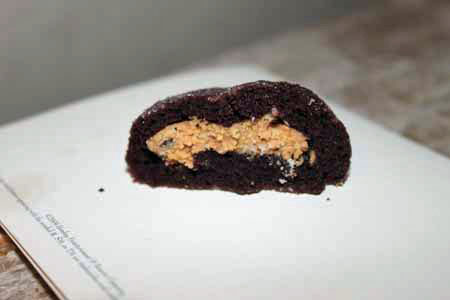 Reese's-in-the-Middle Cookies
6.25 oz all-purpose flour (1 ⅓ cup)
1.5 oz Hershey's cocoa (½ cup) – I think they used natural
½ teaspoon baking soda
¼ teaspoon salt
4 ounces butter, unsalted, room temperature (1 stick)
3.5 oz granulated sugar (½ cup)
4 oz light brown sugar, packed tightly (½ cup)
2.4 oz Reese's peanut butter (¼ cup)
1 teaspoon vanilla
1 large egg
Filling:
7 ounces Reese' peanut butter (¾ cup)
3 ounces confectioner's sugar (around ¾ cup)
2 ounces Reese's Pieces (about ⅓ cup)
Preheat oven to 375 degrees F.
To make the dough: Whisk together the flour, cocoa, baking soda and salt; set aside. Cream the butter, both sugars and peanut butter until light and fluffy . Add the vanilla and egg, beating to combine. Blend in the dry ingredients.
To make the filling: Stir the peanut butter and confectioners' sugar until smooth. Fold in the chopped Reeses's Pieces. With floured hands, roll into 1 inch diameter balls.
To shape the cookies, break off about 1 tablespoon of chocolate dough, make an indentation with your finger, and place a peanut butter ball inside. Push the dough up and over the ball. Repeat with remaining dough and filling.
Dip the top of each cookie into extra sugar and flatten slightly. Bake 7 to 9 minutes.