A few years ago a young friend of mine threw a small dinner party in her apartment. She served pork tenderloin, wild rice, perfectly cooked asparagus and a dessert consisting of fresh strawberries topped with a mixture of cream cheese, sugar, and Skor Bars. Our hostess said it was her mother's recipe and that the key ingredient was the Skor bars, which for some reason work better than Heath bars or any other toffee. She went onto tell us that Skor bars were getting harder to find and her only source was Walgreen's. I made a mental note of that at the time, and am glad I did because I found this Skor Bar Oatmeal Cookies recipe in a pile of stuff I brought back from Hershey.
Skor Bars Are Meltier Than Heath
Because we suddenly needed Skor Bars this morning, Fuzz and I finished breakfast and went straight to Walgreen's where they did indeed have the bars. Plus flu shots! Fuzz's reward for getting a flu shot was a stuffed dog with big (creepy) eyes and a chance to taste-test a Skor bar in the car. We both decided that they taste a little more buttery than Heath. Later, during the baking process, I noticed they melted better as well. In fact, I don't think I've ever seen a Heath bar melt.
Everybody's Favorite Combo -- Skor and Currants
The currants were an interesting addition to the Skor cookies, and it calls for a lot of them. If you're baking these for a get together, this recipe might liven things up because a lot of people haven't tried currants and my guess is most people haven't tried them with Skor bars. And good luck finding your Skor bars!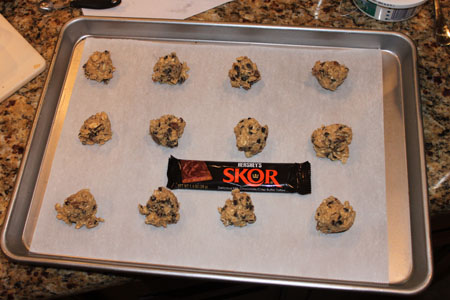 Skor Bar Oatmeal Cookes
4 ounces (1 stick) unsalted butter
2 tablespoons vegetable oil
8 oz light brown sugar (1 very firmly packed cup)
1 large egg, lightly beaten
6 tablespoons sour cream (3 oz)
2 teaspoons vanilla
5 ounces dried currants
7 ounces (2 ¼ cups) rolled oats
½ teaspoon baking soda
½ teaspoon cinnamon
½teaspoon salt
6 ounces (1 ⅓ cup) all purpose flour
4 ounces Skor candy bars, chopped
Preheat oven to 350 degrees F. cream the butter, oil and brown sugar. Add the egg and beat until fluffy. Add the sour cream and vanilla. Stir in the currants and oats. In a separate bowl, mix the baking soda, cinnamon, salt and flour. Add this to the above creamed mixture in portions, beating well after each addition. Stir in chopped Skor pieces. Scoop and bake for 12-15 minutes. Makes about 4 dozen