A few months ago I made gingerbread biscotti from Vegan Cookies Invade Your Cookie Jar: 100 Dairy-Free Recipes for Everyone's Favorite Treat. Never mind that it was vegan, it tasted terrific and was spicier and more flavorful than some butter/egg versions. Another bonus was that it stayed fresh for months, so I got used to having it around and was disappointed when we ran out. To replenish the gingery smelling cookie tin, I tried another recipe from the book, "Coffee Shop Hermits".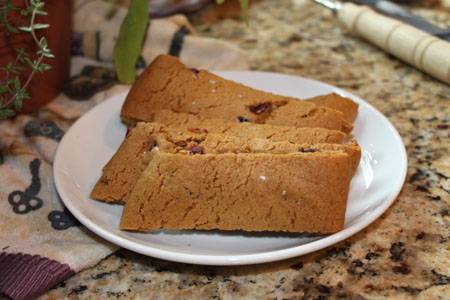 These are almost as good as the biscotti, but firm and chewy rather than hard, and a little more kid-friendly — so much so that I stuck half of one (they're kind of big) in Fuzzy's lunch box. I was out of raisins and used cranberries and candied ginger, but other than that (and halving the recipe), I followed the directions as written and was pleased with how quickly they came together. Because of all the flavor from the spices, I didn't really miss the eggs and butter you find in most Hermits. Plus the coffee was an interesting touch. Mine was not that strong (it was Duncan Doughnuts coffee from Costco), but the cookies were still really good.
Lunchbox Hermit (aka, Coffee Shop Hermits)
1/2 cup vegetable oil
1/2 cup coffee, strong, black & cooled to room temp
1/3 cup molasses
2/3 cup sugar
2 1/4 cups all-purpose flour
1 teaspoon baking powder
1/2 teaspoon baking soda
1 teaspoon ground cinnamon
1/2 teaspoon ground cloves
1/2 teaspoon ground ginger
1/8 teaspoon cayenne pepper plus a pinch more if you like heat
1/2 teaspoon salt
1/2 cup dried cranberries plus 2 tablespoons (or to taste) of chopped candied ginger
Some sparkly sugar (or regular) for sprinkling on top
Mix the oil, coffee, molasses and sugar together in a large mixing bowl. Add the flour, baking powder, baking soda, cinnamon, cloves, ginger and cayenne. Stir well. Stir in the cranberries and candied ginger to form a soft dough.
Chill the dough for 30 minutes.
Preheat the oven to 350 degrees F. Line 2 baking sheets with parchment paper.
After dough is chilled lightly moisten hands and divide dough in half. Make it into two logs about 13 inches long and 3 1/2 inches wide. Sprinkle the tops with sugar.
Bake 24 to 26 minutes till edges are lightly browned and the logs feel firm. Cool for 15 minutes (I didn't). Cut the logs into approximately 2 inch slices (or however you like them). Cool on wire racks.
Makes 16 large cookies