Small Batch Hermit Bars are easy ginger and molasses bar cookies baked as rectangles and sliced into bars. The recipe is adapted from one I clipped out of a Reiman Publications magazine. I believe it was Cooking for Two, but am not sure. I have been clipping recipes recklessly and leaving off sources.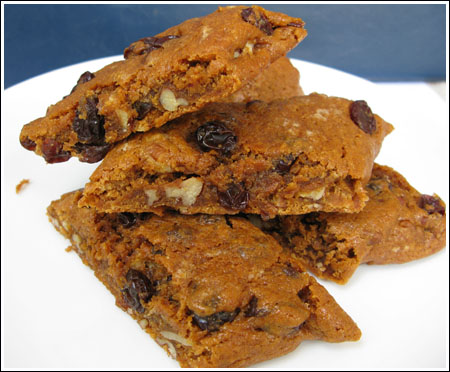 Small Batch Hermit Bars
1 cup all-purpose flour (125 grams)
1/3 cup packed dark brown sugar
1/2 teaspoon baking powder
1/2 teaspoon ginger
1/2 teaspoon cinnamon
1/4 teaspoon salt
1/4 cup mild molasses
3 tablespoons melted unsalted butter (or use 2 T. butter and 1 T. oil)
1 teaspoon vanilla
1 egg white (large) or 2 tablespoons of lightly beaten egg (24 grams)
1/3 cup pecans, toasted and chopped (or use walnuts)
1/3 cup raisins, plumped and dried OR 1/3 cup dried cranberries
Preheat oven to 350 degrees F. Line cookie sheet with parchment or Silpat.
Thoroughly stir flour, brown sugar, baking powder, ginger, cinnamon and salt together in a medium size mixing bowl. Make a well in center of flour mixture.
Stir together molasses, butter, vanilla and egg white. Pour mixture into well; stir until well mixed. Stir in toasted pecans and plumped raisins or cranberries.
Divide mixture in half and shape each half into a 10×2 inch rectangle (approximately). Make sure the rectangles are spaced about 4 inches apart or more on cookie sheet.
Bake for 15-20 minutes or until edges seem browned and bars appear set and aromatic. Remove from oven and slide parchment onto a large cutting board. Slice each rectangle cross-wise into 1 ½ inch bars. Let cool completely.
Makes 16